Whiff Remix Disposable Vape...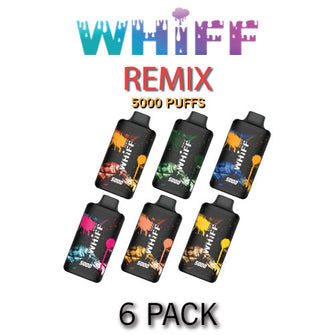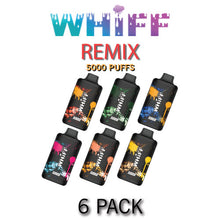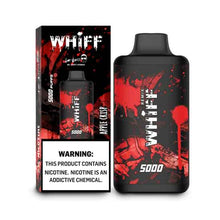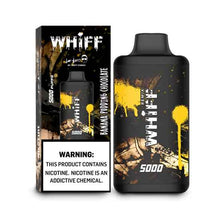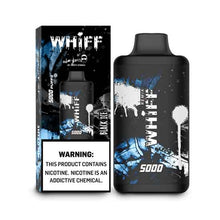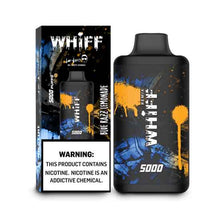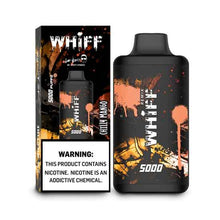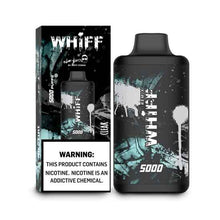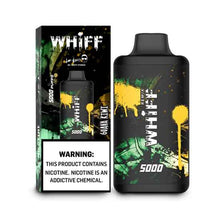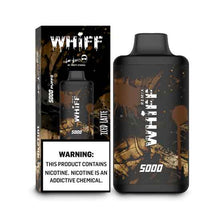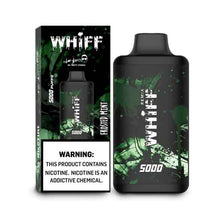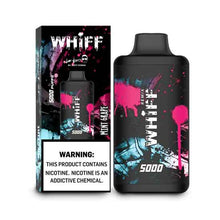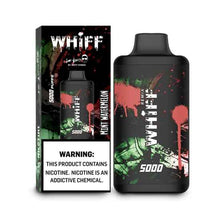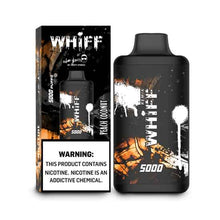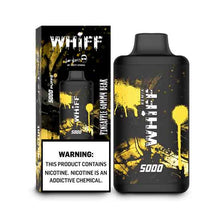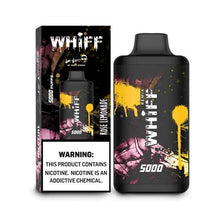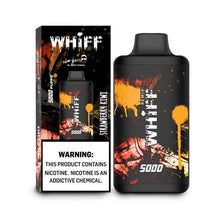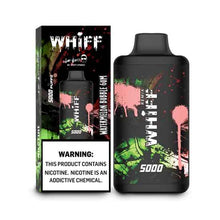 6PK -
Whiff Remix Rechargeable Disposable Vape Device by Scott Storch | 5000 Puffs | 16 Flavors
Discover the ultimate in portable vaping with the Whiff Scott Storch Remix Disposable Vape Device. This sleek and compact vape device offers a robust vaping experience despite its convenient size. It boasts an impressive 11ml e-liquid capacity and a hefty 5.0% nicotine strength, offering a powerful and satisfying vape with every puff.
With a substantial puff count of over 5000, the Whiff Scott Storch Remix ensures you can vape longer between refills. What sets it apart is the USB-C rechargeable 650mAh battery that allows you to recharge your device effortlessly. This feature contributes to the device's portability, letting you recharge on the go with minimal downtime.
The Whiff Scott Storch Remix Disposable Vape Pod Device features 16 unique and delightful flavors, allowing you to customize your vaping experience to match your preferences. From refreshing menthols to sweet and tangy fruit flavors, there's something for every palate.
This vape device weighs a mere 42 grams, making it easy to carry in your pocket or bag. The soft plastic tip provides a comfortable vaping experience, ensuring that your comfort is never compromised.
Safety is an essential feature of the Whiff Scott Storch Remix. The device includes an indicator light that shows the charging status and gives you important warnings. When the voltage is below 3.3V or there's a short circuit, the light flashes to alert you.
The Whiff Scott Storch Remix Disposable Vape Pod Device is more than just a vape - it's a portable, customizable, and efficient solution for your vaping needs. Experience the best in vaping convenience and satisfaction with this outstanding device.
Recharging the Whiff Scott Storch Remix Disposable Vape Device is a simple and straightforward process. The device features a USB-C charging port, which is a newer, more efficient technology compared to traditional USB ports. Here's a step-by-step guide on how to recharge your device:
Locate the USB-C port on the device.
Plug the provided USB-C cable into the port.
Connect the other end of the cable to a compatible power source, such as a laptop, desktop, power bank, or wall adapter (note: wall adapter is not included with the device).
Avoid using any type of fast charges as these tend to be to strong for the batteries in these vape devices.
Authenticate you WHIFF REMIX Disposable Vapesat WHIFF Vapes wensite over here
View our other Disposable Vape Products
See our DEALS PAGE and get a coupon code on you next order.
Check out our collection of disposable vape bundles, or view our 3 Pack, 6 Pack and 10 Pack vape bundles to get huge savings on your next Vape Pod.
Whiff Remix 

Disposable Vape Pod Details:
E-Liquid Pod Size: 11ml
Nicotine Strength: 5.0%
Battery Capacity: USB-C Rechargeable 650mAh

 

(charging cable & charger not included)
Puff Count: 5000+ Puffs
Weight: 42 grams
Tip: Soft plastic
Resistance: 1.0 Ω
Input Voltage: 3.6V
Flavors: 16 Available Flavors
Whiff Remix Disposable Vape Pod Flavors:
Apple Crisp: Take a bite into the crisp autumn air with our Apple Crisp vape juice. Enjoy the sweet and tart flavor of fresh apples topped with a crumble of brown sugar and spices.
Banana Pudding Chocolate: A decadent treat for your senses! Our Banana Pudding Chocolate vape juice combines the creamy sweetness of banana pudding with rich, indulgent chocolate for a truly irresistible vape.
Black Ice: Brace yourself for an icy blast with our Black Ice vape juice. A cool, refreshing menthol base is paired with a secret blend of mixed berries for a vape that's as mysterious as it is invigorating.
Blue Razz Lemonade: Dive into summer with our Blue Razz Lemonade vape juice. The tangy-sweetness of lemonade perfectly complements the vibrant, tart flavor of blue raspberries in this exciting, thirst-quenching blend.
Chilly Mango: Escape to a tropical paradise with our Chilly Mango vape juice. The juicy, ripe sweetness of mangoes gets a refreshing twist with a hint of cool menthol.
Clear: Keep it simple and classy with our Clear vape juice, a pure and crisp vape experience that's perfect for those who appreciate the finer things in life.
Frosted Mint: Cool and invigorating, our Frosted Mint vape juice is like a breath of fresh air. Enjoy a pure, intense mint flavor that's as refreshing as a frosty winter morning.
Guava Kiwi: Treat yourself to a tropical vacation with our Guava Kiwi vape juice. The exotic, sweet flavor of guava pairs wonderfully with the tart, refreshing taste of kiwi in this vibrant and exciting blend.
Iced Latte: Wake up your senses with our Iced Latte vape juice. Enjoy the robust flavor of freshly brewed coffee, complemented by a dash of creamy milk and cooled with a hint of ice.
Mint Grape: Experience a unique twist on classic flavors with our Mint Grape vape juice. The juicy sweetness of ripe grapes is beautifully balanced by a cool, refreshing mint undertone.
Mint Watermelon: Dive into a refreshing, juicy vape experience with our Mint Watermelon vape juice. The light sweetness of watermelon is given an exciting twist with a dash of cool mint.
Peach Coconut: Embrace the flavors of the tropics with our Peach Coconut vape juice. The luscious sweetness of peaches meets the creamy richness of coconut in this mouth-watering blend.
Pineapple Gummy Bear: Get ready for a fun, fruity vape with our Pineapple Gummy Bear juice. Enjoy the sweet, tangy taste of pineapple in a delightfully chewy gummy bear form.
Rose Lemonade: Step into elegance with our Rose Lemonade vape juice. This refined blend pairs the delicate floral notes of rose with the zesty, refreshing tang of lemonade.
Strawberry Kiwi: Savor the classic combination of sweet strawberries and tart kiwi with our Strawberry Kiwi vape juice. This fruity blend is a crowd pleaser and an all-time favorite.
Watermelon Bubble Gum: Experience the nostalgia of childhood with our Watermelon Bubble Gum vape juice. Enjoy the juicy sweetness of watermelon infused with the fun and whimsy of classic bubblegum.
Whiff Remix Disposable Vape Pod Packaging Includes:  
6 x Whiff Remix Disposable Vape Device
| | |
| --- | --- |
| Type: | |
| Vendor: | |
| Flavors: | Apple Crisp, Banana Pudding Chocolate, Black Ice, Blue Razz Lemonade, Chilly Mango, Clear, Frosted Mint, Guava Kiwi, Iced Latte, Mint Grape, Mint Watermelon, Peach Coconut, Pineapple Gummy Bear, Rose Lemonade, Strawberry Kiwi, Watermelon Bubble Gum |
| SKU: | Pineapple Gummy Bear – Whiff Remix 6pk |
| Weight: | 10.8 oz |
SHIPPING:
You can choose from three Shipping options:
Standard

Shipping 

5 to 10 Business Days
Priority

Shipping 

3 to 7 Business Days
Express

Shipping 

2 to 3 Business Days
Shipping days are Mon to Fri, not including weekends and Holidays . 
Carriers used will vary dependent on the shipping location.
Shipping times above vary and only include the 48 contiguous USA States. Carriers don't guarantee shipping delivery times, this is just an estimate number of Business days your package might take to be deliver and doesn't included any inclement weather or disasters. Business Days only include Monday to Friday, and this doesn't include weekends and any Public Holiday.
Customers are responsibility to make sure the address information provided is accurate, including city, state and zip code to prevent any delays or errors in shipping.  Your shipping address cannot be changed once the order has been processed and shipped.  It is the customers responsibility to review their shipping information before order submission.  Failure to provide accurate shipping information may result in a delay and additional shipping charges.  Exceptions apply to Shipping to APO/FPO/DPO addresses which may take up to 45 business days for delivery via USPS policy.
Canadian customers' orders may take up to 30 business days.  Please note, you may be subject to taxes and import duties, namely GST (Goods and Services Tax) and HST (Harmonized Sales Tax). In addition, a fee may be levied upon your purchase by Canada Post. These costs are not included in your overall purchase price and EveryThing Vapes is NOT held liable for any custom issues.
ADULT SIGNAUTURE REQUIRED
All orders are shipped with Signature required as per the new Pact Act Vape Laws. Please make sure you are 21 Years and older and you have an adult of 21 yrs of age or older available to receive and sign for your package. No exceptions apply. If you will be available or you do not have somebody at home to sign for the package that is 21 years old, then you can contact the carrier and ask them to hold the package, and you can pick it up at your convenience within a few days. Check with the shipping carrier what the maximum number of days your package will be held otherwise the package will get returned back to us.
Shipping cost will NOT be refunded for any reason. You will receive an email with the tracking information once the order has been shipped.