Supreme BAR Disposable Vape...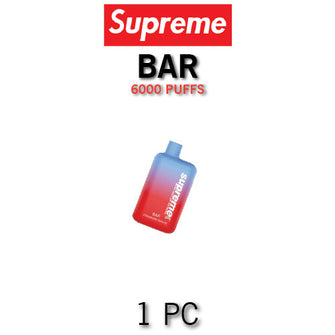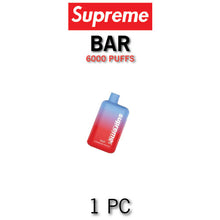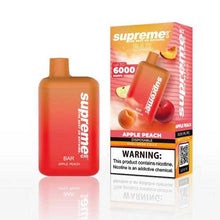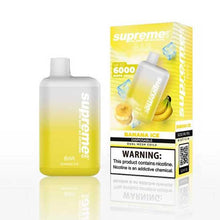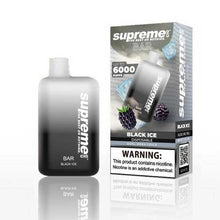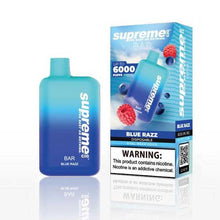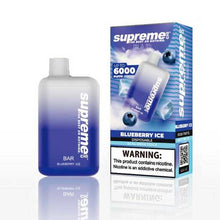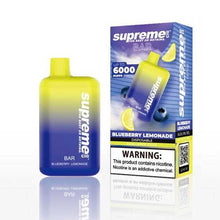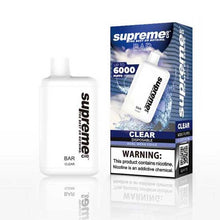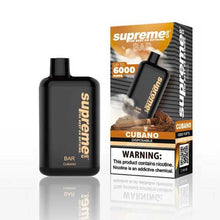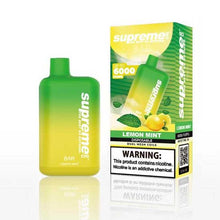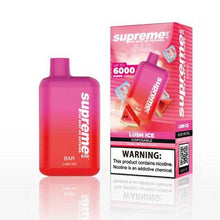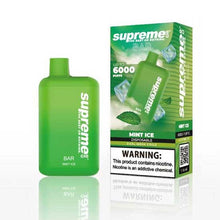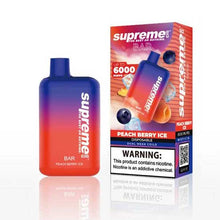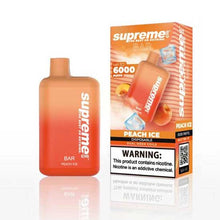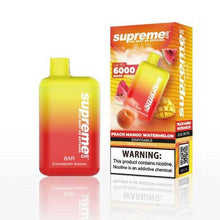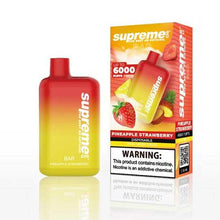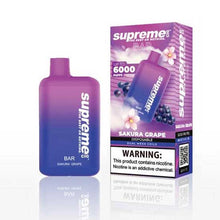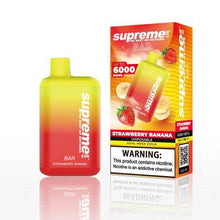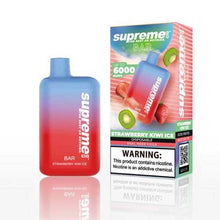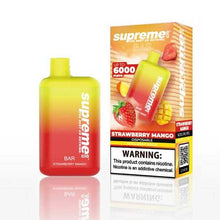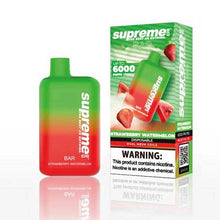 1PC - Supreme BAR 5% Disposable Vape Device | 6000 Puffs
Introducing the Supreme BAR 6000, a vaping masterpiece tailored for aficionados and newcomers alike. This disposable vape exudes quality with its hefty 14ml e-liquid volume, ensuring each inhale is a burst of pure, uncontaminated flavor. Designed to satisfy nicotine cravings, it features a 5% (50mg) nicotine salt blend. The durability shines with its 650mAh battery, and the added USB-C recharge feature brings an unprecedented level of convenience to disposables. The integrated mesh coil ensures every puff is a blend of rich flavor and dense cloud.
But the wonder doesn't stop there; with a palette of 20 delectable flavors, the Supreme BAR continuously keeps your vaping experience fresh and exciting.
View our other Disposable Vape Products

See our DEALS PAGE and get a coupon code on you next order.
Check out our collection of disposable vape bundles, or view our 3 Pack, 6 Pack and 10 Pack vape bundles to get huge savings on your next Vape Pod.
SUPREME BAR 5% DISPOSABLE VAPE
E-Liquid Capacity: 14ml
Nicotine Strength: 5% (50mg) Nicotine Salt
Battery Capacity: 650mAh Type USB-C Rechargeable (Charger and Cable not included)
Puff Count: + 6000
Coil Type: Mesh Coil
Disposable: Rechargeable & Non-Refillable
Flavors: 21 Available Flavors
SUPREME BAR 5%
 

DISPOSABLE VAPE FLAVORS:
Apple Peach: Wander through orchard aisles with Apple Peach. This juicy blend captures the crispness of fresh apples with the velvety sweetness of ripe peaches, offering a dual fruity delight.
Banana Ice: Slide into a frosty tropical getaway with Banana Ice, where the creamy delight of bananas merges with a refreshing icy touch.
Black Ice: Veer into the mysterious with Black Ice. Its deep, cool essence promises a chilling experience with a hint of undisclosed flavors.
Blue Razz: Embark on a tangy trek with Blue Razz. This electrifying blue raspberry treat is bound to tickle your taste buds with its zesty punch.
Blueberry Ice: Traverse the icy berry fields with Blueberry Ice. With every puff, indulge in the sweet essence of blueberries complemented by a cool exhale.
Blueberry Lemonade: Bask in the refreshing tang of Blueberry Lemonade. This blend marries the sweet tones of blueberries with the zesty kick of lemonade for a sunny delight.
Clear: Experience the purity of Clear. With no added flavors, it's a straightforward vape that suits those looking for simplicity.
Cubano: Immerse yourself in the rich and robust world of Cubano. This flavor captures the essence of Cuban cigars, delivering a smooth tobacco experience.
Lemon Mint: Whirl in a citrus storm with Lemon Mint. The lively tartness of lemons, paired with a soothing minty exhale, guarantees a refreshing vape.
Lush Ice: Delve into a cooling oasis with Lush Ice. This flavor combines juicy watermelon with a menthol finish, ensuring a sweet and invigorating experience.
Mint Ice: Uplift your senses with Mint Ice. This flavor provides a blast of icy mint that's both clean and invigorating.
Peach Berry Ice: Wander in a frosty fruit garden with Peach Berry Ice. The lushness of peaches blends seamlessly with a mix of berries, all enveloped in a chilly embrace.
Peach Ice: Explore the frosty orchards with Peach Ice. Relish in the smooth and sweet flavor of ripe peaches, accompanied by a cool exhale.
Peach Mango Watermelon: Dive into a tropical sensation with Peach Mango Watermelon. This trio promises an exotic escapade of flavors, where each fruit's essence shines through.
Pineapple Strawberry: Sail to a fruity paradise with Pineapple Strawberry. The tropical zest of pineapples perfectly complements the sweet undertones of strawberries.
Sakura Grape: Embrace the essence of spring with Sakura Grape. The floral notes of cherry blossoms fuse with the sweet tones of grapes for a unique and delightful experience.
Strawberry Banana: Drift in a creamy dreamscape with Strawberry Banana. The sweet allure of strawberries combined with creamy bananas creates a classic blend of flavors.
Strawberry Kiwi Ice: Venture into a frosty fruit fusion with Strawberry Kiwi Ice. The sweet tang of strawberries pairs wonderfully with the tartness of kiwi, all wrapped in an icy exhale.
Strawberry Mango: Revel in a tropical dance with Strawberry Mango. The sweetness of ripe strawberries blends beautifully with the tropical notes of mango for a sun-kissed flavor burst.
Strawberry Watermelon: Plunge into a juicy joyride with Strawberry Watermelon. The sugary taste of strawberries combined with the refreshing watermelon creates a delightful summer duo.
Watermelon Candy: Indulge in a sweet treat with Watermelon Candy. This flavor captures the sugary essence of watermelon candies, ensuring a vibrant and delightful experience.
SUPREME BAR 5%
 

DISPOSABLE VAPE PACKAGING INCLUDES:
1 x Supreme BAR 5% Disposable Vape includes your selection of any of the

21 Available Flavors.
| | |
| --- | --- |
| Type: | |
| Vendor: | |
| Flavors: | Apple Peach, Banana Ice, Black Ice, Blue Razz, Blueberry Ice, Blueberry Lemonade, Clear, Cubano, Lemon Mint, Lush Ice, Mint Ice, Peach Berry Ice, Peach Ice, Peach Mango Watermelon, Pineapple Strawberry, Sakura Grape, Strawberry Banana, Strawberry Kiwi Ice, Strawberry Mango, Strawberry Watermelon, Watermelon Candy |
| SKU: | Apple Peach – Supreme BAR Vape 1PC |
| Weight: | 3.0 oz |
SHIPPING:
You can choose from three Shipping options:
Standard

Shipping 

5 to 10 Business Days
Priority

Shipping 

3 to 7 Business Days
Express

Shipping 

2 to 3 Business Days
Shipping days are Mon to Fri, not including weekends and Holidays . 
Carriers used will vary dependent on the shipping location.
Shipping times above vary and only include the 48 contiguous USA States. Carriers don't guarantee shipping delivery times, this is just an estimate number of Business days your package might take to be deliver and doesn't included any inclement weather or disasters. Business Days only include Monday to Friday, and this doesn't include weekends and any Public Holiday.
Customers are responsibility to make sure the address information provided is accurate, including city, state and zip code to prevent any delays or errors in shipping.  Your shipping address cannot be changed once the order has been processed and shipped.  It is the customers responsibility to review their shipping information before order submission.  Failure to provide accurate shipping information may result in a delay and additional shipping charges.  Exceptions apply to Shipping to APO/FPO/DPO addresses which may take up to 45 business days for delivery via USPS policy.
Canadian customers' orders may take up to 30 business days.  Please note, you may be subject to taxes and import duties, namely GST (Goods and Services Tax) and HST (Harmonized Sales Tax). In addition, a fee may be levied upon your purchase by Canada Post. These costs are not included in your overall purchase price and EveryThing Vapes is NOT held liable for any custom issues.
ADULT SIGNAUTURE REQUIRED
All orders are shipped with Signature required as per the new Pact Act Vape Laws. Please make sure you are 21 Years and older and you have an adult of 21 yrs of age or older available to receive and sign for your package. No exceptions apply. If you will be available or you do not have somebody at home to sign for the package that is 21 years old, then you can contact the carrier and ask them to hold the package, and you can pick it up at your convenience within a few days. Check with the shipping carrier what the maximum number of days your package will be held otherwise the package will get returned back to us.
Shipping cost will NOT be refunded for any reason. You will receive an email with the tracking information once the order has been shipped.