Raz CA6000 Disposable Vape...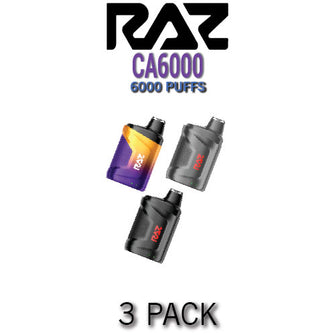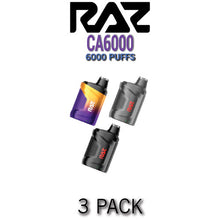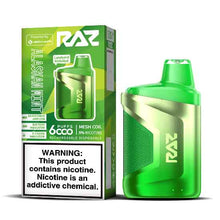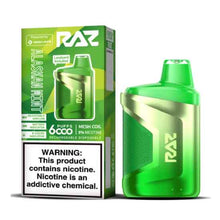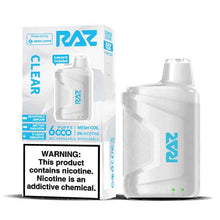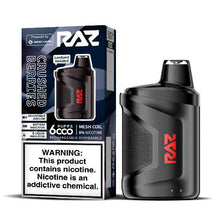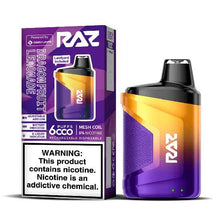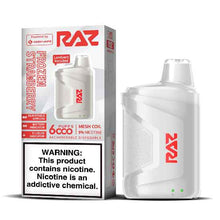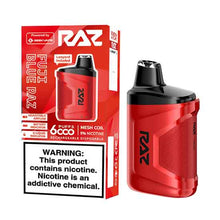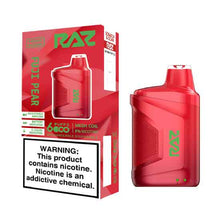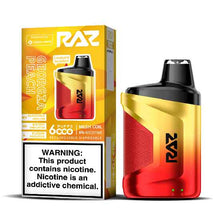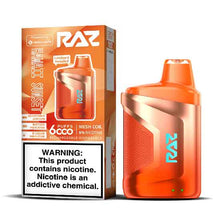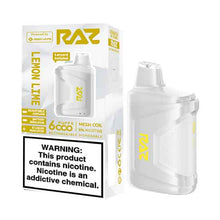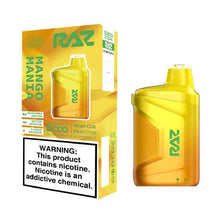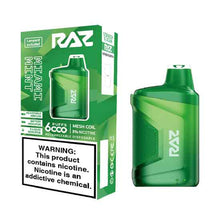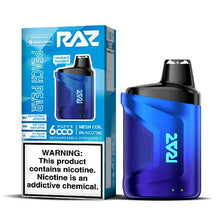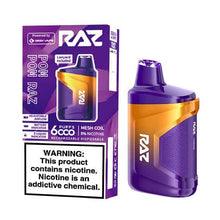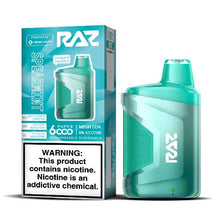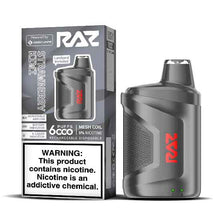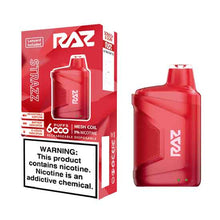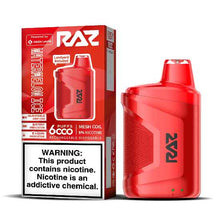 3PK - Raz CA6000 Disposable Vape Device | 6000 Puffs
Dive deep into the next generation of vaping with the RAZ CA6000 Disposable Vape Device by Geek Vape, an exemplar of cutting-edge innovation fused with impeccable performance. At the heart of this device is its ability to deliver a staggering 6000+ puffs, ensuring that your vaping moments are not just about flavor but also about endurance. Speaking of flavor, the Raz CA6000 comes pre-filled with 10ml of some of the finest e-liquids in the industry, guaranteeing a robust and consistent taste with every draw. This unmatched flavor experience is further amplified by its advanced mesh coil, meticulously designed to release the optimum flavor, creating an immersive vaping journey. But the excellence doesn't end there; with its adjustable airflow mechanism, vapers have the liberty to personalize each draw to align with their unique preferences, making every puff a tailored experience.
Powering this beast is a robust 650mAh battery, ensuring that the device is always primed and ready to cater to your vaping needs. Beyond its functionality, the Raz CA6000 is a testament to sophisticated design. Its sleek contours, complemented by a distinctive leather grip, make it not just an e-cigarette but a style statement, turning heads wherever you go. And for those who thrive on variety, this device offers a palette of 19 delightful flavors, from the timeless Crushed Berries to the exotic notes of Dragon Monster. With features like the user-friendly draw-activated mechanism, intuitive battery and e-liquid indicator lights, and a handy lanyard hook for unmatched portability, the Raz CA6000 is not just a vaping device; it's an experience, a journey, a statement. Whether you're stepping into the world of vaping or are a seasoned aficionado, the Raz CA6000 promises to elevate every moment, making each puff a memorable one. Experience the future of vaping today with the Raz CA6000 by Geek Vape.
View our other Disposable Vape Products
View our collection of disposable vape bundles, or view our 3 Pack, 6 Pack and 10 Pack vape bundles to get huge savings on your next vape device.
Raz CA6000 Disposable Vape Device Details:
E-Liquid Capacity: 10ml
Puff Count: + 6000+ Puffs
Nicotine Strength: 5% (50mg Nicotine Concentration)
Coil Type: Mesh Coil
Airflow: Adjustable
Battery & E-Liquid Indicator Lights
Unparalleled Mesh Coil
Adjustable Airflow
Lanyard
Powered by GeekVape
Battery Capacity: Type-C USB Rechargeable 650mAh (cable & charger not included)
Flavors: 19 Available Flavors
Raz CA6000 Disposable Vape Flavors:
Alaskan Mint: Unleash the coolness of Alaska's icy breath with a minty flavor that chills every sensation, reminiscent of a frost-kissed morning in the northern tundra.
Cactus Jack: Embark on a desert journey with this unique cactus flavor, offering an adventurous twist of fresh, juicy, and mildly tangy taste notes that's truly unparalleled.
Clear: Experience purity in its finest form with a clean, unadulterated flavor that's smooth and subtle, perfect for those who treasure simplicity.
Crushed Berries: Dive into a berrylicious realm where an assortment of freshly crushed berries dance on your taste buds, promising a delightful tart and sweet symphony.
Dragon Fruit Lemonade: Sip on an exotic blend where the mesmerizing taste of dragon fruit pairs perfectly with zesty lemonade, ensuring a tropical treat with every puff.
Frozen Strawberry: Revel in the chilling embrace of frost-covered strawberries, offering a refreshing and sweet icy delight.
Fuji Blue Raz: Climb flavor peaks with the crispness of Fuji apples combined with the bold tanginess of blue raspberries. A high-altitude taste sensation!
Fuji Pear: Relish the orchard's freshness with the juicy sweetness of Fuji apples paired seamlessly with the soft and succulent notes of ripe pears.
Georgia Peach: Bask in the sunlit glory of Georgia's finest peaches, oozing with southern sweetness and charm.
Hawaii Sunset: Drift away to a Pacific paradise where tropical flavors paint a breathtaking sunset for your senses.
Lemon Lime: Zest up your day with the electrifying duo of tangy lemon and zesty lime, a citrusy dance that's refreshingly exhilarating.
Mango Mania: Get swept away by a tidal wave of tropical mangoes, bursting with juiciness and an infectious passion.
Miami Mint: Dive into a coastal blend of refreshing mint with subtle tropical undertones, capturing Miami's vibrant spirit.
Peach Pear: Stroll through a garden where the lusciousness of ripe peaches entwines gracefully with the delicate notes of fresh pears.
Pom Pom Raz: Celebrate a tantalizing tango where pomegranates and raspberries unite, delivering a sweet and tangy extravaganza.
Spearmint: Invigorate your senses with the timeless and crisp notes of spearmint, promising a breath of fresh air with every puff.
Strawberry Kiwi: Journey to a flavor oasis where sweet strawberries meet tangy kiwis, crafting a harmonious blend that's both vibrant and delightful.
Strazz: Indulge in the passionate embrace of strawberries and raspberries, a red berry rendezvous that's enticingly sweet.
Watermelon Ice: Quench your thirst with the chilling freshness of ice-cold watermelons, ensuring a summery delight that's both juicy and revitalizing.
Raz CA6000 Disposable Vape Packaging Contents:
3 x Raz CA6000 Disposable Vape Device giving around 6000 Puffs with your choice e-liquid flavor.
3 x Lanyard
| | |
| --- | --- |
| Type: | |
| Vendor: | |
| Flavors: | Alaskan Mint, Cactus Jack, Clear, Crushed Berries, Dragon Fruit Lemonade, Frozen Strawberry, Fuji Blue Raz, Fuji Pear, Georgia Peach, Hawaii Sunset, Lemon Lime, Mango Mania, Miami Mint, Peach Pear, Pom Pom Raz, Spearmint, Strawberry Kiwi, Strazz, Watermelon Ice |
| SKU: | Raz CA6000 Vape - 3PK |
| Weight: | 7.2 oz |
SHIPPING:
You can choose from three Shipping options:
Standard

Shipping 

5 to 10 Business Days
Priority

Shipping 

3 to 7 Business Days
Express

Shipping 

2 to 3 Business Days
Shipping days are Mon to Fri, not including weekends and Holidays . 
Carriers used will vary dependent on the shipping location.
Shipping times above vary and only include the 48 contiguous USA States. Carriers don't guarantee shipping delivery times, this is just an estimate number of Business days your package might take to be deliver and doesn't included any inclement weather or disasters. Business Days only include Monday to Friday, and this doesn't include weekends and any Public Holiday.
Customers are responsibility to make sure the address information provided is accurate, including city, state and zip code to prevent any delays or errors in shipping.  Your shipping address cannot be changed once the order has been processed and shipped.  It is the customers responsibility to review their shipping information before order submission.  Failure to provide accurate shipping information may result in a delay and additional shipping charges.  Exceptions apply to Shipping to APO/FPO/DPO addresses which may take up to 45 business days for delivery via USPS policy.
Canadian customers' orders may take up to 30 business days.  Please note, you may be subject to taxes and import duties, namely GST (Goods and Services Tax) and HST (Harmonized Sales Tax). In addition, a fee may be levied upon your purchase by Canada Post. These costs are not included in your overall purchase price and EveryThing Vapes is NOT held liable for any custom issues.
ADULT SIGNAUTURE REQUIRED
All orders are shipped with Signature required as per the new Pact Act Vape Laws. Please make sure you are 21 Years and older and you have an adult of 21 yrs of age or older available to receive and sign for your package. No exceptions apply. If you will be available or you do not have somebody at home to sign for the package that is 21 years old, then you can contact the carrier and ask them to hold the package, and you can pick it up at your convenience within a few days. Check with the shipping carrier what the maximum number of days your package will be held otherwise the package will get returned back to us.
Shipping cost will NOT be refunded for any reason. You will receive an email with the tracking information once the order has been shipped.