NKD 100 MAX Disposable...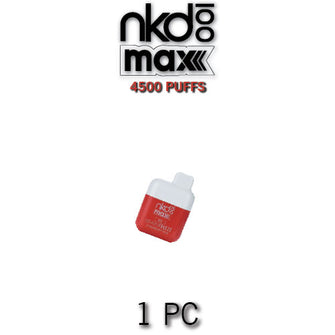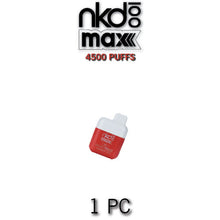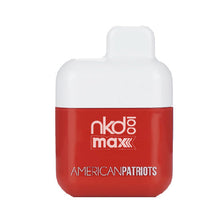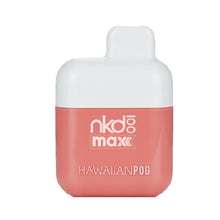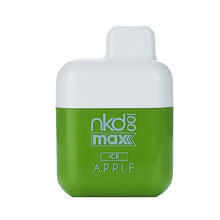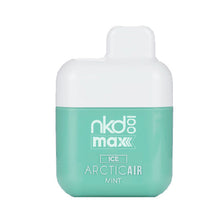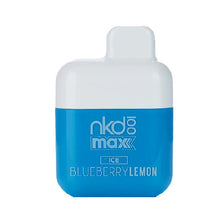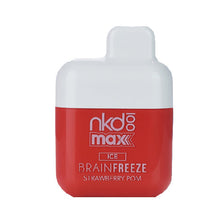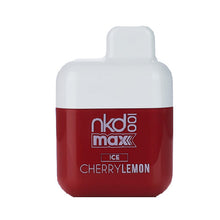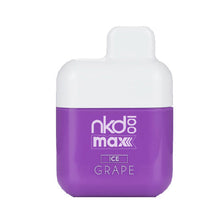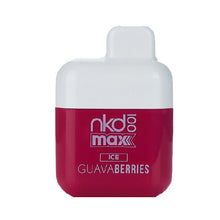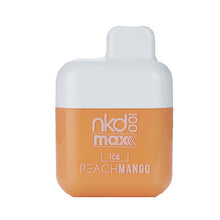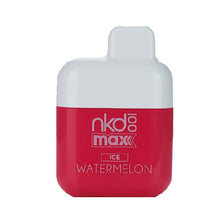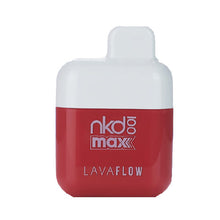 1PC - NAKED 100 MAX Disposable Vape Device | 4500 Puffs
Presenting the innovative NKD 100 Max Disposable Vape Device by Naked 100, a pioneering brand revered for its dedication to quality, flavor, and customer satisfaction in the e-liquid industry. With this state-of-the-art device, Naked 100 has ingeniously penetrated the disposable vape market, offering a product that stands as a synonym for convenience, performance, and diversity in flavor profiles. This sleek and discreet device, characterized by its compactness and lightweight, is a paradigm of on-the-go vaping, easily nestling into one's palm or pocket. It's a draw-activated, user-centric device featuring a lip-synced mouthpiece, designed to deliver an ergonomic and uncompromised vaping experience. Notably, the NKD 100 Max is available in twelve meticulously crafted, color-coded flavor profiles, allowing users to easily identify and enjoy a plethora of choices. With a substantial e-liquid capacity of 10mL and powered by a 500mAh precharged battery, this device promises to deliver approximately 4500 puffs of intense, flavorful clouds, ensuring that users experience prolonged and uninterrupted vaping enjoyment.
The 1.2-ohm coil and the 5% salt nicotine content are perfectly balanced to provide an optimal throat hit and substantial nicotine satisfaction, making it an ideal choice for low-wattage pod device users. The true essence of disposability is embedded in its design, with the battery precisely configured to last until the very last droplet of e-juice is relished, offering users the luxury of experiencing top-notch flavors without the hassle of refills or recharges. The availability of the NKD 100 Max across various vape stores and online platforms ensures that this masterpiece is accessible to all vaping aficionados, promising a transformative vaping experience marked by convenience, unparalleled flavor, and superior quality. Whether you are an ardent fan of Naked 100 or a curious first-timer, the NKD 100 Max is destined to redefine your vaping expectations and preferences, enriching your taste buds with every draw.
View our other Disposable Vape Products
View our collection of disposable vape bundles, or view our 3 Pack, 6 Pack and 10 Pack vape bundles to get huge savings on your next vape device.
NKD 100 MAX Disposable Vape Device Details:
Pre-filled E-Liquid Capacity Size: 10ml
Puff Count: 4500+ Puffs
Nicotine Strength: 5% (50mg Nicotine Concentration)
Nicotine Type: Salt Nicotine
Salt Nicotine equivalent to about 1 pack of cigarettes
Battery Capacity: USB Type-C Rechargeable 500mAh (charger & cable not included)
Dimensions : 26mm x 20mm x 5mm
Firing Mechanism: Draw Activated
Coil: 1.2 ohm Coil
Flavors: 12 Available Flavors
NKD 100 MAX Disposable Vape Flavors:
American Patriots: Traverse the rugged landscapes with a classic, robust tobacco flavor, echoing the spirits of the true American Patriots, delivering a bold and rich vaping experience.
Hawaiian POG: Surf the Hawaiian waves with a tantalizing blend of passion fruit, orange, and guava, offering a tropical escape filled with vibrant and lush fruity notes.
Ice Apple: Plunge into a frosty orchard experience with crisp and sweet apples highlighted by a cooling icy undertone, refreshing your palate with every puff.
Ice Arctic Air (Mint): Embrace the arctic breeze with a blast of cool mint, providing a refreshing and invigorating experience, reminiscent of a winter's breath.
Ice Blueberry Lemon: Revel in the icy dance of tart lemons and sweet blueberries, creating a balanced symphony of sour and sweet, encased in a cool embrace.
Ice Brain Freeze (Strawberry Pom): Navigate through the icy realms with a fusion of sweet strawberries, tart pomegranate, and a cool menthol finish, delivering a layered sensory delight.
Ice Cherry Lemon: Indulge in the frosty blend of tart lemons and sweet cherries, swathed in an icy swirl, rejuvenating your taste buds with its vibrant flavor profile.
Ice Grape: Immerse yourself in the chilly essence of sweet grapes, frozen to perfection, offering a succulent and cool grape delight with every inhale.
Ice Guava Berries: Venture into the cool tropics with a mix of sweet guava and assorted berries, coated with a frosty layer, providing a flavorful and icy exotic journey.
Ice Peach Mango: Drift through the icy clouds with a juicy blend of sweet peaches and tropical mango, highlighted by a cool undertone, establishing a harmonious and refreshing flavor experience.
Ice Watermelon: Dive into the refreshing world of juicy and sweet watermelons with an icy twist, delivering a revitalizing and frosty watermelon bliss.
Lava Flow: Explore the volcanic islands with a fusion of sweet strawberries, creamy coconut, and succulent pineapple, erupting with flavorful intensity and tropical warmth.
NKD 100 MAX Disposable Vape Packaging Contents:
1 x NKD 100 MAX Disposable Vape Device giving around 4500+ Puffs with your choice e-liquid flavor.
| | |
| --- | --- |
| Type: | |
| Vendor: | |
| Flavors: | American Patriots, Hawaiian POG, Ice Apple, Ice Arctic Air (Mint), Ice Blueberry Lemon, Ice Brain Freeze (Strawberry Pom), Ice Cherry Lemon, Ice Grape, Ice Guava Berries, Ice Peach Mango, Ice Watermelon, Lava Flow |
| SKU: | American Patriots - NKD 100MAX Vape 1PC |
| Weight: | 2.4 oz |
SHIPPING:
You can choose from three Shipping options:
Standard

Shipping 

5 to 10 Business Days
Priority

Shipping 

3 to 7 Business Days
Express

Shipping 

2 to 3 Business Days
Shipping days are Mon to Fri, not including weekends and Holidays . 
Carriers used will vary dependent on the shipping location.
Shipping times above vary and only include the 48 contiguous USA States. Carriers don't guarantee shipping delivery times, this is just an estimate number of Business days your package might take to be deliver and doesn't included any inclement weather or disasters. Business Days only include Monday to Friday, and this doesn't include weekends and any Public Holiday.
Customers are responsibility to make sure the address information provided is accurate, including city, state and zip code to prevent any delays or errors in shipping.  Your shipping address cannot be changed once the order has been processed and shipped.  It is the customers responsibility to review their shipping information before order submission.  Failure to provide accurate shipping information may result in a delay and additional shipping charges.  Exceptions apply to Shipping to APO/FPO/DPO addresses which may take up to 45 business days for delivery via USPS policy.
Canadian customers' orders may take up to 30 business days.  Please note, you may be subject to taxes and import duties, namely GST (Goods and Services Tax) and HST (Harmonized Sales Tax). In addition, a fee may be levied upon your purchase by Canada Post. These costs are not included in your overall purchase price and EveryThing Vapes is NOT held liable for any custom issues.
ADULT SIGNAUTURE REQUIRED
All orders are shipped with Signature required as per the new Pact Act Vape Laws. Please make sure you are 21 Years and older and you have an adult of 21 yrs of age or older available to receive and sign for your package. No exceptions apply. If you will be available or you do not have somebody at home to sign for the package that is 21 years old, then you can contact the carrier and ask them to hold the package, and you can pick it up at your convenience within a few days. Check with the shipping carrier what the maximum number of days your package will be held otherwise the package will get returned back to us.
Shipping cost will NOT be refunded for any reason. You will receive an email with the tracking information once the order has been shipped.