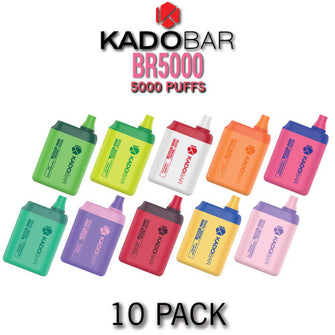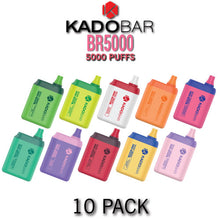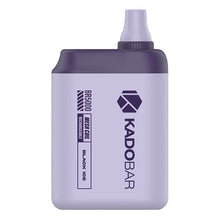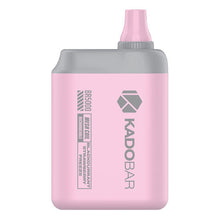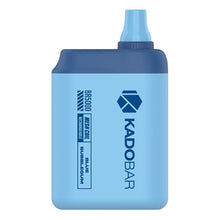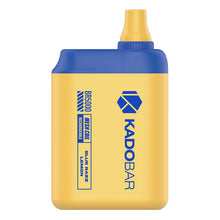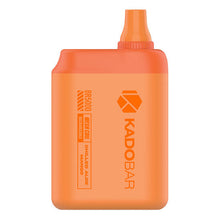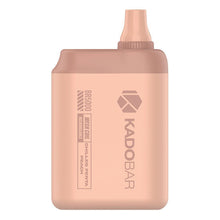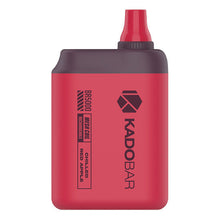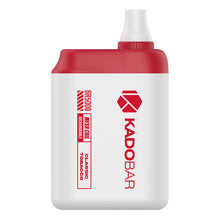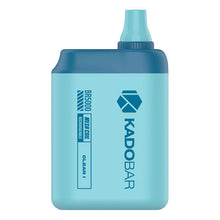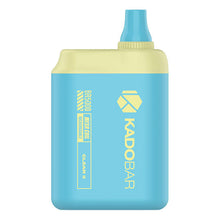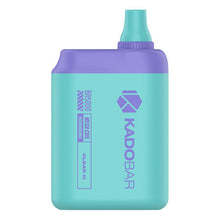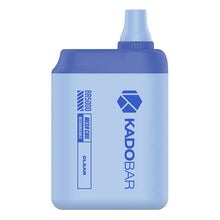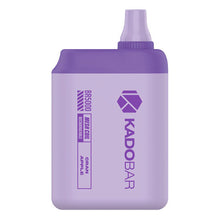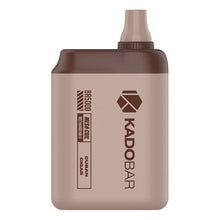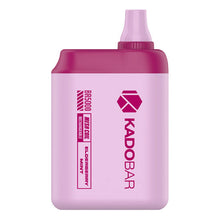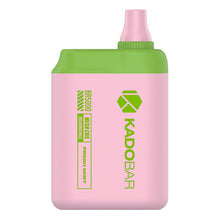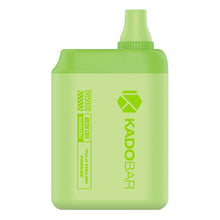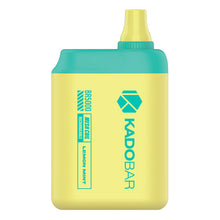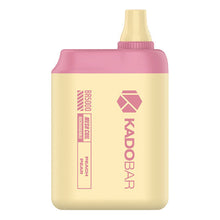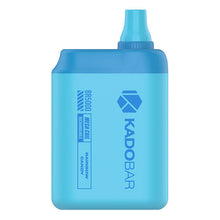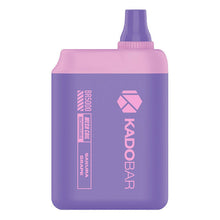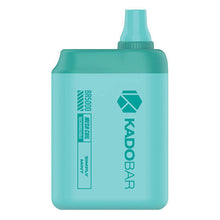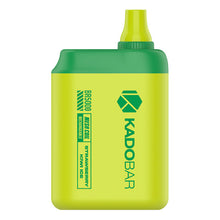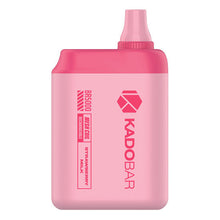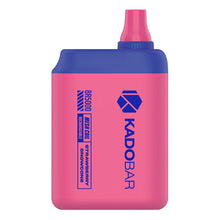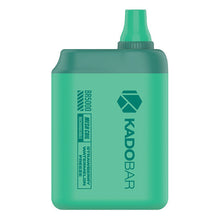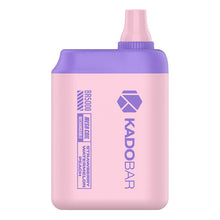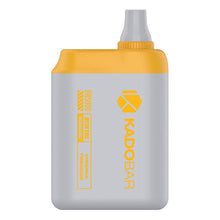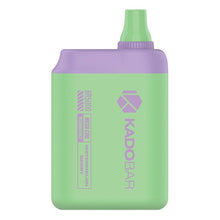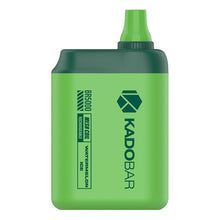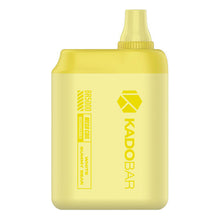 10PK - Kado Bar BR5000 Disposable Vape Device | 5000 Puffs
Indulge in the Ultimate Vaping Adventure with the Kado Bar BR50000 Disposable Vape Device
Treat yourself to a remarkable vaping experience with the Kado Bar BR50000 Disposable Vape Device, a cutting-edge innovation that seamlessly merges advanced technology, top-tier performance, and an enticing assortment of flavors to satisfy the most refined vaper's palate.
The Kado Bar BR50000 comes equipped with a spacious 14ml e-liquid pod, filled with high-quality synthetic nicotine at a strength of 5% or 50mg. With an impressive 5000+ puffs per device, you can relish in an extended and gratifying vape experience, free from the hassles of constant refills or recharges.
To ensure your device remains powered and ready, the BR50000 features a USB-C rechargeable 650mAh battery (charging cable and charger not included), providing reliable power for your vaping sessions. The built-in LED battery indicator allows you to effortlessly monitor your battery life, so you're always prepared for your next vape break.
Featuring state-of-the-art mesh coil technology, the Kado Bar BR50000 delivers unparalleled flavor and velvety smooth hits with every puff. The device also incorporates a bottom airflow system, ensuring a rich and satisfying inhale while minimizing the risk of dry or burnt hits.
With a diverse selection of 32 available flavors, including delightful fruity infusions and classic tobacco options, you'll have no trouble finding the perfect vape to suit your taste buds. The Kado Bar BR50000 delivers a high-quality vaping experience that's both convenient and enjoyable.
Step into the world of superior vaping with the Kado Bar BR50000 Disposable Vape Device – an innovative solution engineered to provide exceptional flavor, silky smooth hits, and long-lasting battery life. Experience the difference this groundbreaking device can make for vapers of all experience levels.
See our DEALS PAGE and get a coupon code on you next order.
Check out our collection of disposable vape bundles, or view our 3 Pack, 6 Pack and 10 Pack vape bundles to get huge savings on your next Vape Pod.
Kado Bar BR50000 Disposable Vape Device Details:
E-Liquid Pod Size: 14ml
Synthetic Nicotine Strength: 5% or 50mg
Battery Capacity: USB-C Rechargeable 650mAh (charging cable & charger not included)
Puff Count: 5000+ Puffs
Mesh coil for enhanced Flavor and Smooth Hits
LED battery indicator
Bottom airflow
Flavors: 32 Available Flavors
Kado Bar BR5000 Disposable Vape Flavors:
Black Ice: Embrace the cool, mysterious blend of frosty menthol and dark, rich blackcurrant for an invigorating and refreshing vape experience.
Blackcurrant Strawberry Freeze: Indulge in the perfect marriage of juicy blackcurrants and ripe strawberries, infused with an icy touch that will leave your taste buds shivering with delight.
Blue Bubblegum: Revel in the nostalgic taste of classic blue bubblegum, a sweet and satisfying flavor that transports you back to carefree childhood days.
Blue Razz Lemon: Experience the electrifying fusion of tangy blue raspberries and zesty lemon for a mouthwatering, palate-pleasing vape adventure.
Chilled Aloe Mango: Soothe your senses with the refreshing combination of cooling aloe and succulent mangoes, a tropical oasis for your taste buds.
Chilled Fenta Peach: Savor the unique blend of frosty menthol, effervescent soda, and juicy peaches for a fizzy, fruity, and invigorating vaping sensation.
Chilled Red Apple: Delight in the crisp, refreshing taste of red apples with a frosty menthol twist, a perfect balance of sweetness and coolness.
Classic Tobacco: Relish the rich, robust flavor of traditional tobacco, a timeless taste that satisfies your cravings with its smooth, earthy notes.
Clear 1: Experience pure, unadulterated vaping bliss with this neutral and clean flavor, perfect for those who appreciate the subtleties of vaping.
Clear 11: Revel in the simplicity of this smooth, untainted flavor that offers a pure and satisfying vaping experience.
Clear 111: Enjoy the unassuming elegance of this clean, straightforward flavor that allows you to savor the essence of vaping without distractions.
Clear: Discover the beauty of simplicity with this unflavored vape, offering an unadulterated and satisfying experience for purists.
Cran Apple: Immerse yourself in the harmonious blend of tart cranberries and sweet, crisp apples, a delightful fruity concoction that tantalizes the senses.
Cuban Cigar: Transport yourself to Havana with the bold, sophisticated flavor of a premium Cuban cigar, exuding luxury and refinement with every puff.
Elderberry Mint: Delight in the enchanting fusion of fragrant elderberries and refreshing mint, a magical mixture that invigorates and entices your taste buds.
Fresh Mint: Experience the revitalizing essence of fresh mint, a cool and uplifting flavor that awakens your senses and leaves you feeling refreshed.
Fuji Melon Freeze: Indulge in the captivating combination of crisp Fuji apples, succulent melons, and icy menthol, a fruity and frosty delight for your palate.
Lemon Mint: Savor the zesty tang of fresh lemons and the invigorating coolness of mint, a perfect marriage of flavors that enlivens your vaping experience.
Peach Pear: Delight in the succulent fusion of juicy peaches and ripe pears, a mouthwatering, fruity medley that dances on your taste buds.
Rainbow Candy: Unleash a kaleidoscope of flavors with this vibrant mix of colorful candy, a playful and sweet treat that brings out the child in you.
Sakura Grape: Explore the delicate, floral notes of sakura blossoms paired with sweet, juicy grapes, a harmonious blend that transports you to a serene Japanese garden.
Simply Mint: Embrace the clean, refreshing essence of mint in its purest form, a classic flavor that revitalizes and satisfies with every puff.
Strawberry Kiwi Ice: Immerse yourself in the delightful duo of ripe strawberries and tangy kiwi.
Strawberry Milk: Indulge in the comforting blend of ripe, juicy strawberries and creamy, smooth milk, a nostalgic flavor that evokes memories of childhood treats.
Strawberry Snowcone: Enjoy the frosty delight of a classic strawberry snowcone, a perfect balance of fruity sweetness and icy refreshment for a satisfying vape experience.
Strawberry Watermelon Freeze: Revel in the invigorating fusion of succulent strawberries and juicy watermelon, enhanced by a touch of frosty menthol for a cool, refreshing kick.
Strawberry Watermelon Peach: Savor the mouthwatering medley of ripe strawberries, refreshing watermelon, and juicy peaches, a fruity symphony that delights the senses.
Virginia Tobacco: Appreciate the smooth, mellow flavor of Virginia tobacco, a classic taste that offers a satisfying and traditional vaping experience.
Watermelon Berry: Delight in the luscious combination of juicy watermelon and sweet, tangy berries, a refreshing and vibrant flavor that tantalizes the taste buds.
Watermelon Ice: Experience the invigorating fusion of sweet watermelon and cool menthol, a perfect pairing that awakens and refreshes your senses.
White Gummy Bear: Indulge in the irresistible flavor of white gummy bears, a chewy, fruity delight that satisfies your sweet tooth with every puff.
Kado Bar BR5000 Disposable Vape Packaging Contents:
10 x Kado Bar BR5000 Disposable Vape Device giving around 5000 Puffs with your choice of best e-liquid flavor.
| | |
| --- | --- |
| Type: | |
| Vendor: | |
| Flavors: | Black Ice, Blackcurrent Strawberry Freeze, Blue Bubblegum, Blue Razz Lemon, Chilled Aloe Mango, Chilled Fenta Peach, Chilled Red Apple, Classic Tobacco, Clear 1, Clear 11, Clear 111, Clear, Cran Apple, Cuban Cigar, Elderberry Mint, Fresh Mint, Fuji Melon Freeze, Lemon Mint, Peach Pear, Rainbow Candy, Sakura Grape, Simply Mint, Strawberry Kiwi Ice, Strawberry Milk, Strawberry Snowcone, Strawberry Watermelon Freeze, Strawberry Watermelon Peach, Virginia Tobacco, Watermelon Berry, Watermelon Ice, White Gummy Bear |
| SKU: | Classic Tobacco – KADO BAR BR5000 10pk |
| Weight: | 22.0 oz |
SHIPPING:
You can choose from three Shipping options:
Standard

Shipping 

5 to 10 Business Days
Priority

Shipping 

3 to 7 Business Days
Express

Shipping 

2 to 3 Business Days
Shipping days are Mon to Fri, not including weekends and Holidays . 
Carriers used will vary dependent on the shipping location.
Shipping times above vary and only include the 48 contiguous USA States. Carriers don't guarantee shipping delivery times, this is just an estimate number of Business days your package might take to be deliver and doesn't included any inclement weather or disasters. Business Days only include Monday to Friday, and this doesn't include weekends and any Public Holiday.
Customers are responsibility to make sure the address information provided is accurate, including city, state and zip code to prevent any delays or errors in shipping.  Your shipping address cannot be changed once the order has been processed and shipped.  It is the customers responsibility to review their shipping information before order submission.  Failure to provide accurate shipping information may result in a delay and additional shipping charges.  Exceptions apply to Shipping to APO/FPO/DPO addresses which may take up to 45 business days for delivery via USPS policy.
Canadian customers' orders may take up to 30 business days.  Please note, you may be subject to taxes and import duties, namely GST (Goods and Services Tax) and HST (Harmonized Sales Tax). In addition, a fee may be levied upon your purchase by Canada Post. These costs are not included in your overall purchase price and EveryThing Vapes is NOT held liable for any custom issues.
ADULT SIGNAUTURE REQUIRED
All orders are shipped with Signature required as per the new Pact Act Vape Laws. Please make sure you are 21 Years and older and you have an adult of 21 yrs of age or older available to receive and sign for your package. No exceptions apply. If you will be available or you do not have somebody at home to sign for the package that is 21 years old, then you can contact the carrier and ask them to hold the package, and you can pick it up at your convenience within a few days. Check with the shipping carrier what the maximum number of days your package will be held otherwise the package will get returned back to us.
Shipping cost will NOT be refunded for any reason. You will receive an email with the tracking information once the order has been shipped.