HQD Cuvie Bar Disposable...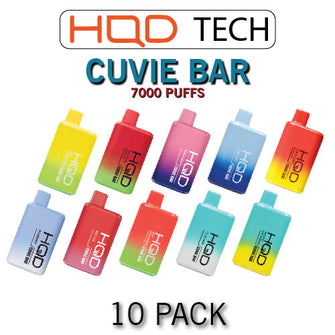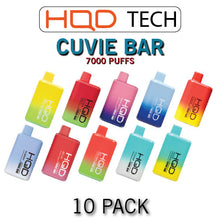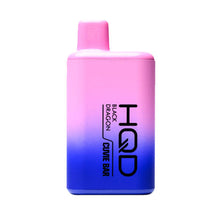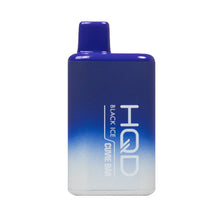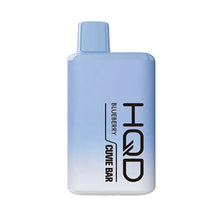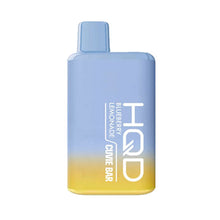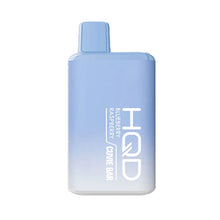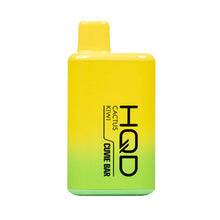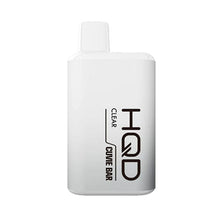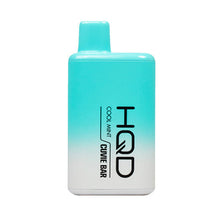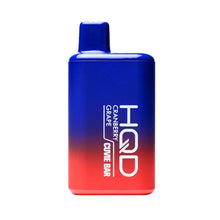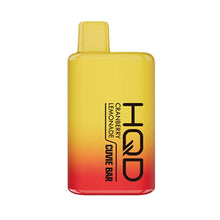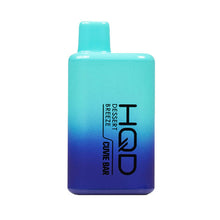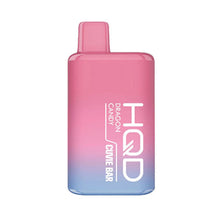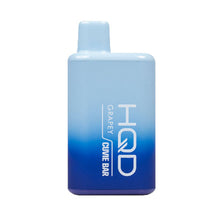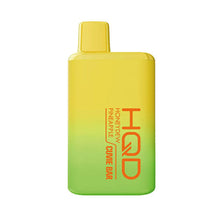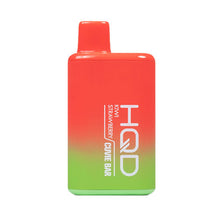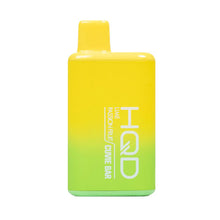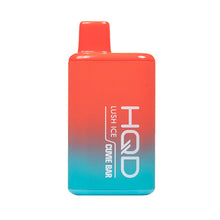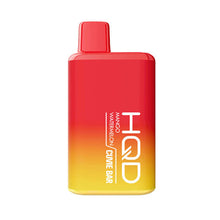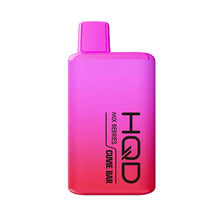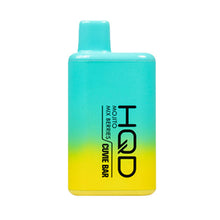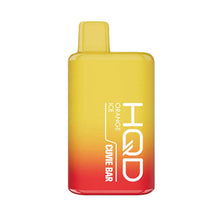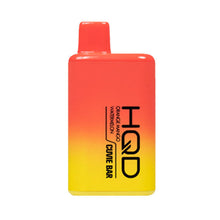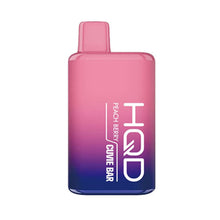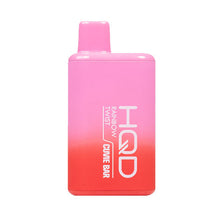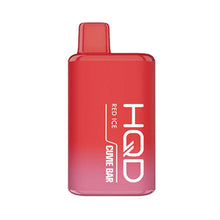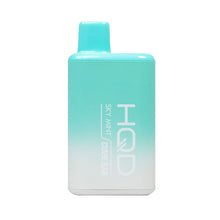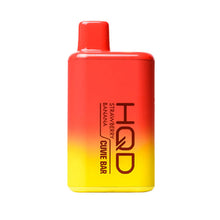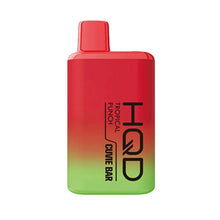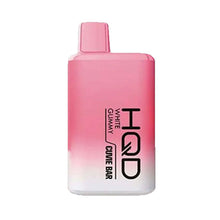 10PK - HQD Cuvie Bar Disposable Vape Device | 7000 Puffs
 Step into the future of vaping with the HQD Cuvie Bar, the brilliantly designed second generation of the HQD Bar series. This isn't just another disposable vape pod device; it's a technological marvel that blends the best of puff, battery life, e-liquid richness, and atomization into a sleek, pocket-friendly design. With a whopping 7000 puffs at your disposal, you're guaranteed an enduring vaping experience. But it's not just about the quantity; it's about the quality. Choose from 19 exquisite flavors, each crafted to deliver an intense taste sensation, thanks to the device's unique honeycomb net technology that ensures even heating and comprehensive vaporization.
Powered by a 550mAh built-in battery, this device promises uninterrupted vaping pleasure, and when you do need a charge, the Type-C feature ensures a swift refill. Inside, the e-liquid sings a song of purity, boasting core ingredients like Vegetable Glycerin, Propylene Glycol, and a mix of Natural & Artificial Flavors with a nicotine punch. Every puff is a testament to HQD's commitment to unparalleled quality and a flawless vaping experience. The Cuvie Bar is not just an upgrade; it's a revolution. Join the movement today and redefine your vaping standards.
Check out our collection of disposable vape bundles, or view our 3 Pack, 6 Pack and 10 Pack vape bundles to get huge savings on your next vape device.
HQD Cuvie Bar Disposable Vape Device Details:
E-Liquid Capacity: 18ml Prefilled E-juice
Puff Count: Approximately 7000 Puffs
Concentration: 50mg/ml(5%) Salt Nicotine
Wattage Output: 7W
Resistance: 1.4 ohm Mesh Coil
Air Flow: Dual Airflow Vents
Operation: Draw-Activation
Battery Capacity: 550mAh Rechargeable Battery (USB cable included)
Charging Port: USB Type-C
Size: 19x42x82mm
Flavors: 30 Available Flavors
HQD Cuvie Bar Disposable Vape Device Flavors:
Black Dragon: Experience a blend of dark fruits with a mythical twist in our Black Dragon vape juice. This mix offers a captivating essence reminiscent of a legendary dragon's breath - mysterious and full of flavor.
Black Ice: Delight in the chilling mix of menthol with a subtle fruit undertone in our Black Ice vape juice. This blend provides a cold gust that clears the senses, making every puff refreshing.
Blueberry: Savor the pure essence of fresh blueberries in our Blueberry vape juice. This blend offers a sweet and slightly tangy burst of flavor, reminiscent of summertime.
Blueberry Lemonade: Quench your thirst with the tantalizing mix of sweet blueberries and tart lemonade in our Blueberry Lemonade vape juice, a summertime favorite.
Blueberry Raspberry: Indulge in the delicious marriage of blueberries and raspberries in our Blueberry Raspberry vape juice, delivering a fruity, tangy delight with every inhale.
Cactus Kiwi: Embark on a unique flavor journey with our Cactus Kiwi vape juice. The blend combines the subtle sweetness of kiwi with the fresh nuances of cactus for a distinct vaping experience.
Clear: For the purists, our Clear vape juice offers an unaltered, pure, and crisp vaping experience, untainted by additional flavors.
Cool Mint: Revel in the refreshing sensation of our Cool Mint vape juice, providing a cool, invigorating burst that soothes and refreshes with every puff.
Cranberry Grape: Discover the exquisite blend of tart cranberries and sweet grapes in our Cranberry Grape vape juice, perfectly balancing sweetness and tanginess.
Cranberry Lemonade: Dive into a tart and refreshing combination in our Cranberry Lemonade vape juice, where sharp cranberries meet zesty lemonade for a delightful taste sensation.
Desert Breeze: Experience the warmth and richness reminiscent of a desert wind in our Desert Breeze vape juice, bringing a mix of spicy and sweet notes.
Dragon Candy: Savor the exotic blend of fruits with a candied finish in our Dragon Candy vape juice, offering a sweet, tropical adventure with every drag.
Grapey: Relish the full-bodied essence of luscious grapes in our Grapey vape juice, delivering a sweet and aromatic vaping delight.
Honeydew Pineapple: Dive into a tropical blend of juicy honeydew melon and tangy pineapple in our Honeydew Pineapple vape juice, a sweet escape to a paradise island.
Kiwi Strawberry: Enjoy the harmonious blend of tart kiwis and sweet strawberries in our Kiwi Strawberry vape juice, a fruity concoction that dances on the taste buds.
Lime Passion Fruit: Revel in the zesty blend of sharp lime and aromatic passion fruit in our Lime Passion Fruit vape juice, bringing a tropical twist to your vape sessions.
Lush Ice: Embark on a frosty journey with a blend of fruits and a menthol finish in our Lush Ice vape juice, ensuring a cool and refreshing experience.
Mango Watermelon: Savor the succulence of ripe mangoes and refreshing watermelon in our Mango Watermelon vape juice, a tropical blend that's irresistibly sweet.
Mix Berries: Delight in the medley of various berries in our Mix Berries vape juice, a harmonious combination that offers a burst of fruity goodness.
Mojito Mix Berries: Experience the tantalizing fusion of mixed berries with a mojito twist in our Mojito Mix Berries vape juice, reminiscent of the classic cocktail.
Orange Ice: Revel in the juicy goodness of oranges with a frosty finish in our Orange Ice vape juice, delivering a zesty and chilling vape sensation.
Orange Mango Watermelon: Dive into a tropical treat with our Orange Mango Watermelon vape juice, combining citrusy oranges, luscious mangoes, and juicy watermelon for a fruit-filled adventure.
Peach Berry: Relish the delightful blend of sweet peaches and assorted berries in our Peach Berry vape juice, a fruity concoction that's both sweet and tangy.
Rainbow Twist: Embark on a flavor rollercoaster with our Rainbow Twist vape juice, combining a spectrum of fruits to create a multi-layered taste sensation.
Red Ice: Feel the frosty burst of berries with a chilling finish in our Red Ice vape juice, perfect for those seeking a cool berry infusion.
Sky Mint: Soar to new flavor heights with our Sky Mint vape juice, offering a cool and refreshing minty blast that elevates your vaping experience.
Strawberry Banana: Dive into the classic and beloved blend of strawberries and bananas in our Strawberry Banana vape juice, offering a smooth, fruity delight.
Tobacco: For traditionalists, our Tobacco vape juice captures the rich and robust flavors of classic tobacco, delivering a smooth and aromatic experience.
Tropical Punch: Journey to a tropical paradise with our Tropical Punch vape juice, combining an assortment of exotic fruits for a sweet, tangy, and vibrant flavor profile.
White Gummy: Indulge in the chewy and sweet flavors reminiscent of white gummy bears in our White Gummy vape juice, a delightful treat for your taste buds.
HQD Cuvie Bar Disposable Vape Device Packaging Includes:
10 x HQD Cuvie Bar Vape Device
| | |
| --- | --- |
| Type: | |
| Vendor: | |
| Flavors: | Black Dragon, Black Ice, Blueberry, Blueberry Lemonade, Blueberry Raspberry, Cactus Kiwi, Clear, Cool Mint, Cranberry Grape, Cranberry Lemonade, Desert Breeze, Dragon Candy, Grapey, Honeydew Pineapple, Kiwi Strawberry, Lime Passion Fruit, Lush Ice, Mango Watermelon, Mix Berries, Mojito Mix Berries, Orange Ice, Orange Mango Watermelon, Peach Berry, Rainbow Twist, Red Ice, Sky Mint, Strawberry Banana, Tobacco, Tropical Punch, White Gummy |
| SKU: | HQD Cuvie BAR Disposable Vape Device - 10PK |
| Weight: | 30.0 oz |
SHIPPING:
You can choose from three Shipping options:
Standard

Shipping 

5 to 10 Business Days
Priority

Shipping 

3 to 7 Business Days
Express

Shipping 

2 to 3 Business Days
Shipping days are Mon to Fri, not including weekends and Holidays . 
Carriers used will vary dependent on the shipping location.
Shipping times above vary and only include the 48 contiguous USA States. Carriers don't guarantee shipping delivery times, this is just an estimate number of Business days your package might take to be deliver and doesn't included any inclement weather or disasters. Business Days only include Monday to Friday, and this doesn't include weekends and any Public Holiday.
Customers are responsibility to make sure the address information provided is accurate, including city, state and zip code to prevent any delays or errors in shipping.  Your shipping address cannot be changed once the order has been processed and shipped.  It is the customers responsibility to review their shipping information before order submission.  Failure to provide accurate shipping information may result in a delay and additional shipping charges.  Exceptions apply to Shipping to APO/FPO/DPO addresses which may take up to 45 business days for delivery via USPS policy.
Canadian customers' orders may take up to 30 business days.  Please note, you may be subject to taxes and import duties, namely GST (Goods and Services Tax) and HST (Harmonized Sales Tax). In addition, a fee may be levied upon your purchase by Canada Post. These costs are not included in your overall purchase price and EveryThing Vapes is NOT held liable for any custom issues.
ADULT SIGNAUTURE REQUIRED
All orders are shipped with Signature required as per the new Pact Act Vape Laws. Please make sure you are 21 Years and older and you have an adult of 21 yrs of age or older available to receive and sign for your package. No exceptions apply. If you will be available or you do not have somebody at home to sign for the package that is 21 years old, then you can contact the carrier and ask them to hold the package, and you can pick it up at your convenience within a few days. Check with the shipping carrier what the maximum number of days your package will be held otherwise the package will get returned back to us.
Shipping cost will NOT be refunded for any reason. You will receive an email with the tracking information once the order has been shipped.