Glamee GT8000 Disposable Vape...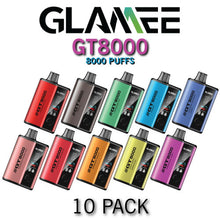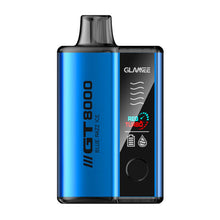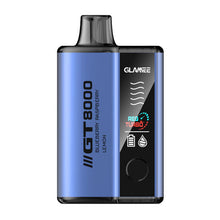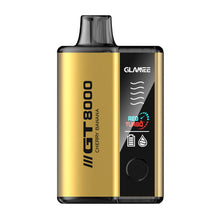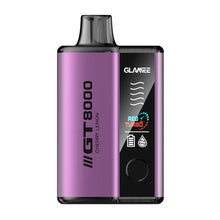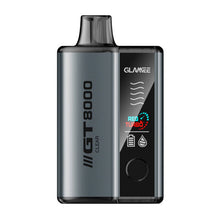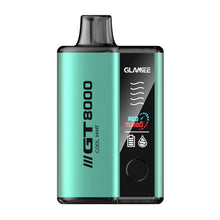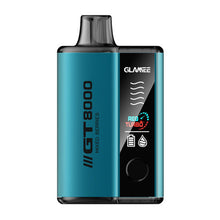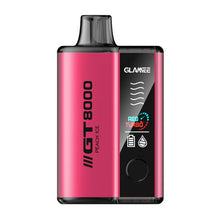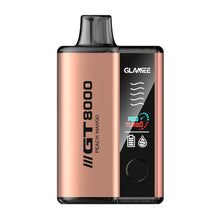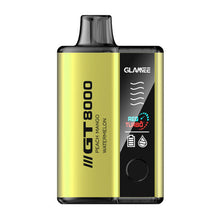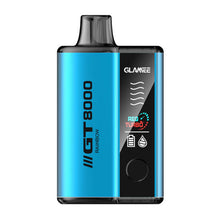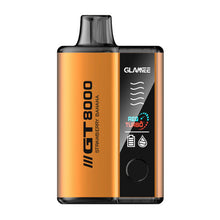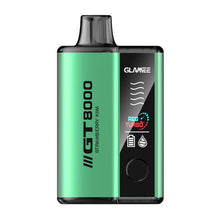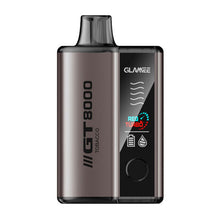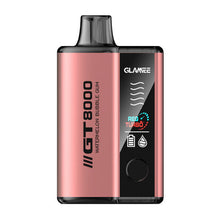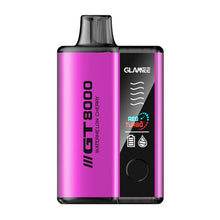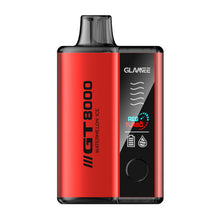 10PK - Glamee GT8000 Disposable Vape, REG/TURBO Mode, Smart LED Display | 8000 PUFFS
Experience the future of vaping with the GLAMEE GT8000, an advanced disposable vape device packed with innovative features. Designed for a supreme vaping experience, the GT8000 combines simplicity, performance, and versatility in a sleek package.
Features:
Interactive LED Display: The GLAMEE GT8000 boasts a large LED screen that shows the remaining battery and e-liquid levels, ensuring you're never caught off guard.

Dual Mode Functionality: Elevate your vaping experience with the press of a button. The GT8000 allows you to switch between regular and turbo modes, adapting to your unique vaping style.

Extended Vaping Time: Enjoy up to 8000 puffs with the GT8000, pre-filled with 16ml of high-quality e-liquid. A flavorful, long-lasting vape experience is at your fingertips.

Rechargeable Battery: With a 550mAh battery and a Type-C fast charging port, the GT8000 ensures uninterrupted vaping till the last puff of e-liquid.

Diverse Flavor Options: Choose from an array of 19 outstanding flavors. Each containing 50mg of salt nicotine, these top-notch e-liquids cater to every palate.

Compact and User-friendly: The sleek, portable design of the GLAMEE GT8000 along with its draw-activation feature make it an effortless companion for vaping on-the-go.

Safety Assured: The GT8000 is equipped with multiple safety protections, like overcharge, short circuit, and low voltage protection, ensuring a secure vaping experience.
Immerse yourself in the remarkable vaping journey offered by the GLAMEE GT8000. With its user-friendly features, a plethora of flavors, and long-lasting performance, the GT8000 is a reliable partner for both beginners and seasoned vapers.
View our other Disposable Vape Products?
View our collection of disposable vape bundles, or view our 3 Pack, 6 Pack and 10 Pack vape bundles to get huge savings on your next vape device.
Glamee GT8000 Disposable Vape Device Details:
E-Liquid Capacity Size: 16ml
Puff Count: 8000+ Puffs
Nicotine Strength: 5.0%
Battery Capacity: Rechargeable 550mAh ( Requires USB Type-C cable not included )
REG/TURBO Mode to Switch with Button
Coil Type: Dual Mesh
Flavors: 19 Available Flavors
Glamee GT8000 Disposable Vape Device Flavors:
Blue Razz Ice: Delight in the invigorating fusion of sweet blue raspberries and a chilly hint of menthol, offering an exhilarating and tantalizing vape experience that's both sweet and refreshing.
Blueberry Raspberry Lemon: Enjoy the harmonious combination of ripe blueberries, tangy raspberries, and zesty lemon in this balanced vape, creating a harmonious blend of flavors that will tantalize your taste buds.
Cherry Banana: Savor the unique blend of tart cherry and sweet banana in this vape, creating a balanced flavor profile that's both refreshing and satisfyingly sweet.
Cherry Cola: Take a trip down memory lane with the familiar flavor of cherry cola, perfectly captured in this vape for a sweet and fizzy experience that's truly nostalgic.
Cherry Lemon: Enjoy the tartness of ripe cherries expertly combined with the tangy kick of fresh lemon in this vibrant and refreshing vape.
Clear: Indulge in the pure, untainted flavor of high-quality vape juice with Clear, offering a clean and smooth vaping experience that's perfect for those who appreciate simplicity.
Cool Mint: Experience the refreshing blast of cool mint in this vape, offering a clean and invigorating flavor that will awaken your senses.
Mixed Berries: Delight in the sweet symphony of mixed berries in this vape, expertly blending a variety of berry flavors for a juicy and tantalizing vaping experience.
Peach Ice: Savor the taste of juicy peaches complemented by a cool menthol blast in this Peach Ice vape, combining sweet fruitiness with a refreshing kick.
Peach Mango: Immerse yourself in the tropical blend of ripe peaches and juicy mango in this vape, providing a sweet and exotic flavor journey.
Peach Mango Watermelon: Enjoy a vibrant trio of fruits with Peach Mango Watermelon vape, combining the sweetness of peaches, the tropical allure of mango, and the refreshing crispness of watermelon.
Rainbow: Experience a variety of flavors in every puff with Rainbow vape, capturing a spectrum of fruity notes for a delightfully vibrant vaping experience.
Strawberry Banana: Savor the classic combination of ripe strawberries and sweet bananas in this vape, perfectly balancing the two fruit flavors for a smooth and satisfying vape.
Strawberry Kiwi: Delight in the tangy-sweet combination of ripe strawberries and exotic kiwi, creating a vibrant and refreshing flavor profile that's a feast for the senses.
Strawberry Watermelon: Immerse yourself in the sweet and refreshing blend of ripe strawberries and crisp watermelon, perfectly capturing the flavors of summer in this delightful vape.
Tobacco: Experience the robust and rich flavor of classic tobacco in this vape, offering a smooth and satisfying experience for those who prefer traditional flavors.
Watermelon Bubble Gum: Enjoy the nostalgic blend of sweet watermelon and classic bubble gum in this vape, offering a fun and fruity flavor experience that will remind you of your favorite childhood candy.
Watermelon Cherry: Savor the refreshing combination of sweet watermelon and tart cherry in this vape, offering a perfectly balanced flavor that's both sweet and tangy.
Watermelon Ice: Revel in the refreshing blend of sweet, ripe watermelon and frosty menthol in this Watermelon Ice vape, providing a sweet yet invigorating flavor that's perfect for a hot summer day.
Glamee GT8000 Disposable Vape Device Packaging Contents:
10 x Glamee GT8000 Disposable Vape Device

Select your preferred flavor with the GLAMEE GT8000 vape.
| | |
| --- | --- |
| Type: | |
| Vendor: | |
| Flavors: | Blue Razz Ice, Blueberry Raspberry Lemon, Cherry Banana, Cherry Cola, Cherry Lemon, Clear, Cool Mint, Mixed Berries, Peach Ice, Peach Mango, Peach Mango Watermelon, Rainbow, Strawberry Banana, Strawberry Kiwi, Strawberry Watermelon, Tobacco, Watermelon Bubble Gum, Watermelon Cherry, Watermelon Ice |
| SKU: | Glamee GT8000 10pk |
| Weight: | 24.0 oz |
SHIPPING:
You can choose from three Shipping options:
Standard

Shipping 

5 to 10 Business Days
Priority

Shipping 

3 to 7 Business Days
Express

Shipping 

2 to 3 Business Days
Shipping days are Mon to Fri, not including weekends and Holidays . 
Carriers used will vary dependent on the shipping location.
Shipping times above vary and only include the 48 contiguous USA States. Carriers don't guarantee shipping delivery times, this is just an estimate number of Business days your package might take to be deliver and doesn't included any inclement weather or disasters. Business Days only include Monday to Friday, and this doesn't include weekends and any Public Holiday.
Customers are responsibility to make sure the address information provided is accurate, including city, state and zip code to prevent any delays or errors in shipping.  Your shipping address cannot be changed once the order has been processed and shipped.  It is the customers responsibility to review their shipping information before order submission.  Failure to provide accurate shipping information may result in a delay and additional shipping charges.  Exceptions apply to Shipping to APO/FPO/DPO addresses which may take up to 45 business days for delivery via USPS policy.
Canadian customers' orders may take up to 30 business days.  Please note, you may be subject to taxes and import duties, namely GST (Goods and Services Tax) and HST (Harmonized Sales Tax). In addition, a fee may be levied upon your purchase by Canada Post. These costs are not included in your overall purchase price and EveryThing Vapes is NOT held liable for any custom issues.
ADULT SIGNAUTURE REQUIRED
All orders are shipped with Signature required as per the new Pact Act Vape Laws. Please make sure you are 21 Years and older and you have an adult of 21 yrs of age or older available to receive and sign for your package. No exceptions apply. If you will be available or you do not have somebody at home to sign for the package that is 21 years old, then you can contact the carrier and ask them to hold the package, and you can pick it up at your convenience within a few days. Check with the shipping carrier what the maximum number of days your package will be held otherwise the package will get returned back to us.
Shipping cost will NOT be refunded for any reason. You will receive an email with the tracking information once the order has been shipped.