Future Bar Ai7 Disposable...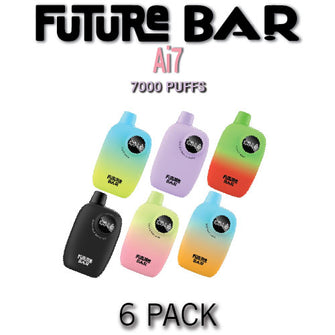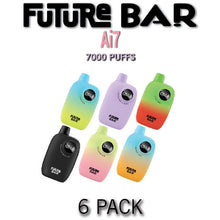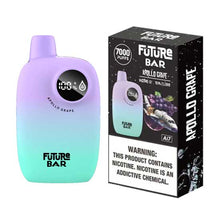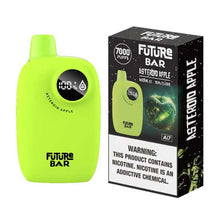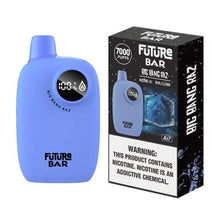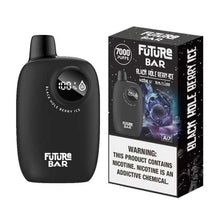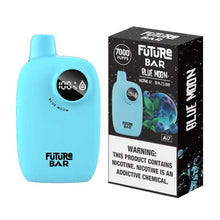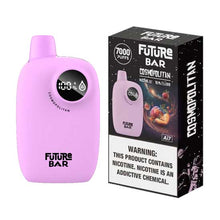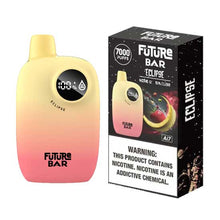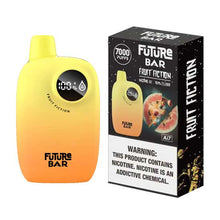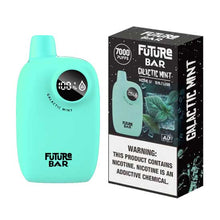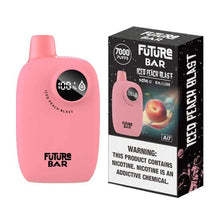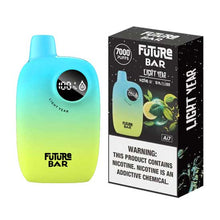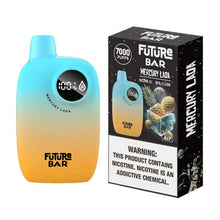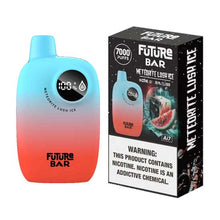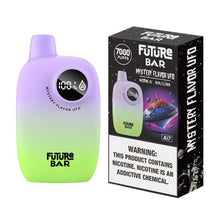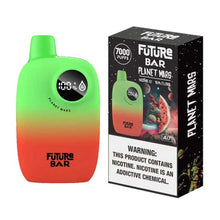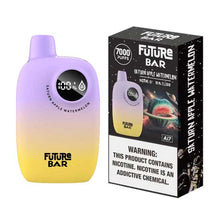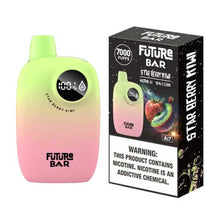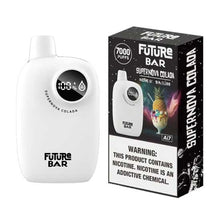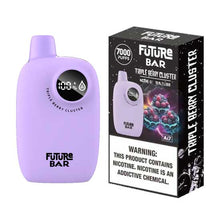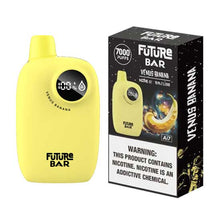 6PK - Future Bar Ai7 Disposable Vape Device | 7000 Puffs
Introducing the pinnacle of vaping sophistication - the Future Bar Ai7 7000 Puffs Disposable vape. Designed for those who seek the very best, this device signifies a seamless blend of function and form.
Imagine a vape that offers longevity without compromise. With a monumental 7000-puff capacity, the Future Bar Ai7 eliminates the frequent stops, letting you immerse in uninterrupted moments of pleasure. Its generous 18ml e-liquid e-juice reservoir ensures that each puff is as flavorful as the first, curating a symphony of taste with its expansive range of 20 curated flavors.
The robustness of the Future Bar Ai7 isn't merely skin deep. A potent 5% nicotine strength, translating to a substantial 50mg concentration, ensures a rewarding experience with every inhalation. It's a vape that's tailored for the discerning, for those who appreciate the finer nuances of a quality vaping session.
Every aspect of its design has been meticulously thought out. A sleek, ergonomic profile is complemented by the practicality of a USB-C rechargeable 650mAh battery. The intuitive LED display provides real-time feedback on e-liquid levels and battery status, ensuring you're always in control.
Future Bar Ai7 7000 Puffs Disposable Vape, you don't just find a vaping device; you discover an extension of your lifestyle, a statement of elegance, and a commitment to unparalleled quality.
View our other Disposable Vape Products

See our DEALS PAGE and get a coupon code on you next order.
Check out our collection of disposable vape bundles, or view our 3 Pack, 6 Pack and 10 Pack vape bundles to get huge savings on your next Vape Pod.
Future Bar Ai7

 

Disposable Vape Device Details:
E-Liquid Capacity Pre-Filled: 18ml
Puff Count: + 7000
Nicotine Strength: 5% (50mg Nicotine Concentration)
Battery Capacity:Rechargeable 650mAh, Type USB-C

 

(charger & cable not included)
Operation: Draw-Activation
User Interface: E-Liquid & Power Screen Display
Flavors: 20 Available Flavors
Future Bar Ai7 Disposable Vape Flavors:
Apollo Grape (Aloe Grape): Journey through the cosmos with Apollo Grape. This celestial blend captures the unique freshness of aloe vera paired with the saccharine richness of grapes. A cosmic pleasure that's out of this world.
Asteroid Apple (Sour Apple): Zoom past the asteroids with a flavor that's truly cosmic. Experience the tantalizing tartness of sour apples, promising a taste explosion with every puff.
Big Bang Raz (Blue Raspberry): Ignite your senses with the birth of a flavor universe. The Big Bang Raz is a stellar fusion of tangy and sweet blue raspberries, creating a flavor explosion just like the origin of the universe.
Black Hole Berry Ice (Blackberry Ice): Get lost in the deep abyss of Black Hole Berry Ice. Dive into the captivating chill of icy blackberries, a flavor so dense and cooling, it might just have its own gravitational pull.
Blue Moon (Blueberry Mint): Once in a Blue Moon, comes a flavor so refreshing. Relish the nocturnal dance of blueberries paired with cool mint, offering a serene night-sky experience.
Cosmopolitan (Peach Strawberry): Take a stellar sip of the universe with Cosmopolitan. The sweet allure of peaches perfectly pairs with the tartness of strawberries, creating an intergalactic sensation.
Eclipse (Strawberry Banana): Be shadowed by the delightful merger of strawberries and bananas. Eclipse captures this rare occurrence, offering a balanced flavor profile that darkens the senses with pleasure.
Fruit Fiction (Mango Peach Watermelon): Dive into the pages of Fruit Fiction, where stories of luscious mangos, juicy peaches, and refreshing watermelon are told in every puff.
Galactic Mint (Mint): Soar through the Milky Way with Galactic Mint. This simple yet refreshing blend provides a cool breath of the cosmos, invigorating your senses.
Iced Peach Blast (Peach Ice): Propel through the frosty universe with Iced Peach Blast. Experience the sweet nectar of peaches wrapped in an icy embrace, a flavor explosion that's truly out of this world.
Light Year (Lemon Mint): Travel at the speed of light with Light Year. A zesty twist of lemons paired with cool mint ensures your taste buds travel through galaxies in mere moments.
Mercury Lada (Pina Colada Ice): Glide on the silvery waves of Mercury Lada. Taste the tropical fusion of pineapple and coconut with an icy touch, reminiscent of a chilly tropical evening.
Meteorite Lush Ice (Watermelon Ice): Crash into an icy world of flavor with Meteorite Lush Ice. Relish the succulent taste of watermelons, met with a frosty touch, ensuring a meteoric rise in your taste journey.
Mystery Flavor UFO (Strawberry Blue Razz): Encounter the unidentified with Mystery Flavor UFO. The enigmatic blend of strawberries and blue raspberries leaves you guessing, as you traverse the flavor universe.
Planet Mars (Strawberry Watermelon): Land on the surface of Planet Mars, where the sweet strawberries meet juicy watermelons, offering an otherworldly taste experience.
Saturn Apple Watermelon (Apple Watermelon): Orbit the rings of Saturn with a flavor that binds crisp apples and juicy watermelons. A gravity-defying experience awaits.
Star Berry Kiwi (Strawberry Kiwi): Navigate through the starry expanse with Star Berry Kiwi. The harmonious duet of strawberries and kiwi promises a celestial voyage like none other.
Supernova Colada (Strawberry Pina Colada): Experience a stellar explosion with Supernova Colada. Strawberries merge with the tropical essence of pina colada, creating a supernova of flavors.
Triple Berry Cluster (Triple Berry Ice): Drift amongst the constellations with Triple Berry Cluster. A frozen confluence of three exquisite berries promises a taste that's truly cosmic.
Venus Banana (Banana): Voyage to our neighboring planet with Venus Banana. Relish the creamy allure of bananas, offering a flavor experience that's truly out of this world.
Future Bar Ai7 Disposable Vape Packaging Contents:
6 x

Future Bar Ai7

Disposable Vape Device giving around 7000 Puffs with your choice e-liquid flavor.
| | |
| --- | --- |
| Type: | |
| Vendor: | |
| Flavors: | Apollo Grape, Asteroid Apple, Big Bang Raz, Black Hole Berry Ice, Blue Moon, Cosmopolitan, Eclipse, Fruit Fiction, Galactic Mint, Ice Peach Blast, Light Year, Mercury Lada, Meteorite Lush Ice, Mystery Flavor UFO, Planet Mars, Saturn Apple Watermelon, Star Berry Kiwi , Supernova Colada, Triple Berry Cluster, Venus Banana |
| SKU: | Future Bar Ai7 Vape - 6PK |
| Weight: | 18.0 oz |
SHIPPING:
You can choose from three Shipping options:
Standard

Shipping 

5 to 10 Business Days
Priority

Shipping 

3 to 7 Business Days
Express

Shipping 

2 to 3 Business Days
Shipping days are Mon to Fri, not including weekends and Holidays . 
Carriers used will vary dependent on the shipping location.
Shipping times above vary and only include the 48 contiguous USA States. Carriers don't guarantee shipping delivery times, this is just an estimate number of Business days your package might take to be deliver and doesn't included any inclement weather or disasters. Business Days only include Monday to Friday, and this doesn't include weekends and any Public Holiday.
Customers are responsibility to make sure the address information provided is accurate, including city, state and zip code to prevent any delays or errors in shipping.  Your shipping address cannot be changed once the order has been processed and shipped.  It is the customers responsibility to review their shipping information before order submission.  Failure to provide accurate shipping information may result in a delay and additional shipping charges.  Exceptions apply to Shipping to APO/FPO/DPO addresses which may take up to 45 business days for delivery via USPS policy.
Canadian customers' orders may take up to 30 business days.  Please note, you may be subject to taxes and import duties, namely GST (Goods and Services Tax) and HST (Harmonized Sales Tax). In addition, a fee may be levied upon your purchase by Canada Post. These costs are not included in your overall purchase price and EveryThing Vapes is NOT held liable for any custom issues.
ADULT SIGNAUTURE REQUIRED
All orders are shipped with Signature required as per the new Pact Act Vape Laws. Please make sure you are 21 Years and older and you have an adult of 21 yrs of age or older available to receive and sign for your package. No exceptions apply. If you will be available or you do not have somebody at home to sign for the package that is 21 years old, then you can contact the carrier and ask them to hold the package, and you can pick it up at your convenience within a few days. Check with the shipping carrier what the maximum number of days your package will be held otherwise the package will get returned back to us.
Shipping cost will NOT be refunded for any reason. You will receive an email with the tracking information once the order has been shipped.