Fume EXTRA 5% Disposable...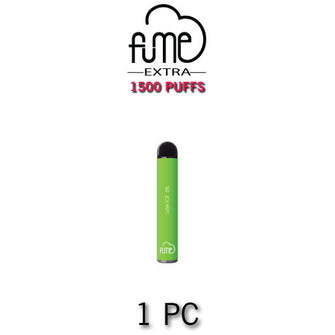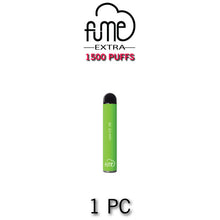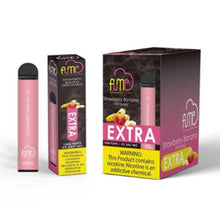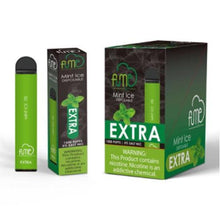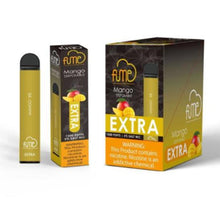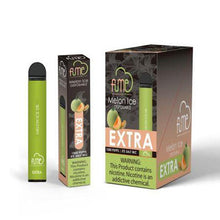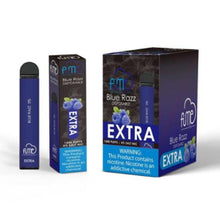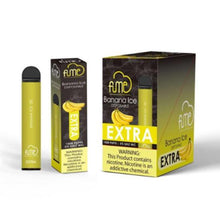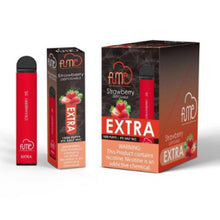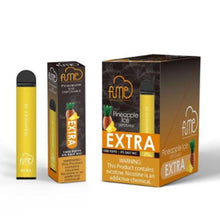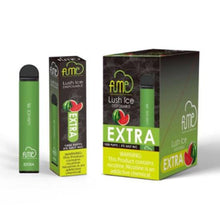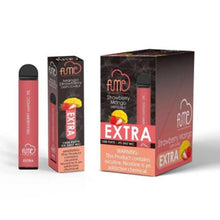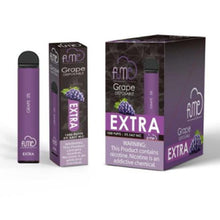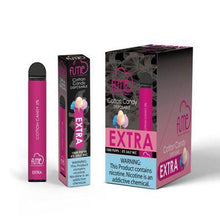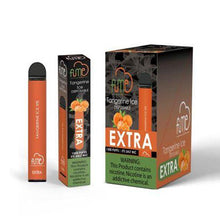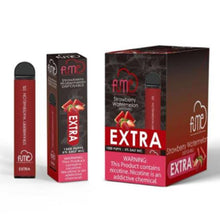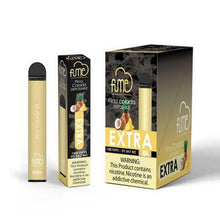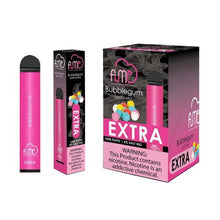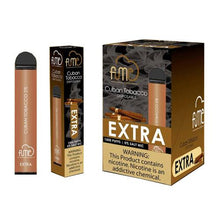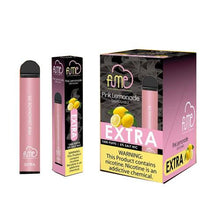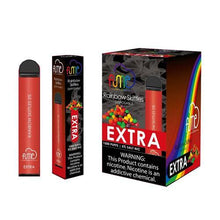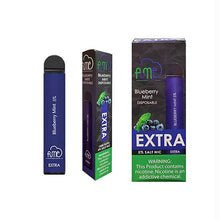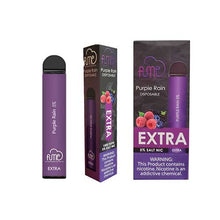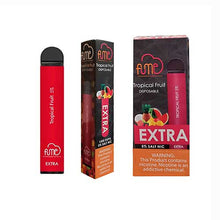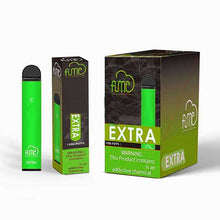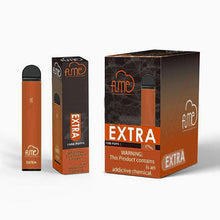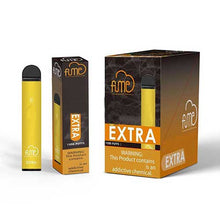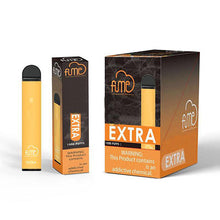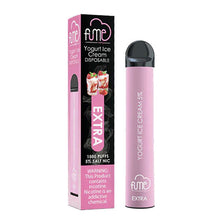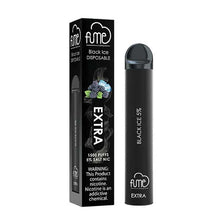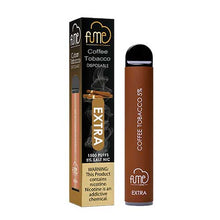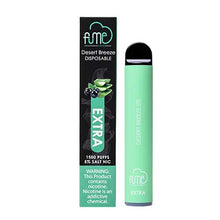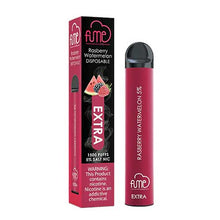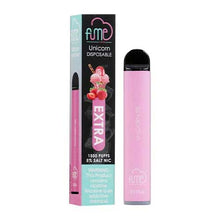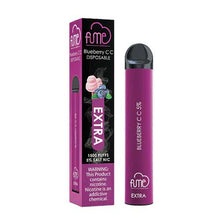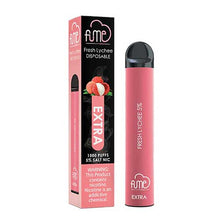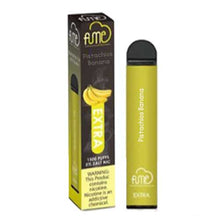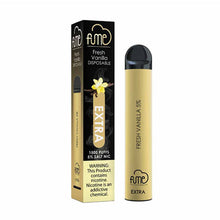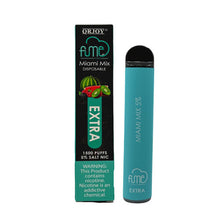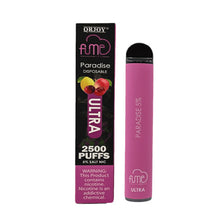 1PC - FUME EXTRA DISPOSABLE VAPE POD DEVICE 
Meet the FUME EXTRA 5% disposable vape pod Device, the epitome of modern vaping excellence. Seamlessly combining convenience with sophistication, this sleek device promises an unparalleled vaping journey for enthusiasts and beginners alike. Each pod comes pre-filled with 6ml of premium e-liquid, eliminating the need for refills and ensuring a smooth experience every time. Boasting an impressive 1500+ puff count, it's designed to last, keeping pace with your lifestyle.
The heart of the device, an 850mAh built-in battery, guarantees consistent vapor production, allowing users to fully savor each of the 37 available tantalizing flavors. With a nicotine strength of 5%, it mirrors the satisfaction derived from a traditional pack of cigarettes. But what truly distinguishes the Fume EXTRA is its meticulous design – compact, pocket-friendly, and ready for any adventure. Dive into the future of vaping, where quality meets convenience in every puff.
Want more savings?
Check out our collection of disposable vape bundles, or view our 3 Pack, 6 Pack and 10 Pack vape bundles to get huge savings on your next vape device. 
Fume EXTRA Disposable Vape Device Details:
Size: 6ml
Nicotine Strength: 5.0%
Salt Nicotine equivalent to about 1 pack of cigarettes
Battery Capacity: 850mAh
Puff Count: 1500+ Puffs
Flavors:

37 

Available Flavors
Fume EXTRA Disposable Vape Flavors:
Banana Ice: Dive into a creamy banana delight with an icy finish that's sure to invigorate your senses.
Black Ice: Delve into a dark, mysterious blend with an icy burst that takes refreshment to new depths.
Blue Razz: Embark on a zesty adventure with a tantalizing fusion of blueberries and raspberries.
Blueberry CC (Cotton Candy): Relish the carnival feels with a blueberry-infused cotton candy delight.
Blueberry Mint: Experience the fresh fusion of succulent blueberries harmonized with rejuvenating mint.
Bubblegum: Journey back to childhood with the classic, sweet sensation of bubblegum.
Coffee Tobacco: Indulge in a robust blend of rich coffee paired seamlessly with earthy tobacco undertones.
Cotton Candy: Float among sweet clouds with the light and airy taste of classic cotton candy.
Cuban Tobacco: Revel in the essence of traditional Cuban tobacco, with its deep and aromatic allure.
Desert Breeze: Feel the refreshing embrace of a desert night's breeze with this unique flavor.
Double Apple: Relish the double delight of crisp red and green apples in this fruity concoction.
Fresh Lychee: Delight in the exotic sweetness of lychee, capturing its unique and juicy essence.
Fresh Vanilla: Bask in the warm and comforting embrace of classic vanilla, like a blanket for your taste buds.
Grape: Dive into the luscious world of grapes, bursting with sweet and juicy goodness.
Gummy Bears: Step into a colorful world of chewy candy, reminiscent of gummy bears.
Lush Ice: Experience a lush fusion of flavors complemented by a cool icy sensation.
Mango: Transport yourself to tropical shores with the succulent taste of ripe mangoes.
Melon Ice: Revel in a chilling blend of sweet melons with a touch of icy freshness.
Miami Mix: Immerse yourself in a fusion that captures the vibrant spirit of Miami.
Mint Ice: Rejuvenate with the pure, cool essence of mint heightened by an icy kick.
Paradise: Drift into a tropical paradise with a blend that captures the essence of sun, sea, and sand.
Peach Ice: Dive into the refreshing world of juicy peaches kissed with a hint of icy coolness.
Pina Colada: Let the tropical blend of coconut and pineapple whisk you away to sandy beaches.
Pineapple Ice: Indulge in the tangy zest of pineapples crowned with a frosty touch.
Pink Lemonade: Quench your thirst with this delightful blend of tangy lemonade with a hint of red berries.
Pistachios Banana: Relish the nutty delight of pistachios blended harmoniously with creamy banana.
Purple Rain: Dance under a flavorful downpour with a blend that's as mysterious as its name.
Rainbow Candy: Step into a wonderland of sweet delights that mirror the colors of the rainbow.
Raspberry Watermelon: Immerse in the juicy fusion of tart raspberries and sweet watermelon.
Strawberry Banana: Delight in the classic harmony of strawberries and bananas, a timeless duo.
Strawberry Mango: Dive into a tropical dance of sweet strawberries and luscious mangoes.
Strawberry Watermelon: Indulge in a summertime classic, blending sweet strawberries and juicy watermelon.
Strawberry: Immerse in the world of strawberries, capturing their sweet and vibrant essence.
Tangerine Ice: Revel in the zesty charm of tangerines with a touch of icy allure.
Tropical Fruit: Drift on an island breeze, tasting the essence of tropical fruits.
Unicorn: Wander into a magical realm with a flavor as mystical as its namesake.
Yogurt Ice Cream: Indulge in the creamy richness of yogurt ice cream, a blend of tangy and sweet.
Fume EXTRA Disposable Vape Packaging Contents:
1x Fume EXTRA Disposable Vape Device
---
Fume EXTRA Disposable Vape Device | 1500 PUFFS
| | |
| --- | --- |
| Type: | |
| Vendor: | |
| Flavors: | Strawberry Banana, Mint Ice, Mango, Melon Ice, Blue Razz, Banana Ice, Strawberry, Pineapple Ice, Lush Ice, Strawberry Mango, Grape, Cotton Candy, Tangerine Ice, Strawberry Watermelon, Pistachios Banana, Pina Colada, Pink Lemonade, Bubblegum, Cuban Tobacco, Rainbow Candy, Blueberry Mint, Purple Rain, Tropical Fruit, Double Apple, Fresh Lychee, Yogurt Ice Cream, Black Ice, Coffee Tobacco, Desert Breeze, Gummy Bears, Peach Ice, Raspberry Watermelon, Unicorn, Blueberry Cotton Candy, Fresh Vanilla, Miami Mix, Paradise |
| SKU: | Fume EXTRA 5% Strawberry Banana 1pc |
| Weight: | 1.6 oz |
SHIPPING:
You can choose from three Shipping options:
Standard

Shipping 

5 to 10 Business Days
Priority

Shipping 

3 to 7 Business Days
Express

Shipping 

2 to 3 Business Days
Shipping days are Mon to Fri, not including weekends and Holidays . 
Carriers used will vary dependent on the shipping location.
Shipping times above vary and only include the 48 contiguous USA States. Carriers don't guarantee shipping delivery times, this is just an estimate number of Business days your package might take to be deliver and doesn't included any inclement weather or disasters. Business Days only include Monday to Friday, and this doesn't include weekends and any Public Holiday.
Customers are responsibility to make sure the address information provided is accurate, including city, state and zip code to prevent any delays or errors in shipping.  Your shipping address cannot be changed once the order has been processed and shipped.  It is the customers responsibility to review their shipping information before order submission.  Failure to provide accurate shipping information may result in a delay and additional shipping charges.  Exceptions apply to Shipping to APO/FPO/DPO addresses which may take up to 45 business days for delivery via USPS policy.
Canadian customers' orders may take up to 30 business days.  Please note, you may be subject to taxes and import duties, namely GST (Goods and Services Tax) and HST (Harmonized Sales Tax). In addition, a fee may be levied upon your purchase by Canada Post. These costs are not included in your overall purchase price and EveryThing Vapes is NOT held liable for any custom issues.
ADULT SIGNAUTURE REQUIRED
All orders are shipped with Signature required as per the new Pact Act Vape Laws. Please make sure you are 21 Years and older and you have an adult of 21 yrs of age or older available to receive and sign for your package. No exceptions apply. If you will be available or you do not have somebody at home to sign for the package that is 21 years old, then you can contact the carrier and ask them to hold the package, and you can pick it up at your convenience within a few days. Check with the shipping carrier what the maximum number of days your package will be held otherwise the package will get returned back to us.
Shipping cost will NOT be refunded for any reason. You will receive an email with the tracking information once the order has been shipped. 
Awesome vape!!
Great product for the price
Awesome vape!!
Great product for the price