Dummy XFinity Disposable Vape...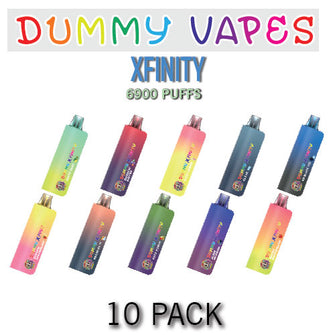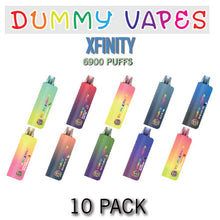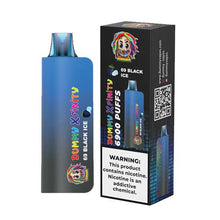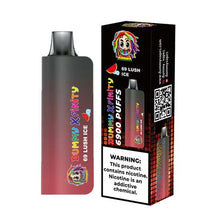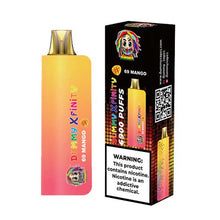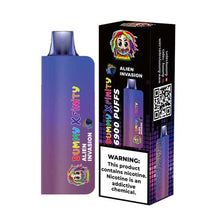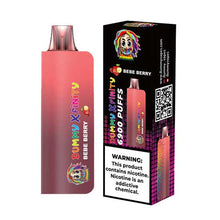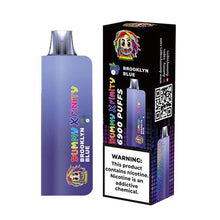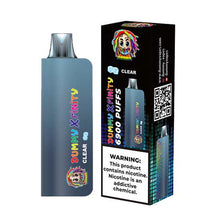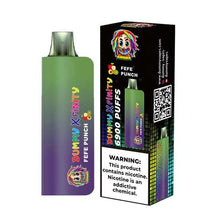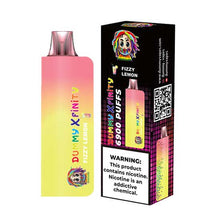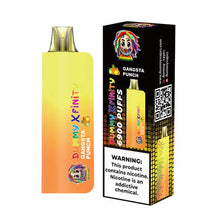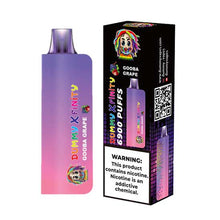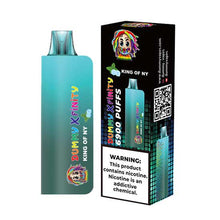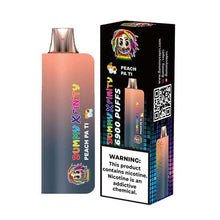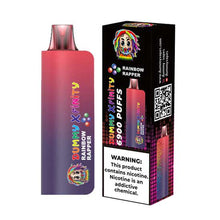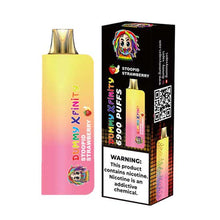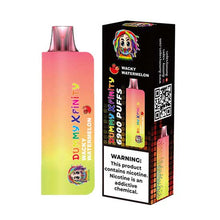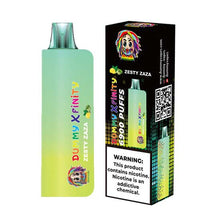 10PK - Dummy Vapes XFinity 6900 Puffs | USB-C Rechargeable | 17 Flavorful Flavors | Power Display
The Groundbreaking Collaboration of Dummy Vapes & 6ix9ine (Tekashi69)
Introducing the revolutionary Dummy XFinity 6900 Puff Disposable Vape, a masterpiece in the vaping landscape, meticulously crafted by the visionary artist, 6ix9ine. This sophisticated device is a harmonious blend of innovative design, practicality, and a diverse array of 17 tantalizing flavors, providing a unique and unrivaled experience for vaping aficionados. Each flavor, ranging from the zest of fruits to the richness of creamy essence, has been carefully curated, allowing users to explore a symphony of tastes and embark on a delightful flavor journey with each puff. With an impressive 6900 puffs and the convenience of a Type-C charging port, Dummy XFinity guarantees a prolonged and sublime vaping experience. The substantial 650mAh battery accentuates its enduring nature, ensuring that users can relish every session without any interruptions. The device stands out with its sleek, user-friendly, and ergonomic design, measuring 104x35x27mm, offering a resistance of 1.1 Ω and a substantial 15ml e-liquid capacity, allowing vapers to immerse themselves in the artistic brilliance of 6ix9ine.
The balanced 50mg salt nicotine content harmoniously melds strength with smoothness, creating an exquisite vaping experience that meets the desires of those seeking a perfectly balanced and fulfilling vape. Dummy XFinity marks a monumental leap in the Dummy Vapes series, embodying the vibrant energy, unmatched creativity, and fervent passion of 6ix9ine's artistic essence. It not only enriches the vaping industry with its innovative approach but also stands as a transformative entity in the expansive and dynamic world of vaping. In essence, Dummy XFinity 6900 Puff Disposable Vape is not just a vaping device; it is a manifestation of artistic expression, a celebration of flavors, and a beacon of revolutionary advancements, promising users a distinctive, bold, and exhilarating adventure in the magnificent world of Dummy Vapes, resonating with the fervor and inventiveness in every puff.
View our other Disposable Vape Products
View our collection of disposable vape bundles, or view our 3 Pack, 6 Pack and 10 Pack vape bundles to get huge savings on your next vape device.


Dummy Vapes XFinity Disposable Vape Device Details:
E-Liquid Capacity: 15ml
Puff Count: +-

 

6900

Nicotine Strength: 5% (50mg)
Battery Capacity: USB Type-C Rechargeable 650mAh (charging cable & charger not included)
Coil Type: Dura Mesh Coil

Resistance: 1.1 Ω

Operation: Draw-Activation
Flavors: 17 Available Flavors
Dummy Vapes XFinity Disposable Vape Flavors:
9 Black Ice:

 

Delve into a harmonious blend of succulent blackberries draped in an invigorating icy layer, creating a revitalizing and flavorful chill with every puff.
69 Lush Ice:

 

Embark on a flavorful escape with the sweet allure of watermelons entwined in a frosty embrace, providing a refreshing and sweet icy delight.
69 Mango:

 

Indulge in the exotic and sweet nectar of ripe mangoes, offering a succulent and tropical flavor journey, dancing jubilantly on your taste buds.
Alien Invasion:

 

Invade your senses with a cosmic fusion of blackberries, blueberries, and raspberries, delivering a berry symphony of extraterrestrial proportions.
Bebe Berry:

 

Discover a berry utopia with a fusion of ripe apples, sweet strawberries, and cherries, presenting a fruit-packed melody of tantalizing flavors.
Brooklyn Blue:

 

Take a stroll through the flavor streets of Brooklyn with a sweet and vibrant rush of blueberry essence, creating a blueberry symphony in your mouth.
Clear:

 

Experience the pure, unadulterated icy sensation, a fresh and clear blast that rejuvenates your senses with its crisp and cool essence.
Fefe Punch:

 

Dive into a punchy concoction of tangy kiwi, sweet apple, and lush apricot, delivering a fruity punch that dances vivaciously on your palate.
Fizzy Lemon:

 

Refresh yourself with a zingy blend of pink lemonade, offering a fizzy and tangy delight that sparkles with zest and vibrancy.
Gangsta Punch:

 

Feel the rhythmic blend of tropical pineapple, tangy lime, and sweet mango, delivering a punch of gangsta paradise to your taste buds.
Gooba Grape:

 

Savor the intoxicating blend of cranberry and grape, offering a juicy grape adventure with a tart twist, tantalizing your senses.
King of NY:

 

Rule your flavor kingdom with the bold and refreshing essence of ice mint, establishing a cool and minty dominion in your mouth.
Peach Pa Ti:

 

Relish the frosty sweetness of icy peaches, enveloping your palate in a cool peachy delight and transporting you to a winter peach orchard.
Rainbow Rapper:

 

Unwrap a rainbow of flavors with a vibrant concoction of candy skittles, radiating a spectrum of sweet and fruity notes in every puff.
Stoopid Strawberry:

 

Immerse yourself in the luscious blend of sweet strawberries intertwined with ripe bananas, presenting a stupendously fruity indulgence.
Wacky Watermelon:

 

Delight in a wacky fusion of juicy watermelons and sweet strawberries, creating a wild and flavorful ride through fruity dimensions.
Zesty Zaza:

 

Embark on a zesty exploration with the crisp blend of lemon, refreshing cucumber, and invigorating mint, reviving your senses with its lively zest.
Dummy Vapes XFinity Disposable Vape Packaging Contents:
10 x Dummy Vapes XFinity Disposable Vape Device giving around 6900 Puffs with your choice of best liquid flavor.
| | |
| --- | --- |
| Type: | |
| Vendor: | |
| Flavors: | 69 Black Ice, 69 Lush Ice, 69 Mango, Alien Invasion, Bebe Berry, Brooklyn Blue, Clear, Fefe Punch, Fizzy Lemon, Gangsta Punch, Gooba Grape, King of NY, Peach Pa Ti, Rainbow Rapper, Stoopid Strawberry, Wacky Watermelon, Zesty Zaza |
| SKU: | Dummy XFinity Vape - 10PK |
| Weight: | 26.0 oz |
SHIPPING:
You can choose from three Shipping options:
Standard

Shipping 

5 to 10 Business Days
Priority

Shipping 

3 to 7 Business Days
Express

Shipping 

2 to 3 Business Days
Shipping days are Mon to Fri, not including weekends and Holidays . 
Carriers used will vary dependent on the shipping location.
Shipping times above vary and only include the 48 contiguous USA States. Carriers don't guarantee shipping delivery times, this is just an estimate number of Business days your package might take to be deliver and doesn't included any inclement weather or disasters. Business Days only include Monday to Friday, and this doesn't include weekends and any Public Holiday.
Customers are responsibility to make sure the address information provided is accurate, including city, state and zip code to prevent any delays or errors in shipping.  Your shipping address cannot be changed once the order has been processed and shipped.  It is the customers responsibility to review their shipping information before order submission.  Failure to provide accurate shipping information may result in a delay and additional shipping charges.  Exceptions apply to Shipping to APO/FPO/DPO addresses which may take up to 45 business days for delivery via USPS policy.
Canadian customers' orders may take up to 30 business days.  Please note, you may be subject to taxes and import duties, namely GST (Goods and Services Tax) and HST (Harmonized Sales Tax). In addition, a fee may be levied upon your purchase by Canada Post. These costs are not included in your overall purchase price and EveryThing Vapes is NOT held liable for any custom issues.
ADULT SIGNAUTURE REQUIRED
All orders are shipped with Signature required as per the new Pact Act Vape Laws. Please make sure you are 21 Years and older and you have an adult of 21 yrs of age or older available to receive and sign for your package. No exceptions apply. If you will be available or you do not have somebody at home to sign for the package that is 21 years old, then you can contact the carrier and ask them to hold the package, and you can pick it up at your convenience within a few days. Check with the shipping carrier what the maximum number of days your package will be held otherwise the package will get returned back to us.
Shipping cost will NOT be refunded for any reason. You will receive an email with the tracking information once the order has been shipped.