DUMMY Vapes Disposable Vape...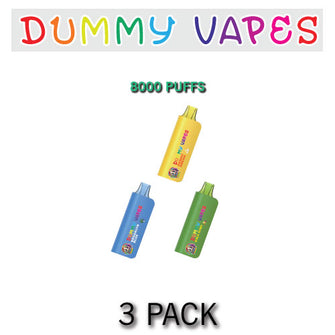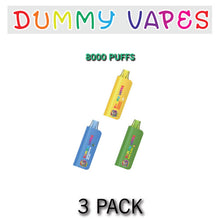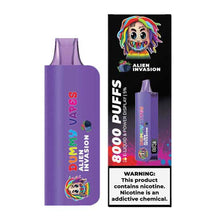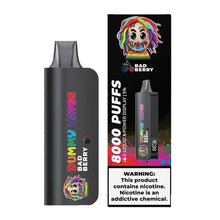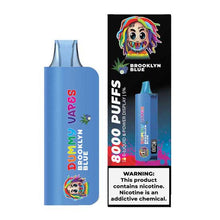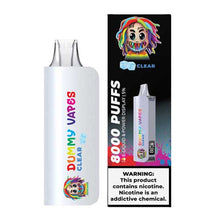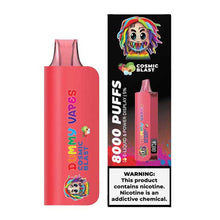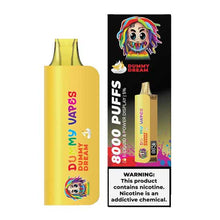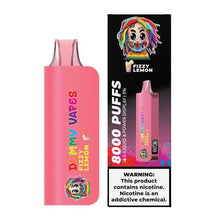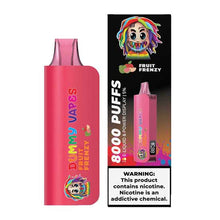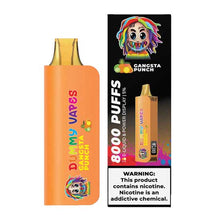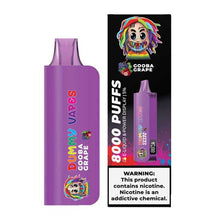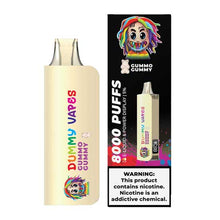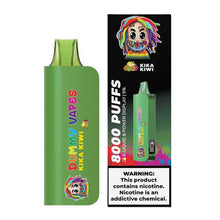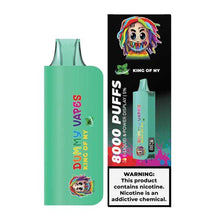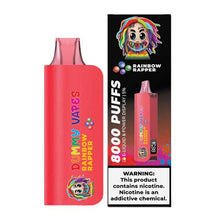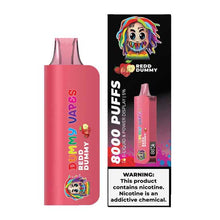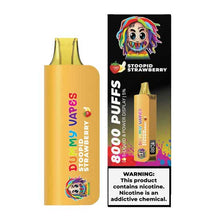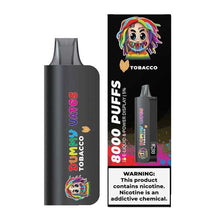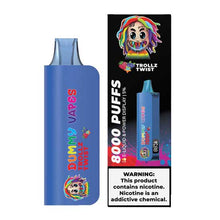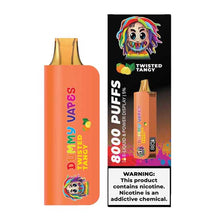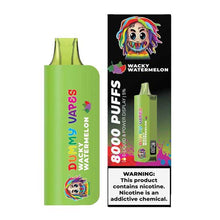 3PK -
Discover the Pinnacle of Vaping with Dummy Vapes 8000 Puffs Disposable Vape

, USB-C Rechargeable, 20

 

Flavors, Power Display

Embrace an elevated vaping journey with the state-of-the-art Dummy Vapes 8000 Puffs disposable vape. This first-class vape device is the optimal partner for those desiring a vibrant and lasting vaping voyage, free from the inconvenience of frequent refills. Thanks to its hefty 18ml e-liquid capacity, this disposable vape guarantees a prolonged vaping engagement.

The Dummy Vapes 8000 Puffs disposable vape is built to amplify your vaping pleasure, boasting a robust 5% (50mg) nicotine strength. This delivers a smooth, gratifying drag each time you take a puff. It features a USB-C rechargeable 650mAh battery, providing power when you need it most. Please be aware that the charger cable is sold separately.

Offering an unrivaled puff count of up to 8000, the Dummy Vapes disposable vape is the ideal solution for those with a busy lifestyle who desire a dependable device that doesn't require frequent maintenance. It boasts an impressive selection of 20 tantalizing flavors, offering something to satisfy every discerning taste.

Unleash your taste buds on an interstellar journey with the Alien Invasion flavor, an invigorating fusion of bold blackberry and mythical dragon fruit. The Bad Berry flavor lures you with its rich blackberry undertones, stirring your senses with its captivatingly sweet and deep notes. The Brooklyn Blue flavor, with its luscious blueberries and an icy hint, recreates the freshness of a cool Brooklyn breeze. The Clear flavor, a testament to Dummy Vapes' meticulous craftsmanship, delivers an untarnished and authentic vaping experience. Lastly, the Cosmic Blast flavor combines a trio of tart raspberry, sweet peach, and tangy lime ice, culminating in a stellar fruit sensation.

In summary, the Dummy Vapes 8000 Puffs disposable vape stands as the perfect choice for those who appreciate a superior, long-lasting vaping session. With its extensive flavor range, this disposable vape is perfect for those who appreciate diversity and are keen to discover novel, exhilarating tastes. So, make the leap and try the Dummy Vapes 8000 Puffs disposable vape today for the ultimate in disposable vaping.
Collaboration with 6ix9ine
The partnership between Dummy Vapes and the famed rapper 6ix9ine, also known as Tekashi69 or Daniel Hernandez, has brought forth a novel disposable vape device that's catching the attention of the vaping world. The union of these two entities has infused the vape device with 6ix9ine's unmistakable style and vibrant personality, resulting in a product that genuinely reflects his dynamic persona.
Each of the 20 unique flavors incorporated into the device mirrors the diverse facets of Tekashi69's character, spanning from invigorating fruit concoctions to rich dessert delights. Beyond merely influencing the design elements, the device also features designs inspired by Tekashi69's iconic rainbow hair and tattoos, adding to its compelling allure.
Moreover, the famed rapper's collaboration elevates the appeal of the vape by adding an extra layer of mainstream recognition and credibility to Dummy Vapes. This added visibility propels the brand into the spotlight, further strengthening its position in the vaping community.
Designed for the modern vaping enthusiast, the pre-filled device does away with the need for charging, refilling, or maintenance, embodying convenience at its best. This thoughtful design approach and strategic partnership manifest in a product that is not only innovative but also deeply representative of 6ix9ine's energetic persona.
The Dummy Vapes x Tekashi69 partnership has resulted in more than just a popular vaping device. It represents an unparalleled vaping experience that has captivated the curiosity of vape lovers, eager to unravel their flavor preferences with the Dummy Vapes x Tekashi69 collaboration.
Vsit our DEALS PAGE and get a coupon code on you next order.
View our other

 Disposable Vape Products



View our collection of disposable vape bundles, or view our 3 Pack, 6 Pack and 10 Pack vape bundles to get huge savings on your next vape device.
DUMMY Disposable Vape Device Details:
E-Liquid Capacity: 18ml
Puff Count: +- 8000
Nicotine Strength: 5% (50mg)
Battery Capacity: USB Type-C Rechargeable 650mAh (charging cable & charger not included)
Coil Type: Dura Mesh Coil
Operation: Draw-Activation
Flavors: 20 Available Flavors
DUMMY Disposable Vape Flavors:
Alien Invasion: Get ready for an out-of-this-world experience with this unique blend of otherworldly fruits. Beam me up!
Bad Berry: Not your grandma's berry pie, this vape flavor packs a punch with a wild mix of berries with a hint of naughtiness.
Brooklyn Blue: Like a cool hipster from Brooklyn, this vape flavor is all about the fresh and tangy blueberry vibes.
Clear: Crisp, clean, and completely unflavored. It's like a blank canvas for your taste buds.
Cosmic Blast: Strap in for a stellar journey across the galaxy with an explosion of fruity flavors that are truly out of this world.
Dummy Dream: A delightful medley of all your favorite fruity candies. It's a childhood dream come true.
Fizzy Lemon: Feel the zest of life with the sparkling flavor of fresh lemon soda. Pucker up, buttercup!
Fruit Frenzy: Get caught in a whirlwind of sweet and juicy fruits. It's a tropical party in your mouth!
Gangsta Punch: This vape flavor packs a gangsta-level punch of fruity goodness. Say hello to my little friend!
Gooba Grape: Experience the thrilling rush of sweet and sour grape flavor. You'll go gooba for it!
Gummo Gummy: Unleash your inner child with this cheeky blend of sweet gummy bear flavors. Oh, the nostalgia!
Kika Kiwi: Get your groove on with the tangy and sweet flavors of fresh kiwi. You'll be doing the Kiwi slide in no time!
King of NY: Rule the Big Apple with this bold and complex flavor inspired by the bustling streets of New York.
Rainbow Rapper: Spit some sweet verses with this harmonious blend of rainbow candy flavors. It's hip-hop meets candy shop!
Redd Dummy: Taste the excitement of sour and sweet gummy candies. It's a punch of flavor that will make your taste buds go dummy.
Stoopid Strawberry: Get crazy with the intense, sweet flavor of ripe strawberries. It's a berry bonanza!
Tobacco: Keep it classy and classic with the robust, rich taste of traditional tobacco. No smoke, just flavor.
Trollz Twist: Get your troll on with a twisted blend of tangy and sweet flavors. No bridges required.
Twisted Tangy: Brace yourself for a whirlwind of tart and tangy citrus flavors. It's a citrus cyclone!
Wacky Watermelon: Experience the wild side of watermelon. It's a wacky, fruity adventure in every puff.
DUMMY Disposable Vape Packaging Contents:
3 x DUMMY Disposable Vape Device giving around 8000 Puffs with your choice of best liquid flavor.
| | |
| --- | --- |
| Type: | |
| Vendor: | |
| Flavors: | Alien Invasion, Bad Berry, Brooklyn Blue, Clear, Cosmic Blast, Dummy Dream, Fizzy Lemon, Fruit Frenzy, Gangsta Punch, Gooba Grape, Gummo Gummy, Kika Kiwi, King of NY, Rainbow Rapper, Redd Dummy, Stoopid Strawberry, Tobacco, Trollz Twist, Twisted Tangy, Wacky Watermelon |
| SKU: | Dummy 3pk |
| Weight: | 13.0 oz |
SHIPPING:
You can choose from three Shipping options:
Standard

Shipping 

5 to 10 Business Days
Priority

Shipping 

3 to 7 Business Days
Express

Shipping 

2 to 3 Business Days
Shipping days are Mon to Fri, not including weekends and Holidays . 
Carriers used will vary dependent on the shipping location.
Shipping times above vary and only include the 48 contiguous USA States. Carriers don't guarantee shipping delivery times, this is just an estimate number of Business days your package might take to be deliver and doesn't included any inclement weather or disasters. Business Days only include Monday to Friday, and this doesn't include weekends and any Public Holiday.
Customers are responsibility to make sure the address information provided is accurate, including city, state and zip code to prevent any delays or errors in shipping.  Your shipping address cannot be changed once the order has been processed and shipped.  It is the customers responsibility to review their shipping information before order submission.  Failure to provide accurate shipping information may result in a delay and additional shipping charges.  Exceptions apply to Shipping to APO/FPO/DPO addresses which may take up to 45 business days for delivery via USPS policy.
Canadian customers' orders may take up to 30 business days.  Please note, you may be subject to taxes and import duties, namely GST (Goods and Services Tax) and HST (Harmonized Sales Tax). In addition, a fee may be levied upon your purchase by Canada Post. These costs are not included in your overall purchase price and EveryThing Vapes is NOT held liable for any custom issues.
ADULT SIGNAUTURE REQUIRED
All orders are shipped with Signature required as per the new Pact Act Vape Laws. Please make sure you are 21 Years and older and you have an adult of 21 yrs of age or older available to receive and sign for your package. No exceptions apply. If you will be available or you do not have somebody at home to sign for the package that is 21 years old, then you can contact the carrier and ask them to hold the package, and you can pick it up at your convenience within a few days. Check with the shipping carrier what the maximum number of days your package will be held otherwise the package will get returned back to us.
Shipping cost will NOT be refunded for any reason. You will receive an email with the tracking information once the order has been shipped. 
Surprisingly good
I like digital display and I really enjoyed the flavor
Surprisingly good
I like digital display and I really enjoyed the flavor