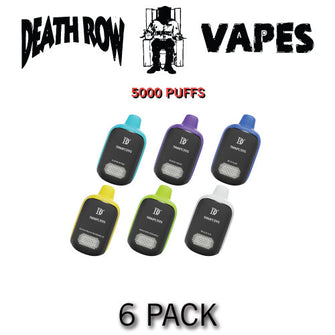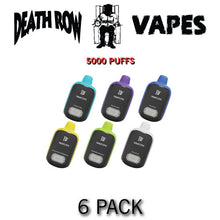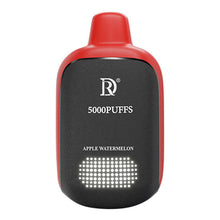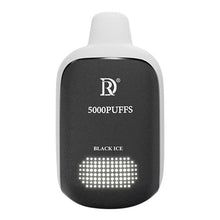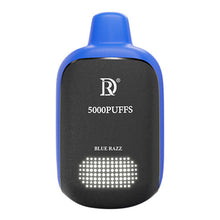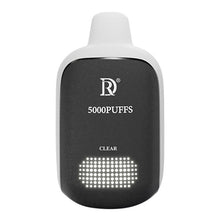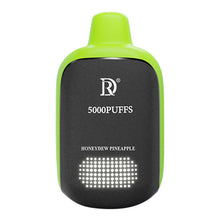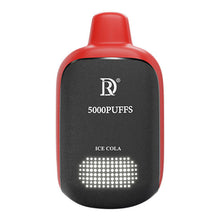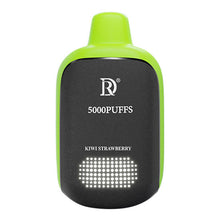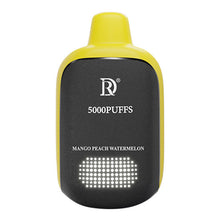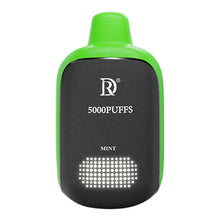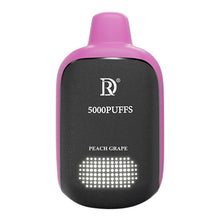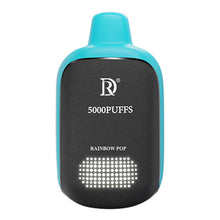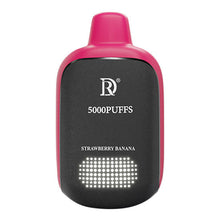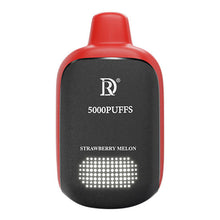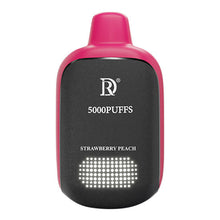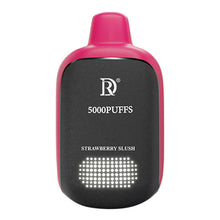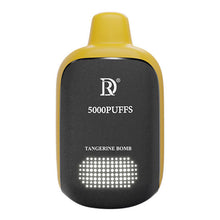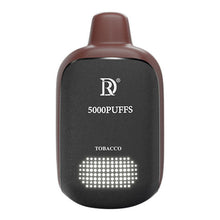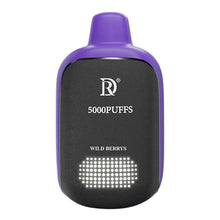 6PK - Death Row Snoop Dogg 5000 Disposable Vape | Premium 5000+ Puffs by QRJOY
Experience the future of vaping with the Death Row Snoop Dogg 5000 Puffs QRJOY Disposable Vape, a groundbreaking collaboration between Death Row Records, Snoop Dogg, and QRJOY. This exceptional vaping device offers a premium experience that caters to the needs of both casual and heavy vapers alike.
Boasting a massive 5000+ puffs, this disposable vape pen ensures you enjoy an extended and fulfilling experience that outlasts any other disposable vape in the market. The 5% nicotine concentration and 13ml of e-juice guarantee that each puff is packed with the perfect balance of flavor and satisfaction. No matter if you're a seasoned vaper or a beginner, the Death Row Snoop Dogg 5000 Puffs QRJOY Disposable Vape provides the optimal blend of flavor intensity and nicotine strength to satisfy your cravings.
The 650mAh rechargeable battery is powerful enough to last you through multiple sessions, ensuring you won't be left stranded with a dead vape when you need it most. Designed with convenience in mind, the USB Type C port makes charging your vape quick and easy, so you'll always be ready for your next vaping session.
The automatic dual mesh heating firing mechanism of the Death Row Snoop Dogg 5000 Puffs QRJOY Disposable Vape guarantees consistent and satisfying hits every time. This innovative feature ensures that each puff delivers a smooth and enjoyable vaping experience, without the worry of dry hits or uneven vapor production.
One of the key aspects of this vape pen is its ergonomic design. Its sleek and stylish look not only makes it visually appealing but also ensures it's comfortable to hold and use. The cool, ergonomic design is specifically tailored to provide a satisfying grip, making it a pleasure to hold during your vaping sessions.
Another advantage of the Death Row Snoop Dogg 5000 Puffs QRJOY Disposable Vape is its lightweight and travel-friendly design. The compact size makes it easy to carry with you wherever you go, whether it's in your pocket, purse, or backpack. This means you'll always have your favorite vape on hand, ready to deliver a premium experience at a moment's notice.
Beyond the impressive performance and convenience features, the Death Row Snoop Dogg 5000 Puffs QRJOY Disposable Vape also boasts an array of stunning design elements. Inspired by the legendary Death Row Records and Snoop Dogg, this vape pen sports a unique aesthetic that sets it apart from other devices on the market. The striking design is sure to turn heads and make a statement, showing off your excellent taste in both music and vaping.
In terms of performance, the Death Row Snoop Dogg 5000 Puffs QRJOY Disposable Vape is second to none. Its premium construction and advanced technology ensure that this vape pen delivers unmatched performance, convenience, and satisfaction. The result is a superior vaping experience that leaves you wanting more.
In conclusion, the Death Row Snoop Dogg 5000 Puffs QRJOY Disposable Vape is the ultimate choice for those who demand the very best in vaping. Combining exceptional performance, stylish design, and unparalleled convenience, this vape pen sets a new standard in the world of disposable vapes. Don't miss out on the opportunity to elevate your vaping experience with the Death Row Snoop Dogg 5000 Puffs QRJOY Disposable Vape.
Check out our collection of disposable vape bundles, or view our 3 Pack, 6 Pack and 10 Pack vape bundles to get huge savings on your next vape device.
DEATH ROW Snoop Dogg 5000 Disposable Vape Device Details:
E-Liquid Pod Size: 10.5ml
Nicotine Strength: 5% (50mg Nicotine Concentration)
Battery Capacity: USB-C Rechargeable 650mAh with charging cable (charger not included)
Automatic Dual Mesh Heating Firing mechanism
Puff Count: 5000+ Puffs
Lightweight, Travel-friendly
Cool Ergonomic Design
Flavors: 20 Available Flavors
DEATH ROW Snoop Dogg 5000 Disposable Vape Flavors:
Apple Watermelon: A crisp and refreshing combo that'll make your taste buds dance with joy, featuring the perfect marriage of crunchy apples and juicy watermelon.
Black Ice: Embrace the dark side with this icy fusion of mysterious black fruits and a shiver-inducing menthol kick that'll have you coming back for more.
Blue Razz: Get ready to pucker up with this electrifying blend of tangy blue raspberry that's guaranteed to zap your senses and leave you buzzing with delight.
Clear: Unwind with the pure, unadulterated flavor of clean, crisp vapor that's as smooth as a cloudless sky on a perfect summer's day.
Honeydew Pineapple: Escape to a tropical paradise with this luscious blend of succulent honeydew melon and tangy pineapple that'll transport you straight to the sandy shores of your dream island getaway.
Ice Cola: Who needs a soda fountain when you've got the nostalgic taste of icy-cold cola in every invigorating puff of this classic flavor?
Kiwi Strawberry: A fruity fiesta of epic proportions, where tangy kiwi and succulent strawberry collide in a symphony of flavor that'll have you salsa dancing all night long.
Lush Ice: Get lost in the enchanting taste of juicy watermelon with a frosty menthol twist that'll leave your taste buds feeling refreshed and rejuvenated.
Mango Grape: A tantalizing tango of exotic mango and luscious grape that'll transport your senses to a world of tropical splendor and divine flavor.
Mango Peach Watermelon: Indulge in a heavenly medley of tropical mango, sweet peach, and juicy watermelon that's like a warm hug from Mother Nature herself.
Mint: Embrace the cool, clean, and refreshing taste of mint that'll leave your mouth feeling as fresh as a winter morning in the mountains.
Peach Grape: A delightfully juicy duo of ripe peaches and succulent grapes that'll have your taste buds singing a sweet and fruity serenade.
Rainbow Pop: Unleash your inner unicorn with this magical explosion of fruity flavors that'll send your taste buds soaring over a technicolor rainbow.
Strawberry Banana: A match made in flavor heaven, where ripe strawberries and creamy bananas unite in a delectable dance of pure fruity bliss.
Strawberry Melon: A mouthwatering medley of plump strawberries and juicy melon that'll have you kicking back in a hammock on a lazy summer's day.
Strawberry Peach: A luscious liaison of sun-kissed strawberries and velvety peaches that'll sweep your taste buds off their feet and whisk them away to a world of pure pleasure.
Strawberry Slush: A frosty fusion of ripe strawberries and icy slush that'll transport you back to those carefree days of slurping on your favorite childhood treat.
Tangerine Bomb: Prepare for a flavor explosion with this zesty burst of tangy tangerine that'll light up your taste buds like a firework display.
Tobacco: Savor the rich, earthy, and aromatic flavor of classic tobacco that'll satisfy even the most discerning of palates.
Wild Berries: Embark on a wild adventure with this tantalizing blend of sweet and tangy berries that'll have your taste buds dancing in a frenzy of flavor.
DEATH ROW Snoop Dogg 5000 Disposable Vape Packaging Contents:
6 x DEATH ROW Snoop Dogg 5000 Disposable Vape Device giving around 5000 Puffs with your choice e-liquid flavor.
| | |
| --- | --- |
| Type: | |
| Vendor: | |
| Flavors: | Apple Watermelon, Black Ice, Blue Razz, Clear, Honeydew Pineapple, Ice Cola, Kiwi Strawberry, Lush Ice, Mango Grape, Mango Peach Watermelon, Mint, Peach Grape, Rainbow Pop, Strawberry Banana, Strawberry Melon, Strawberry Peach, Strawberry Slush, Tangerine Bomb, Tobacco, Wild Berries |
| SKU: | Death Row Snoop Dogg 5000 6pk |
| Weight: | 15.6 oz |
SHIPPING:
You can choose from three Shipping options:
Standard

Shipping 

5 to 10 Business Days
Priority

Shipping 

3 to 7 Business Days
Express

Shipping 

2 to 3 Business Days
Shipping days are Mon to Fri, not including weekends and Holidays . 
Carriers used will vary dependent on the shipping location.
Shipping times above vary and only include the 48 contiguous USA States. Carriers don't guarantee shipping delivery times, this is just an estimate number of Business days your package might take to be deliver and doesn't included any inclement weather or disasters. Business Days only include Monday to Friday, and this doesn't include weekends and any Public Holiday.
Customers are responsibility to make sure the address information provided is accurate, including city, state and zip code to prevent any delays or errors in shipping.  Your shipping address cannot be changed once the order has been processed and shipped.  It is the customers responsibility to review their shipping information before order submission.  Failure to provide accurate shipping information may result in a delay and additional shipping charges.  Exceptions apply to Shipping to APO/FPO/DPO addresses which may take up to 45 business days for delivery via USPS policy.
Canadian customers' orders may take up to 30 business days.  Please note, you may be subject to taxes and import duties, namely GST (Goods and Services Tax) and HST (Harmonized Sales Tax). In addition, a fee may be levied upon your purchase by Canada Post. These costs are not included in your overall purchase price and EveryThing Vapes is NOT held liable for any custom issues.
ADULT SIGNAUTURE REQUIRED
All orders are shipped with Signature required as per the new Pact Act Vape Laws. Please make sure you are 21 Years and older and you have an adult of 21 yrs of age or older available to receive and sign for your package. No exceptions apply. If you will be available or you do not have somebody at home to sign for the package that is 21 years old, then you can contact the carrier and ask them to hold the package, and you can pick it up at your convenience within a few days. Check with the shipping carrier what the maximum number of days your package will be held otherwise the package will get returned back to us.
Shipping cost will NOT be refunded for any reason. You will receive an email with the tracking information once the order has been shipped.