Bomb LUX Disposable Vape...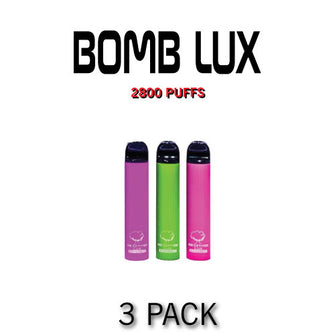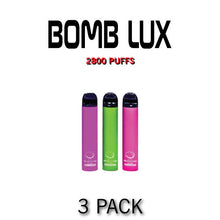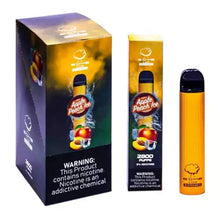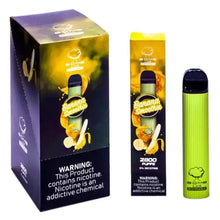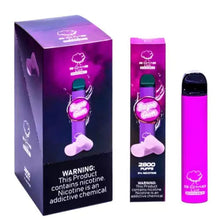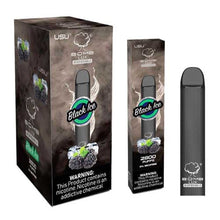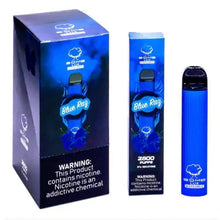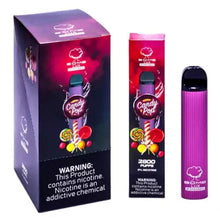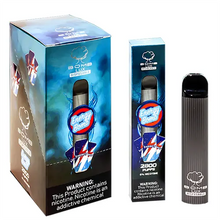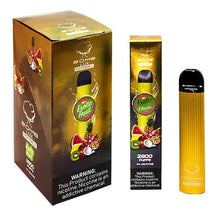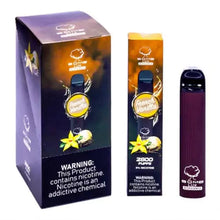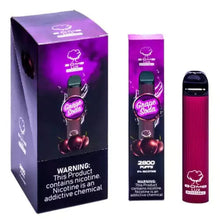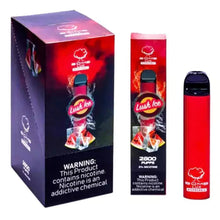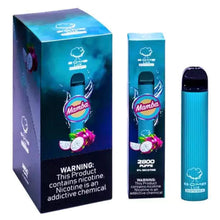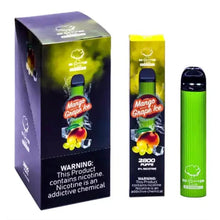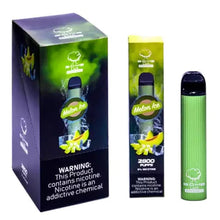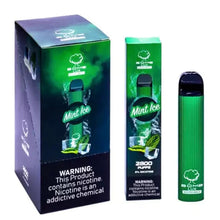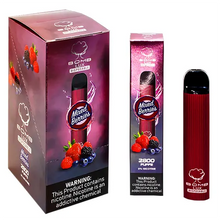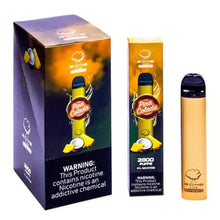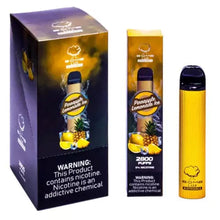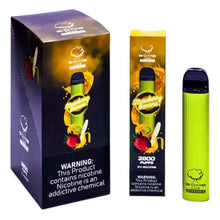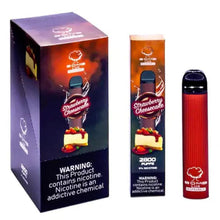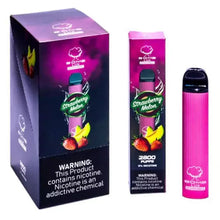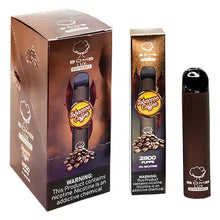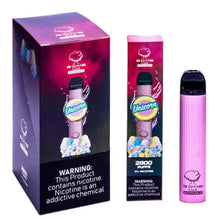 3PK - Bomb LUX Disposable Vape Device | 2800 Puffs
The sleek Bomb LUX Disposable Vape is a state-of-the-art, compact, and stylish vaping device designed for vaping enthusiasts seeking convenience and quality. This luxurious vape, notable for its refined aesthetics and advanced functionality, promises over 2800 puffs, courtesy of its robust 1200mAh battery and a generous 6.5ml pre-filled e-liquid chamber. With 17 exquisite flavors to choose from, every puff is a new adventure, satisfying a variety of palates with flavors ranging from the sweet and fruity to the rich and creamy.
Each Bomb LUX Disposable Vape operates at a nicotine strength of 50MG (5.0%), delivering a substantial and satisfying nicotine hit for those who desire a more robust experience. The meticulously crafted mesh coil embedded within ensures every draw is smooth, flavorful, and fulfilling, elevating the overall vaping experience. The device's draw-activated mechanism is a testament to its user-friendly interface, allowing vapers to enjoy its richness without any complicated setups or adjustments.
Despite its disposable nature, Bomb LUX Disposable Vape doesn't compromise on durability or style. The sleek design not only enhances its portability but also makes it a stylish accessory, easy to carry in pockets or purses discreetly. This non-refillable and non-rechargeable device epitomizes simplicity and sophistication, eliminating the messy refills and cumbersome charging sessions, making it a preferred choice for those who value convenience.
The Bomb LUX Disposable Vape is a fusion of innovation, elegance, and efficiency, providing a seamless and luxurious vaping experience to all users. Its extensive flavor options, combined with a high puff count, position it as a top contender in the vaping market, and its impeccable craftsmanship and cutting-edge design are evident in its superior performance. Whether you're a seasoned vaper or a beginner, the Bomb LUX Disposable Vape promises to transform your vaping journey with its reliability and exquisite flavor profiles.
View our other Disposable Vape Products
View our collection of disposable vape bundles, or view our 3 Pack, 6 Pack and 10 Pack vape bundles to get huge savings on your next vape device.
Bomb LUX Disposable Vape Device Details:
Pre-Filled E-Liquid Size: 6.5ml
Nicotine Strength: 50MG (5.0%) Nicotine
Battery Capacity: 1200mAh
Puff Count: 2800+ Puffs
Disposable - Non-Refillable & Non-Rechargeable
Draw-activated
Flavors: 23 Available Flavors
Bomb LUX Disposable Vape Device Flavors:
Apple Peach Ice:

 

A refreshing fusion of crisp apple and juicy peach flavors with a cool icy finish, creating a balanced and revitalizing vaping experience.
Banana Smoothie:

 

Experience a creamy blend of ripe bananas, yielding a smooth and rich flavor reminiscent of your favorite banana smoothie.
Bazoo Gum:

 

A playful mix replicating the sweet and varied flavors of colorful bubblegum, for a nostalgic and fun-filled journey.
Black Ice:

 

A bold and brisk experience with cool icy undertones, offering a sharp and refreshing flavor profile.
Blue Raz:

 

Dive into the tangy and sweet world of blue raspberries, resulting in a vibrant and exhilarating flavor sensation.
Candy Pop:

 

A joyful exploration of sweet and colorful candy flavors, delivering a delightful and whimsical taste journey.
Energy Bomb:

 

Ignite your senses with this explosive flavor inspired by dynamic energy drinks, ensuring a spirited and lively vaping experience.
Exotic Fruit:

 

A captivating concoction of rare and unique fruits, offering a thrilling and intriguing flavor adventure.
French Vanilla:

 

Relish the smooth and creamy essence of classic French Vanilla, providing a rich and indulgent flavor escape.
Grape Soda:

 

Immerse yourself in the fizzy and sweet taste of grape soda, recreating the effervescent joy of this beloved beverage.
Lush Ice:

 

Discover the lush intermingling of sweet and cool flavors, resulting in a refreshing and invigorating flavor rendezvous.
Mamba:

 

Embark on a bold and unique flavor journey with Mamba, where intense and distinct taste notes intertwine to create a dynamic flavor narrative.
Mango Grape Ice:

 

Enjoy the tropical sweetness of mango blended with the tanginess of grape and a hint of ice, producing a balanced and exotic flavor experience.
Melon Ice:

 

Experience the refreshing taste of assorted melons complemented by a cool icy finish, delivering a sweet and chilled flavor dance.
Mint Ice:

 

Refresh your taste buds with the pure and invigorating essence of mint coupled with a cool undertone, presenting a clean and revitalizing flavor sensation.
Mixed Berries:

 

Savor the sweet and tart symphony of assorted berries, creating a harmonious and succulent flavor medley for berry lovers.
Pina Colada:

 

Escape to the tropics with this harmonious blend of creamy coconut and sweet pineapple, encapsulating the essence of the classic Pina Colada.
Pineapple Lemonade Ice:

 

Dive into a refreshing blend of tangy lemonade and sweet pineapple with a cool finish, offering a revitalizing and zesty flavor journey.
Strawberry Banana:

 

Indulge in the sweet and creamy union of ripe strawberries and bananas, providing a delectable and smooth flavor experience.
Strawberry Cheesecake:

 

Relish the rich and decadent layers of creamy cheesecake and sweet strawberries, creating a luxurious and indulgent flavor retreat.
Strawberry Melon:

 

Enjoy the delightful interplay between succulent strawberries and refreshing melons, delivering a sweet and balanced flavor dance.
Tobacco Coffee:

 

Savor the robust blend of bold tobacco and rich coffee, offering a sophisticated and grounding flavor symphony for the discerning palate.
Unicorn:

 

Immerse yourself in the mystical blend of unique and magical flavors, creating an enchanting and imaginative flavor realm.
Bomb LUX Disposable Vape Device Packaging Contents:

3 x Bomb LUX Disposable Vape Device
| | |
| --- | --- |
| Type: | |
| Vendor: | |
| Flavors: | Apple Peach Ice, Banana Smoothie, Bazoo Gum, Black Ice, Blue Raz, Candy Pop, Energy Bomb, Exotic Fruit, French Vanilla, Grape Soda, Lush Ice, Mamba, Mango Grape Ice, Melon Ice, Mint Ice, Mixed Berries, Pina Colada, Pineapple Lemonade Ice, Strawberry Banana, Strawberry Cheesecake, Strawberry Melon, Tobacco Coffee, Unicorn |
| SKU: | Bomb LUX Vape - 3PK |
| Weight: | 4.8 oz |
SHIPPING:
You can choose from three Shipping options:
Standard

Shipping 

5 to 10 Business Days
Priority

Shipping 

3 to 7 Business Days
Express

Shipping 

2 to 3 Business Days
Shipping days are Mon to Fri, not including weekends and Holidays . 
Carriers used will vary dependent on the shipping location.
Shipping times above vary and only include the 48 contiguous USA States. Carriers don't guarantee shipping delivery times, this is just an estimate number of Business days your package might take to be deliver and doesn't included any inclement weather or disasters. Business Days only include Monday to Friday, and this doesn't include weekends and any Public Holiday.
Customers are responsibility to make sure the address information provided is accurate, including city, state and zip code to prevent any delays or errors in shipping.  Your shipping address cannot be changed once the order has been processed and shipped.  It is the customers responsibility to review their shipping information before order submission.  Failure to provide accurate shipping information may result in a delay and additional shipping charges.  Exceptions apply to Shipping to APO/FPO/DPO addresses which may take up to 45 business days for delivery via USPS policy.
Canadian customers' orders may take up to 30 business days.  Please note, you may be subject to taxes and import duties, namely GST (Goods and Services Tax) and HST (Harmonized Sales Tax). In addition, a fee may be levied upon your purchase by Canada Post. These costs are not included in your overall purchase price and EveryThing Vapes is NOT held liable for any custom issues.
ADULT SIGNAUTURE REQUIRED
All orders are shipped with Signature required as per the new Pact Act Vape Laws. Please make sure you are 21 Years and older and you have an adult of 21 yrs of age or older available to receive and sign for your package. No exceptions apply. If you will be available or you do not have somebody at home to sign for the package that is 21 years old, then you can contact the carrier and ask them to hold the package, and you can pick it up at your convenience within a few days. Check with the shipping carrier what the maximum number of days your package will be held otherwise the package will get returned back to us.
Shipping cost will NOT be refunded for any reason. You will receive an email with the tracking information once the order has been shipped. 
Great size and taste
Tobacco coffee is great and the size it perfect.
Great size and taste
Tobacco coffee is great and the size it perfect.