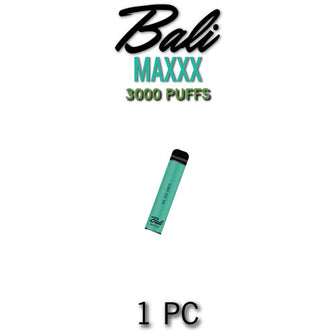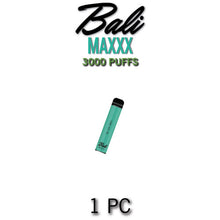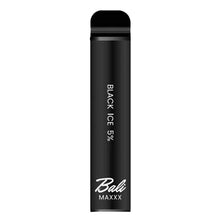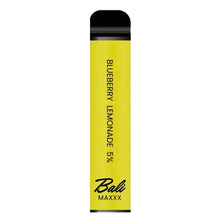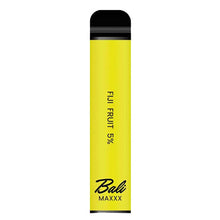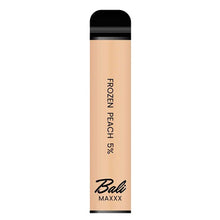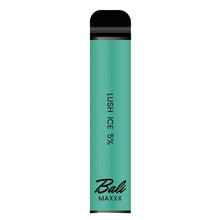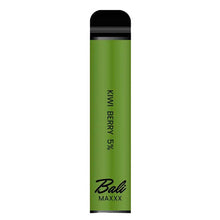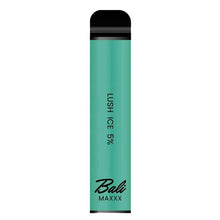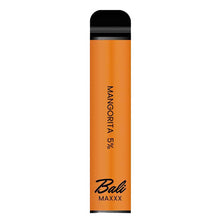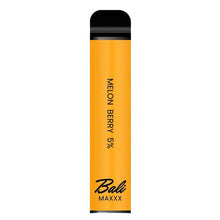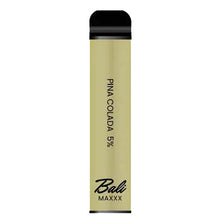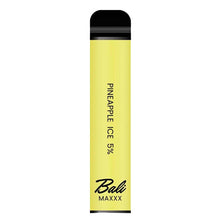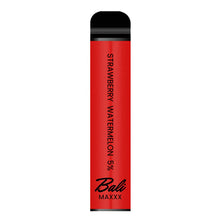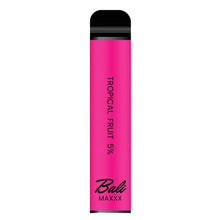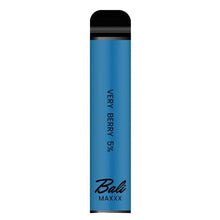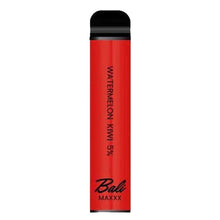 1PC - Bali MAXXX Disposable Vape Device | 3000 Puffs
Experience a world of rich flavors and powerful hits with the Bali Maxxx Disposable Vape Device, the more substantial successor to the esteemed Bali Class Disposable vapes. This device caters to all passionate vapers seeking more intensity and longevity in a single unit, presented in a slightly taller frame to house the additional e-juice.
Made with superior, durable materials, the Bali Maxxx disposable vape pods are resilient to everyday wear and tear, effortlessly surviving any unexpected knocks or falls. Each pod is filled with 9ml of premium e-juice, crafted from the finest food-grade ingredients for a safer, more flavorful vaping experience, setting new standards in the disposable vape market.
The Bali Maxxx Disposable Vape Device is powered by a robust 1100mAh battery, ensuring your vaping sessions are uninterrupted till the last drop of e-juice is vaporized. Promising a gratifying experience filled with vibrant flavors, dense clouds, and a sufficient dose of nicotine, the Bali Maxxx is a testament to superior vaping satisfaction.
If you're seeking an extraordinary flavor experience and a substantial nicotine hit, look no further than Bali Maxxx disposable vapes. Each hit provides a delicious burst of flavor that not only delights your taste buds but also keeps you at bay from conventional cigarettes. Thanks to the potent nicotine delivery of the Bali Maxxx, you'll find your cravings for traditional cigarettes effortlessly replaced.
When it comes to cost-effectiveness, the Bali Maxxx disposable pods stand tall. With over 3000 puffs per device, you can enjoy uninterrupted vaping with no need for constant recharging, refilling, or any upkeep. Among disposable vapes within the same price bracket, Bali Maxxx ranks as one of the best in terms of cost per puff. It promises consistent performance and robust flavors up until the very last hit, proving to be an economical choice for those aiming to save on replacement costs.
Let's delve into the specific features of the Bali Maxxx Disposable Vape Device. It houses a substantial 1100mAh battery and holds an impressive 9ml e-juice capacity. The device delivers a 5% nicotine strength, the equivalent to a full pack of cigarettes, in the form of a smooth and enjoyable salt nicotine. With 3000+ puffs per device and a choice of 15 mouth-watering flavors, the Bali Maxxx caters to all taste preferences.
When it comes to combining superior quality, outstanding performance, and excellent value for money, the Bali Maxxx Disposable Vape Device is the go-to choice for vapers desiring the best disposable vape device at an affordable price. Get ready to redefine your vaping journey with Bali Maxxx.
View our other Disposable Vape Products?
View our collection of disposable vape bundles, or view our 3 Pack, 6 Pack and 10 Pack vape bundles to get huge savings on your next vape device.
Bali MAXXX Disposable Vape Pod Details:
E-Liquid Capacity Size: Pre-Filled with 9ml
Nicotine Strength: 5.0% or 50mg
Salt Nicotine equivalent to about 1 pack of cigarettes
Battery Capacity: 1100mAh
Puff Count: 3000+ Puffs
Flavors: 15 Available Flavors
Bali MAXXX Disposable Vape Flavors:
Black Ice: Indulge in the mysterious allure of our Black Ice vape juice. This fusion of dark berries and refreshing menthol creates an enigmatic, tantalizing vaping experience that invigorates with every puff.
Blueberry Lemonade: Our Blueberry Lemonade vape juice takes the classic, tangy refreshment of lemonade and infuses it with the sweet, mellow flavor of ripe blueberries. Enjoy the delightful contrast of these flavors in every puff.
Fiji Fruit: Fiji Fruit vape juice whisks you away to a tropical island with a blend of exotic fruits inspired by the Fijian archipelago. This vape juice provides a vibrant, succulent taste sensation that captures the essence of the tropics.
Frozen Peach: Delight in the sweet, delicate flavor of sun-ripened peaches with an icy twist in our Frozen Peach vape juice. Experience the juicy sweetness of peaches combined with a frosty finish for a refreshing vape.
Ice Mint: Our Ice Mint vape juice delivers a fresh, invigorating blast of frosty mint. This blend is the perfect choice for those seeking a clean, crisp, and undeniably cool vaping experience.
Kiwi Berry: Kiwi Berry vape juice marries the tart, refreshing taste of kiwi with the sweet, juicy flavor of fresh berries. This harmonious blend is a delightful symphony of contrast and balance that's both vibrant and satisfying.
Lush Ice: Lush Ice vape juice presents a sumptuous fusion of fresh melons and invigorating menthol. The lush, sweet taste of melons is perfectly balanced by a cool menthol finish, creating a vaping experience that's incredibly refreshing.
Mangorita: Our Mangorita vape juice combines the exotic sweetness of ripe mango with the tangy kick of a classic margarita. This flavorful blend offers a tropical cocktail vaping experience that's truly intoxicating.
Melon Berry: Melon Berry vape juice captures the sweet, succulent flavors of fresh melons and ripe berries. This delightful blend offers a mouthwatering mix of summery sweetness that's deliciously refreshing.
Pina Colada: Immerse yourself in the tropical delight of our Pina Colada vape juice. This blend recreates the classic cocktail with the sweet taste of pineapple and the creamy flavor of coconut for a truly paradisiacal vape.
Pineapple Ice: Pineapple Ice vape juice delivers the vibrant flavor of ripe pineapple paired with a refreshing icy kick. This blend offers a tantalizing mix of tropical sweetness and frosty menthol, creating an invigorating vaping experience.
Strawberry Watermelon: Dive into the luscious fusion of ripe strawberries and juicy watermelon with our Strawberry Watermelon vape juice. This blend offers a naturally sweet, wonderfully refreshing vaping experience that fruit lovers will adore.
Tropical Fruit: Tropical Fruit vape juice is a sunny blend of exotic fruits that offers a taste of the tropics in every puff. Let this vibrant, juicy blend transport you to a paradise of flavor with its exotic, sun-kissed taste.
Very Berry: Our Very Berry vape juice is a succulent blend of nature's sweetest, juiciest berries. This fruity fusion offers a delectable mix of flavor that's perfectly balanced and incredibly satisfying.
Watermelon Kiwi: Watermelon Kiwi vape juice presents a delightful combination of juicy watermelon and tart kiwi. This blend captures the essence of summer with its refreshing, bright flavors that are both sweet and tangy.
Bali MAXXX Disposable Vape Pod Contents:
1 x Bali MAXXX Disposable Vape Pod
1 x Your choice of Bali MAXXX Flavors
| | |
| --- | --- |
| Type: | |
| Vendor: | |
| Flavors: | Black Ice, Blueberry Lemonade, Fiji Fruit, Frozen Peach, Ice Mint, Kiwi Berry, Lush Ice, Mangorita, Melon Berry, Pina Colada, Pineapple Ice, Strawberry Watermelon, Tropical Fruit, Very Berry, Watermelon Kiwi |
| SKU: | Black Ice – Bali MAXXX 1pc |
| Weight: | 2.0 oz |
SHIPPING:
You can choose from three Shipping options:
Standard

Shipping 

5 to 10 Business Days
Priority

Shipping 

3 to 7 Business Days
Express

Shipping 

2 to 3 Business Days
Shipping days are Mon to Fri, not including weekends and Holidays . 
Carriers used will vary dependent on the shipping location.
Shipping times above vary and only include the 48 contiguous USA States. Carriers don't guarantee shipping delivery times, this is just an estimate number of Business days your package might take to be deliver and doesn't included any inclement weather or disasters. Business Days only include Monday to Friday, and this doesn't include weekends and any Public Holiday.
Customers are responsibility to make sure the address information provided is accurate, including city, state and zip code to prevent any delays or errors in shipping.  Your shipping address cannot be changed once the order has been processed and shipped.  It is the customers responsibility to review their shipping information before order submission.  Failure to provide accurate shipping information may result in a delay and additional shipping charges.  Exceptions apply to Shipping to APO/FPO/DPO addresses which may take up to 45 business days for delivery via USPS policy.
Canadian customers' orders may take up to 30 business days.  Please note, you may be subject to taxes and import duties, namely GST (Goods and Services Tax) and HST (Harmonized Sales Tax). In addition, a fee may be levied upon your purchase by Canada Post. These costs are not included in your overall purchase price and EveryThing Vapes is NOT held liable for any custom issues.
ADULT SIGNAUTURE REQUIRED
All orders are shipped with Signature required as per the new Pact Act Vape Laws. Please make sure you are 21 Years and older and you have an adult of 21 yrs of age or older available to receive and sign for your package. No exceptions apply. If you will be available or you do not have somebody at home to sign for the package that is 21 years old, then you can contact the carrier and ask them to hold the package, and you can pick it up at your convenience within a few days. Check with the shipping carrier what the maximum number of days your package will be held otherwise the package will get returned back to us.
Shipping cost will NOT be refunded for any reason. You will receive an email with the tracking information once the order has been shipped.