Yocan Evolve Plus Vaporizer...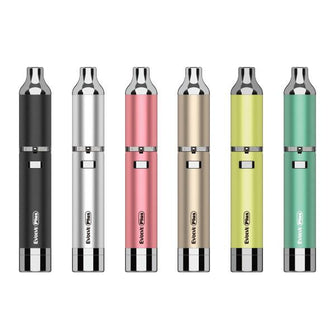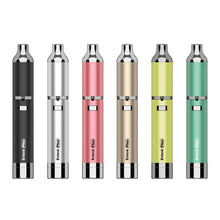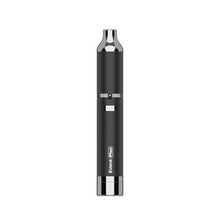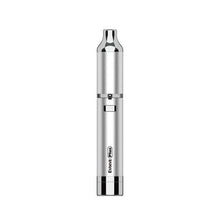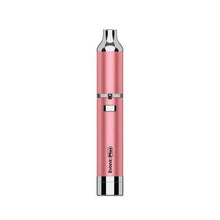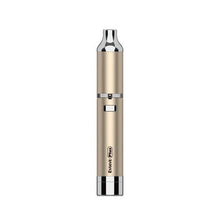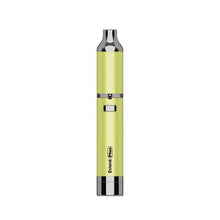 Yocan Evolve 2020 Version vaporizer pen with Quartz dual coil, built-in silicon jar and micro USB port.
The Evolve Plus is easily our best dab pen we have to date from Yocan. With the 2020 version evolve plus now available, the Yocan evolve plus will be the best pen vapes on the market. Pick up some quartz or ceramic evolve plus coils as well as we pride ourselves with the price on the web. Turn the device on with 5 fast clicks on the fire button.
View our other Disposable Vape Products?
View our collection of disposable vape bundles, or view our 3 Pack, 6 Pack and 10 Pack vape bundles to get huge savings on your next vape device.
Features:
Quartz Dual Coil Atomizer
Built-In Silicone jar
1100mAh Li-ion Battery
Heats Up Instantly
15 Seconds of Continuous Heat
USB Charging
Whats in the Box:
(1) Atomizer
(1) Atomizer Tube
(1) 1100mAh Li-ion Battery
(1) Extra Quartz Dual Coil
(1) Built-In Silicone Jar
(1) Coil Cap
(1) Wax Tool
(1) Micro USB Charger
Available Colors:
Black
Silver
Sakura Pink
Apple Green
Azure Green
Champagne Gold
About Yocan Evolve Plus Vaporizer

This device was intended for aromatherapy use only.
The Yocan Evolve Plus Vaporizer is one of the advanced forms of our most successful line of vape pens. The Yocan Evolve Plus Vaporizer is what launched the Evolve line to staple status and has spearheaded the Yocan vape pen revolution.

Just like Yocan Regen, dab pen is an advanced vape pen designed and engineered for one goal – to be the ultimate wax consumption tool. The Yocan Evolve Plus Vaporizer has been famous for its simple and minimalist design with fast and quick results as well as its easy and straightforward operation. Even a beginner or a novice can pick up an Evolve Plus and vape like a pro. That's why it's one of the most sought-after dab pen vaporizers on the market today. Both newcomers and experienced users find the convenience factor found in the Evolve Plus Vaporizer an irresistible allure. It eliminates the complication that one would have to go through should they want to experience professional-quality vapors. The Yocan Evolve Plus Vaporizer set you up for the same experience without the hassle of too much preparation. If you're the kind of person who wants to spend more time vaping and less time preparing, then this dab pen is the perfect vape for you.

Sleek and Discreet

While other wax pen manufacturers invest on packing their dab pens with features that have the wow-factor, the Yocan Evolve Plus Vaporizer keeps it simple and discreet since most vape users do not want to draw unwanted attention when they're vaping. Because of the Yocan Evolve Plus Vaporizer's simple design, including Yocan Evolve Plus Limited Edition, others will easily take it for a common pen or a regular tool instead of an actual vaporizer. This is important for those who like to keep a low-profile when they vape. If you're the type of person who enjoys uninterrupted and undisturbed sessions then the Yocan Evolve Pus Vaporizer is the right vape for you.

The Yocan Evolve Plus Vaporizer also feels sturdy to the hands and does not have any moving parts that rattle nor shake while in use. The quality of this vaporizer's build is simply worth its low price point. The Yocan Evolve Plus Vaporizer keeps it low-key even when you're reloading this awesome vape pen. The chamber where you put in your materials can easily be accessible which allows easy reloading wherever you are. Picture yourself outdoors, at a party, at the movies, or even when you're chilling at your favorite coffee shop. Having access to a vaporizer that allows easy reloading is extremely useful, you wouldn't want to tell the whole room that you're packing concentrates, right? If you want to get high while keeping it low, the answer is the Yocan Evolve Plus Vaporizer.

Getting Started with Yocan Evolve Plus Dab Pen

To use the Yocan Evolve Plus Vaporizer, make sure that the battery is fully charged for optimum results. Connect the micro-USB cable to the Yocan Evolve Plus Vaporizer and connect it to your computer or to a wall socket adapter. A red light will flash meaning that the battery is still charging, once the red light goes out, it means that the Yocan Evolve Plus Vaporizer is finished charging.
To turn on the Yocan Evolve Plus, tap the single-control power button five times. The light on the vape pen will again light up to indicate that it's working. Pressing the same button 5 times when turned on will turn it off. The Yocan Evolve Plus Vaporizer is outfitted with 510-threaded connections so to remove the mouthpiece, simply twist the atomizer counterclockwise. A coil cap protects your mouth from spit backs which can also be removed by unscrewing it from the atomizer. Once the chamber is exposed you may load your desired amount of concentrate into the chamber. It's recommended to place the wax concentrates directly into the coils but be careful not to touch the coils when loading your materials since it may damage them. Replace the components you removed, press and hold the power button and start vaping.

Although the Yocan Evolve Plus does not feature temperature control of flexibility, its temperature settings are fine-tuned and are calibrated for the perfect vaping temperature for wax concentrate consumption.

Iconic Vapor Quality

What placed the Yocan Evolve Plus Vaporizer on the map is its iconic vapor production. Thanks to its hallmark dual quartz coil atomizer, the Yocan Evolve Plus Vaporizer is capable of generating milky rips of vapors with high flavor retention. The same atomizer technology can be found on other expensive wax pen vaporizers but is made affordable by Yocan Evolve Plus Vaporizer.

The Vapor production is backed by a powerful 1100mAh battery that's twice as powerful as other vape pens that only sport a 652mAh battery. You can never go wrong with a Yocan Evolve Plus Vaporizer.
The Yocan Evolve Plus also comes in iconic designs everybody will love.

Built-In Wax Container

Despite Yocan Evolve Plus' very small size, it amazingly comes with an attached wax container. This item is not only powerful but indeed convenient in every way. If you are looking for a vaporizer that is straightforward and simple yet highly portable, this Yocan product is for you!
Yocan Evolve Plus Manual
Preparing the Yocan Evolve Plus Vaporizer
Charge your Yocan Evolve Plus Vaporizer before use to ensure best results.
Once you have fully charged the battery, you can proceed by turning the vaporizer battery on by tapping the power button 5 times. Note: The power button is located at the middle part of the battery facing outwards and is the rectangularly shaped button on the vaporizer battery.
Once the Yocan Evolve Plus Vaporizer is powered on you can begin sterilizing the coils by pressing and holding the power button for 5 seconds two or three times. Note: perform sterilization during the first time you receive your Yocan Evolve Plus Vaporizer. This will eliminate and get rid of any impurities that might have made its way to the heating chamber during the manufacturing process.
After sterilization, let the vaporizer sit and rest for about 2 – 3 minutes. After so, you can begin loading your select concentrates onto your Yocan Evolve Plus Vaporizer.
Loading the Yocan Evolve Plus Vaporizer
Remove the integrated concentrate container located at the bottom of the Yocan Evolve Plus Vaporizer. At the same time, make sure to prepare your dab tool so you can scoop your concentrates from the built-in concentrate container.
Make sure you've sanitized your Yocan Evolve Plus Vaporizer first especially if it's the first time you're using it. Note: Follow steps for preparing the Yocan Evolve Plus Vaporizer.
Twist the mouthpiece counterclockwise to expose the Yocan Quartz Dual Coils (QDC).
Remove the coil cap by twisting it counter clockwise. Removing the mouthpiece exposes the coils that are covered with the coil cap.
Load desired amount of concentrate onto the coil. Note: Make sure that the dab tool does not touch the coils as contact with another metal may cause the coils to break or get damaged. Simply drop the concentrates atop the QDC.
Replace the coil cap by turning it clockwise.
Replace the mouthpiece by twisting it clockwise to safely assemble the Yocan Evolve Plus Vaporizer. Note: make sure that you do not overtighten the threads as it may damage it and cause it to be loose altogether.
Vaping with the Yocan Evolve Plus Vaporizer
Make sure that the Yocan Evolve Plus Vaporizer is properly charged, properly sterilized, and is loaded with concentrates before you start vaping.
After the Yocan Evolve Plus Vaporizer is loaded, press your lips against the mouthpiece and prepare to pull.
Press and hold the power button. When the Yocan Evolve Plus Vaporizer begins generating vapors start to inhale and draw from the mouthpiece.
Repeat this process as necessary or as the concentrates are fully consumed.
Care and Maintenance of the Yocan Evolve Plus Vaporizer
The Yocan Evolve Plus Vaporizer is easy to clean and maintain. Likewise, it has very few parts which means that assembly and disassembly is fairly easy as well. To maintain your Yocan Evolve Plus Vaporizer, follow the steps below.
Power the vaporizer on. Five clicks of the button will power it on and five clicks power it off.
Turn the Yocan Evolve Plus Vaporizer upside down.
Execute a burn-off by pressing and holding the power button for 5 seconds. Repeat this process 2 – 3 times. The burn-off will cause any residue to melt or evaporate making the cleaning process easy.
Allow the vaporizer to cool down.
Disassemble the Yocan Evolve Plus Vaporizer by twisting the threaded connections counter clockwise.
Rub off any liquid residue on the vaporizer and its parts with a dry paper towel and reassemble.

Yocan Evolve Plus FAQs
| | |
| --- | --- |
| Question | What is the specification of its battery? |
| Answer | Yocan Evolve Plus comes with 1100mAh battery. |
| Question | Does it support pass-through charging? |
| Answer | Yes. The unit and Yocan Evolve Plus Charger are designed with pass-through charging capability. |
| Question | Is it 510 threaded? |
| Answer | Yes. Yocan Evolve Plus is 510 threaded. |
| Question | Does it have temperature control? |
| Answer | No, it does not have temperature control. |
SHIPPING:
You can choose from three Shipping options:
Standard

Shipping 

5 to 10 Business Days
Priority

Shipping 

3 to 7 Business Days
Express

Shipping 

2 to 3 Business Days
Shipping days are Mon to Fri, not including weekends and Holidays . 
Carriers used will vary dependent on the shipping location.
Shipping times above vary and only include the 48 contiguous USA States. Carriers don't guarantee shipping delivery times, this is just an estimate number of Business days your package might take to be deliver and doesn't included any inclement weather or disasters. Business Days only include Monday to Friday, and this doesn't include weekends and any Public Holiday.
Customers are responsibility to make sure the address information provided is accurate, including city, state and zip code to prevent any delays or errors in shipping.  Your shipping address cannot be changed once the order has been processed and shipped.  It is the customers responsibility to review their shipping information before order submission.  Failure to provide accurate shipping information may result in a delay and additional shipping charges.  Exceptions apply to Shipping to APO/FPO/DPO addresses which may take up to 45 business days for delivery via USPS policy.
Canadian customers' orders may take up to 30 business days.  Please note, you may be subject to taxes and import duties, namely GST (Goods and Services Tax) and HST (Harmonized Sales Tax). In addition, a fee may be levied upon your purchase by Canada Post. These costs are not included in your overall purchase price and EveryThing Vapes is NOT held liable for any custom issues.
ADULT SIGNAUTURE REQUIRED
All orders are shipped with Signature required as per the new Pact Act Vape Laws. Please make sure you are 21 Years and older and you have an adult of 21 yrs of age or older available to receive and sign for your package. No exceptions apply. If you will be available or you do not have somebody at home to sign for the package that is 21 years old, then you can contact the carrier and ask them to hold the package, and you can pick it up at your convenience within a few days. Check with the shipping carrier what the maximum number of days your package will be held otherwise the package will get returned back to us.
Shipping cost will NOT be refunded for any reason. You will receive an email with the tracking information once the order has been shipped.