TORCH THC Burnout Blend...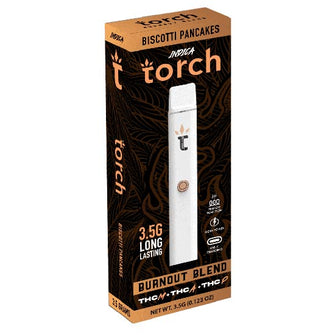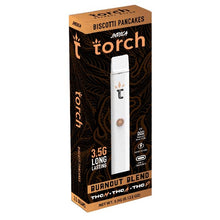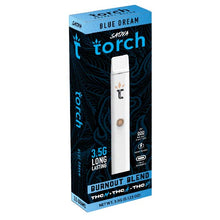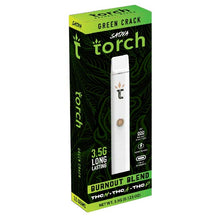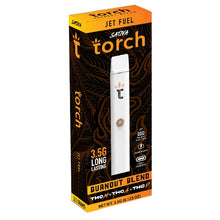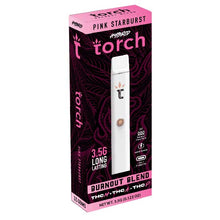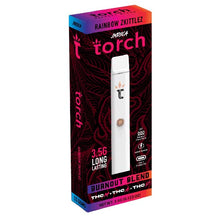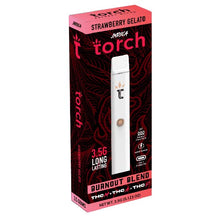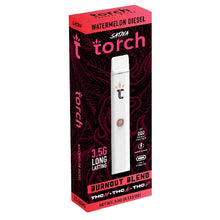 1PC - TORCH THC Burnout Blend 3.5g Disposable Vape Device
Introducing the Torch Burnout Blend 3.5g Disposable Vape Device, where cutting-edge technology meets unparalleled potency. Torch has truly outdone itself, presenting a potent concoction of THC-M, THC-A, and THC-P, all housed in a generous 3.5-gram offering. But what truly sets it apart are its strain-specific terpenes, giving users a chance to experience flavors from 10 distinct strains, from the calming 'Biscotti Pancakes' to the invigorating 'Blue Dream'. The device itself is a marvel of modern design. USB-C rechargeable capabilities ensure you're never left wanting, and its pre-heat function ensures optimal vaporization with every draw.
Designed with an ergonomic mouthpiece and equipped with a large viewing window and a proprietary ceramic coil, every puff is a promise of quality. But it's not just about the experience; Torch prioritizes safety and compliance, ensuring that each device adheres to the 2018 Farm Bill with a content of <0.3% Delta-9 THC. And for those who champion local products, the Torch Burnout Blend is proudly made in the USA with industrial hemp. Experience a vaping journey like no other, tailored for both novices and aficionados alike.
Dive into a seamless vaping experience that combines convenience, potency, and variety. Whether you're new to the vaping scene or a seasoned enthusiast, the Torch Burnout Blend is a device that promises to not just meet but exceed expectations. Experience the future of vaping, today.
Key Features:
Potency on Demand: Torch raises the bar with their Burnout Blend, encapsulating a trifecta of cannabinoids: THC-M, THC-A, and THC-P in a generous 3.5-gram offering. Coupled with strain-specific terpenes, it promises a unique and tailored vaping experience.

Tech-Savvy Design: No need for a separate charger; it's USB-C rechargeable! The pre-heat function ensures you get the most out of every hit, and the ergonomic mouthpiece is designed for both comfort and aesthetics.

Safety First: In line with the 2018 Farm Bill, this device contains <0.3% Delta-9 THC, prioritizing legal compliance without compromising on the quality of experience.

Flavor Extravaganza: Choose from 10 distinct strains ranging from the relaxing Indica like 'Biscotti Pancakes' and 'Strawberry Gelato' to the energetic Sativa like 'Blue Dream' and 'Watermelon Diesel'. There's also the balanced 'Pineapple Express' Hybrid for those who want the best of both worlds.

Premium Construction: Crafted with an integrated rechargeable battery, the device promises consistent puffs throughout your session. The large viewing window and proprietary ceramic coil enhance the experience even further.

Locally Made: Proudly made in the USA with industrial hemp, it's a product that combines national pride with quality assurance.
Warning: THC is a psycho-active substance. Operating a motor vehicle or heavy machinery after using this product is not advised. This product may cause you to fail a THC drug test. You assume full responsibility for all parts related to your purchase and consumption. Use small doses when starting.
SUGGESTED USE for Torch Burnout Blend Disposable Vape:
Initial Setup: Remove the Torch Burnout Blend Disposable from its packaging. Ensure the device is fully charged before the first use by connecting it to a USB-C charger. The indicator light will turn off when fully charged.

Activation: Once charged, take the device in your hand, and simply draw from the ergonomic mouthpiece. The draw-activated firing mechanism will start vaporizing the blend. If using for the first time, allow a few seconds for the proprietary ceramic coil to heat the blend effectively.

Pre-Heat Function: For a smoother and more flavorful experience, activate the pre-heat function by pressing the button (if available) on the device before drawing. This pre-empts the coil, ensuring optimal vaporization from the first draw.

Dosage: Start with one to two short puffs to gauge the device's potency and its effects on you. Wait for 5-10 minutes between sessions to allow the cannabinoids to take effect. Adjust the frequency and depth of your draws based on your desired experience and tolerance.

Storage: Store the device in a cool, dry place away from direct sunlight or excessive heat. Ensure the cap (if provided) is placed back after use to prevent any debris or dust from entering the mouthpiece.

Recharging: Should the device run low on power, simply connect it to a USB-C charger. It's recommended to keep the device charged for uninterrupted sessions.

Disposal: Once the device is fully utilized, please dispose of it responsibly, keeping in mind environmental considerations.

Note: The effects of the Torch Burnout Blend may vary based on individual tolerance, metabolism, and strain chosen. Always use responsibly and avoid operating heavy machinery or driving while using the device.
Remember, everyone's body responds differently to cannabinoids. It's essential to find what works best for you and adjust your usage accordingly.
View our other Disposable Vape Products?

View our collection of disposable vape bundles, or view our 3 Pack, 6 Pack and 10 Pack vape bundles to get huge savings on your next vape device.
TORCH THC Burnout Blend Disposable Vape Device Details:
Fully compliant with the 2018 Farm Bill.

Contain Less Than 0.3% Delta 9



Integrated Rechargeable Battery ( Requires USB Type-C cable not included)

3.5-Grams Per Disposable



Potent blend of THC-M + THC-A + THC-P
Proprietary Terpene Profiles by Torch (Naturally hemp derived terpenes)
Draw-Activated Firing Mechanism
Pre-Heat Function
Ergonomic Mouthpiece
Large Viewing Window
Proprietary Ceramic Coil
Made In The USA With Industrial Hemp
Available in 10 diverse strain options
TORCH THC Burnout Blend Disposable Vape Device Strain/Flavors:
Biscotti Pancakes (Indica): Biscotti Pancakes is an indica-dominant strain that combines the genetics of Biscotti with Pancakes. This strain typically offers a deep relaxation effect, accompanied by sweet and doughy aromas, possibly with a hint of nuttiness from its Biscotti lineage.
Blue Dream (Sativa): Blue Dream, a sativa-dominant hybrid, is a West Coast staple and a fan favorite. It originates from a cross between Blueberry and Haze. Blue Dream is known for its balanced full-body relaxation with gentle cerebral invigoration, and it features a sweet berry aroma.
Cereal Runtz (Indica): Cereal Runtz is an indica-dominant hybrid that boasts a fruity and sugary flavor profile, reminiscent of sweet cereals. Like other Runtz strains, expect a balanced set of euphoric and calming effects.
Green Crack (Sativa): Don't let the name fool you: this is pure cannabis. Green Crack is known for its sharp energy and focus, invigorating mental buzz that keeps you going throughout the day. With a tangy, fruity flavor redolent of mango, Green Crack is a great daytime strain.
Jet Fuel (Sativa): Also known as G6, Jet Fuel is a sativa-dominant hybrid that offers an invigorating sensation, living up to its name. It combines Aspen OG with High Country Diesel, giving it a diesel aroma combined with sweet notes.
Pineapple Express (Hybrid): Popularized by the movie of the same name, Pineapple Express combines both the potent and flavor profiles of Trainwreck and Hawaiian. The smell is likened to fresh apple and mango, with a taste of pineapple, pine, and cedar. This hybrid provides a long-lasting energetic buzz.
Pink Starburst (Hybrid): An aptly named strain due to its expansive flavor profile, Pink Starburst is a hybrid that offers uplifting effects. It's a combination of AJ Sour Diesel X Underdog OG X Strawberry Diesel, leading to predominantly sweet and diesel undertones.
Rainbow Zkittlez (Indica): Rainbow Zkittlez is an indica-dominant strain known for its sweet, tropical fruit flavor profile reminiscent of the candy. It usually provides a calming sensation, making it suitable for relaxation after a long day.
Strawberry Gelato (Sativa): A member of the Gelato family, Strawberry Gelato is a sativa-dominant strain that offers a balanced high accompanied by a sweet and fruity aroma, with predominant strawberry notes.
Watermelon Diesel (Sativa): Watermelon Diesel is a sativa-dominant hybrid that combines the fruity watermelon flavors with the potent and energizing effects of a classic diesel strain. Expect an uplifting and invigorating experience.
Remember, while these general effects and flavor profiles are associated with each strain, individual experiences can vary depending on various factors including the specific phenotype, cultivation methods, and personal tolerance. Always consume responsibly and consider starting with a lower amount to gauge your reaction.
TORCH THC Burnout Blend Disposable Vape Device Packaging Contents:
1 x TORCH THC Burnout Blend Disposable Vape Device

Select your preferred Strain/Flavors with the TORCH THC Burnout Blend vape.
---
Shipping Restrictions:
Apologies for the inconvenience, but due to state-specific regulations, we're unable to ship Delta products to certain states. To continue with your order, please remove any Delta products from your cart if you're shipping to the following states:
Alaska, Arizona, Arkansas, California, Colorado, Connecticut, Delaware, Hawaii, Illinois, Idaho, Iowa, Kansas, Louisiana, Massachusetts, and Michigan.
Thank you for your understanding and cooperation.
DISCLAIMER: EveryThing Vapes is not responsible for any medical claims made within customer testimonials. The assertions regarding these products haven't been assessed by the Food and Drug Administration. Neither the effectiveness of these products nor the authenticity of customer testimonials has received FDA validation. These products are not designed to diagnose, cure, treat, or fend off any diseases. The content here should not replace professional health advice. Seek guidance from health professionals before using any product. Consult with them regarding potential risks or conflicts. The Federal Food, Drug, and Cosmetic Act mandates this acknowledgment.
SHIPPING:
You can choose from three Shipping options:
Standard

Shipping 

5 to 10 Business Days
Priority

Shipping 

3 to 7 Business Days
Express

Shipping 

2 to 3 Business Days
Shipping days are Mon to Fri, not including weekends and Holidays . 
Carriers used will vary dependent on the shipping location.
Shipping times above vary and only include the 48 contiguous USA States. Carriers don't guarantee shipping delivery times, this is just an estimate number of Business days your package might take to be deliver and doesn't included any inclement weather or disasters. Business Days only include Monday to Friday, and this doesn't include weekends and any Public Holiday.
Customers are responsibility to make sure the address information provided is accurate, including city, state and zip code to prevent any delays or errors in shipping.  Your shipping address cannot be changed once the order has been processed and shipped.  It is the customers responsibility to review their shipping information before order submission.  Failure to provide accurate shipping information may result in a delay and additional shipping charges.  Exceptions apply to Shipping to APO/FPO/DPO addresses which may take up to 45 business days for delivery via USPS policy.
Canadian customers' orders may take up to 30 business days.  Please note, you may be subject to taxes and import duties, namely GST (Goods and Services Tax) and HST (Harmonized Sales Tax). In addition, a fee may be levied upon your purchase by Canada Post. These costs are not included in your overall purchase price and EveryThing Vapes is NOT held liable for any custom issues.
ADULT SIGNAUTURE REQUIRED
All orders are shipped with Signature required as per the new Pact Act Vape Laws. Please make sure you are 21 Years and older and you have an adult of 21 yrs of age or older available to receive and sign for your package. No exceptions apply. If you will be available or you do not have somebody at home to sign for the package that is 21 years old, then you can contact the carrier and ask them to hold the package, and you can pick it up at your convenience within a few days. Check with the shipping carrier what the maximum number of days your package will be held otherwise the package will get returned back to us.
Shipping cost will NOT be refunded for any reason. You will receive an email with the tracking information once the order has been shipped.