TORCH THC Black Series...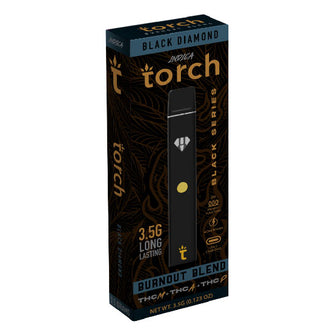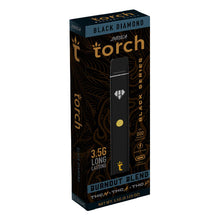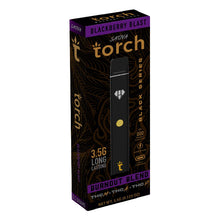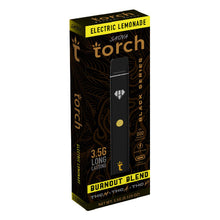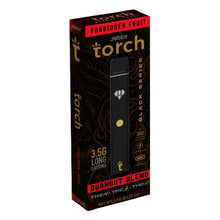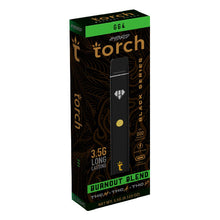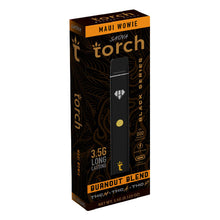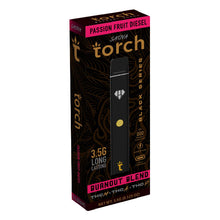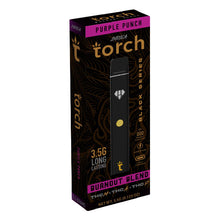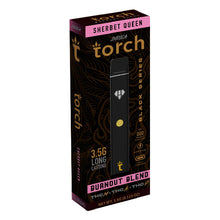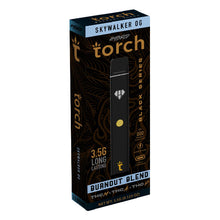 1PC - TORCH THC Black Series 3.5g Disposable Vape Device
For fans of the original burnout blend, prepare to elevate your experience with the Torch Burnout Blend Black Series Disposable! The latest addition from Torch, this vape incorporates a potent trio of cannabinoids - THC-M, THC-A, and THC-P. But that's not all, it also boasts the inclusion of 10 new strains including fan-favorites like Electric Lemonade and Black Diamond.
This Black Series not only offers you more variety but also introduces cutting-edge technology that minimizes common issues such as leaking, clogging, and battery failures. Designed with user convenience in mind, these disposables come with a preheat function that ensures every hit is perfect by allowing the distillate to reach optimal temperatures. Plus, with its USB-C rechargeable feature, you'll never have to prematurely part ways with your favorite strains due to battery drainage.
Here's a peak into its content profile: Hemp-derived THC-M, THC-A, THC-P, Delta 6, CBD, CBN, and with less than 0.3% Delta 9. No matter your preference – sativa, indica, or hybrid, there's a strain tailored just for you. Dive into rich flavors that are bound to become your new favorites.
But what sets the Torch Burnout Blend Black Series Disposable Vape apart? Apart from its sleek black-colored design, it's pre-charged and pre-filled with Torch's signature Burn Out Blend, ready to provide an unparalleled vaping experience right out of the box. This device also houses an integrated rechargeable battery which can be powered up using its type-c charging port. For consistency, the pre-heat button ensures you get a smooth, flavorful hit every time. Inside, you'll find a harmonious 3.5-gram blend of THC-M, THC-A, THC-P, all complemented with strain-specific terpenes, making every puff a delightful experience.
For those seeking a powerful and intricately crafted vaping sensation that delivers both euphoria and unforgettable flavors, look no further than the Torch Burn Out Blend Black Series Disposable Vape.
Warning: THC is a psycho-active substance. Operating a motor vehicle or heavy machinery after using this product is not advised. This product may cause you to fail a THC drug test. You assume full responsibility for all parts related to your purchase and consumption. Use small doses when starting.
SUGGESTED USE for Torch Burnout Blend Black Series Disposable Vape:
Begin with Care: Especially if you're new to this blend, start with a single small puff and wait for a few minutes to gauge its effects.

Preheat for Perfection: Before taking your first puff, use the preheat function to ensure the distillate reaches its optimal temperature.

Optimal Battery Life: To enjoy the entire distillate without interruptions, make sure the vape is fully charged using the USB-C port.

Clean Mouthpiece: Keep the ergonomic mouthpiece clean for the best experience and to prevent clogs.

Store Properly: Store your disposable vape in a cool, dry place and avoid direct sunlight to maintain the integrity of the cannabinoids and terpenes.

Avoid Overuse: While it's tempting to explore all the strains, it's recommended to pace your usage for the best experience and to let the effects settle.

Consult a Professional: If you're on medication or have health concerns, consult with a healthcare professional before use.

Disposal: Once the vape is empty, dispose of it responsibly, following any local regulations.

Keep Away from Children: Ensure the vape is stored out of reach of children and pets.

Travel Considerations: Remember that carrying THC products across state lines, even where it's legal, can lead to legal consequences. Always be aware of local regulations.

Rotation of Strains: To prevent building a tolerance, consider rotating between strains after finishing each vape.
Remember, everyone's body responds differently to cannabinoids. It's essential to find what works best for you and adjust your usage accordingly.
View our other Disposable Vape Products?

View our collection of disposable vape bundles, or view our 3 Pack, 6 Pack and 10 Pack vape bundles to get huge savings on your next vape device.
TORCH THC Black Series Disposable Vape Device Details:
Fully compliant with the 2018 Farm Bill.
Contains 3.5 grams of THC-M, THC-A, THC-P, Delta 6, CBD, CBN, and with less than 0.3% Delta 9
Burnout blend unique to Black series.
Handy preheat function.
Integrated 650 mAh Rechargeable Battery ( Requires USB Type-C cable not included)
Undergone rigorous third-party lab testing.
Proudly made in the USA with premium industrial hemp.
Comes with an integrated rechargeable battery.
Strain-Specific Terpenes offering a robust flavor profile.
Hassle-free draw-activated firing mechanism.
Comfortable ergonomic mouthpiece.
Transparent large viewing window.
Uses a proprietary ceramic coil to ensure the purest flavors.
Ensures all products contain less than 0.3% Delta-9 for compliance.
Available in 9 diverse strain options.
TORCH THC Black Series Disposable Vape Device Strain/Flavors:
Black Diamond (Indica): A cross between Blackberry and Diamond OG, Black Diamond offers flavors reminiscent of its namesake fruit mixed with a spicy undertone. This indica strain is known for its tranquilizing properties, making it ideal for those seeking relaxation and relief from pain.
Blackberry Blast (Sativa): As the name suggests, Blackberry Blast packs a fruity punch with its aromatic profile dominated by sweet berries. This sativa-dominant strain is uplifting and can provide users with a burst of energy and creativity.
Electric Lemonade (Sativa): Electric Lemonade is a tantalizing strain with a tangy citrus aroma. Sativa-dominant, this strain tends to invigorate and energize, making it a great choice for social activities or creative projects.
Forbidden Fruit (Indica): A cross between Cherry Pie and Tangie, Forbidden Fruit is renowned for its fruity flavor profile. As an indica-dominant strain, it offers deep relaxation and is often recommended for nighttime use.
GG4 (Hybrid): Also known as Gorilla Glue #4, GG4 is a potent hybrid strain that provides a euphoric high and deep relaxation. It has earthy and sour flavors, and its adhesive properties led to its naming after the glue.
Maui Wowie (Sativa): Originating from the Hawaiian Islands, Maui Wowie carries hints of tropical flavors. As a sativa strain, it's uplifting and can provide users with a sense of happiness and energy.
Passion Fruit Diesel (Sativa): With a tangy tropical aroma, Passion Fruit Diesel is a sativa-dominant strain that can give users a jolt of energy and a clear-headed high, making it ideal for daytime use.
Purple Punch (Indica): A cross between Larry OG and Granddaddy Purple, Purple Punch is known for its sweet and fruity aroma with a touch of grape. As an indica-dominant strain, it provides a calming and relaxing effect, making it great for winding down.
Sherbet Queen (Indica): With genetics tracing back to Girl Scout Cookies, Sherbet Queen boasts sweet and fruity flavors. Predominantly indica, this strain is perfect for those seeking relaxation and tranquility.
Skywalker OG (Hybrid): A potent cross between Skywalker and OG Kush, Skywalker OG offers a balanced high that has both relaxing and uplifting effects. It has a spicy herbal scent with undertones of jet fuel.
TORCH THC Black Series Disposable Vape Device Packaging Contents:
1 x TORCH THC Black Series Disposable Vape Device

Select your preferred Strain/Flavors with the TORCH THC Black Series vape.
---
Shipping Restrictions:
Apologies for the inconvenience, but due to state-specific regulations, we're unable to ship Delta products to certain states. To continue with your order, please remove any Delta products from your cart if you're shipping to the following states:
Alaska, Arizona, Arkansas, California, Colorado, Connecticut, Delaware, Hawaii, Illinois, Idaho, Iowa, Kansas, Louisiana, Massachusetts, and Michigan.
Thank you for your understanding and cooperation.
DISCLAIMER: EveryThing Vapes is not responsible for any medical claims made within customer testimonials. The assertions regarding these products haven't been assessed by the Food and Drug Administration. Neither the effectiveness of these products nor the authenticity of customer testimonials has received FDA validation. These products are not designed to diagnose, cure, treat, or fend off any diseases. The content here should not replace professional health advice. Seek guidance from health professionals before using any product. Consult with them regarding potential risks or conflicts. The Federal Food, Drug, and Cosmetic Act mandates this acknowledgment.
SHIPPING:
You can choose from three Shipping options:
Standard

Shipping 

5 to 10 Business Days
Priority

Shipping 

3 to 7 Business Days
Express

Shipping 

2 to 3 Business Days
Shipping days are Mon to Fri, not including weekends and Holidays . 
Carriers used will vary dependent on the shipping location.
Shipping times above vary and only include the 48 contiguous USA States. Carriers don't guarantee shipping delivery times, this is just an estimate number of Business days your package might take to be deliver and doesn't included any inclement weather or disasters. Business Days only include Monday to Friday, and this doesn't include weekends and any Public Holiday.
Customers are responsibility to make sure the address information provided is accurate, including city, state and zip code to prevent any delays or errors in shipping.  Your shipping address cannot be changed once the order has been processed and shipped.  It is the customers responsibility to review their shipping information before order submission.  Failure to provide accurate shipping information may result in a delay and additional shipping charges.  Exceptions apply to Shipping to APO/FPO/DPO addresses which may take up to 45 business days for delivery via USPS policy.
Canadian customers' orders may take up to 30 business days.  Please note, you may be subject to taxes and import duties, namely GST (Goods and Services Tax) and HST (Harmonized Sales Tax). In addition, a fee may be levied upon your purchase by Canada Post. These costs are not included in your overall purchase price and EveryThing Vapes is NOT held liable for any custom issues.
ADULT SIGNAUTURE REQUIRED
All orders are shipped with Signature required as per the new Pact Act Vape Laws. Please make sure you are 21 Years and older and you have an adult of 21 yrs of age or older available to receive and sign for your package. No exceptions apply. If you will be available or you do not have somebody at home to sign for the package that is 21 years old, then you can contact the carrier and ask them to hold the package, and you can pick it up at your convenience within a few days. Check with the shipping carrier what the maximum number of days your package will be held otherwise the package will get returned back to us.
Shipping cost will NOT be refunded for any reason. You will receive an email with the tracking information once the order has been shipped.