Roar Diamond 3.5g Disposable...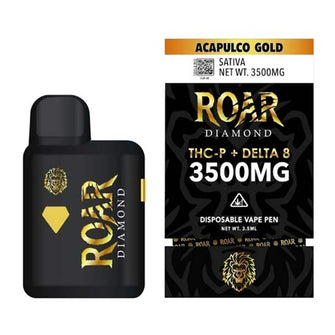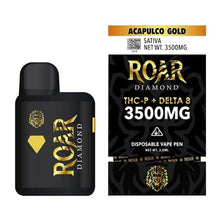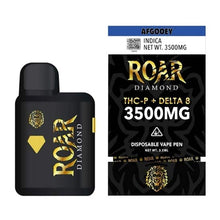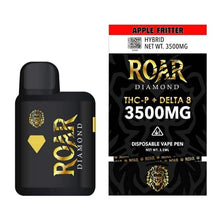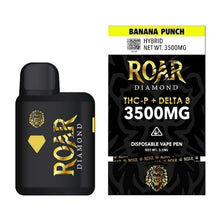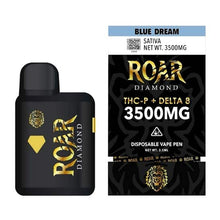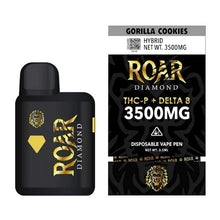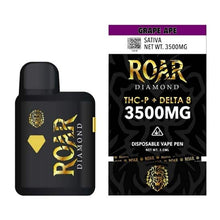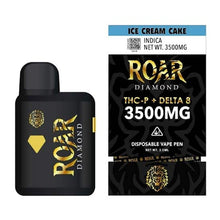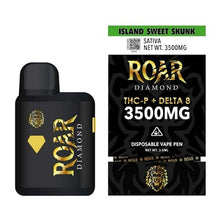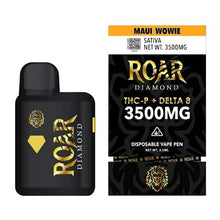 1PC - Roar Diamond 3.5g (THC-P - Delta 8) Disposable Vape Device
Venture into the next generation of vaping with the Roar Diamond THC-P + Delta 8 Portable Vape Device. Experience the deep sensations powered by THC-P and Delta 8, both renowned and potent elements sourced from premium American hemp. With a robust 3500mg of THC-P + Delta 8, users can anticipate a dynamic and lasting experience.
Crafted meticulously from 100% homegrown American hemp, the Roar Diamond Vape offers both impeccable quality and authenticity. A distinguishing feature is its renewable battery system. In a market dominated by single-use vapes, Roar Diamond stands out, endorsing prolonged use, making it an eco-conscious and economically sound choice. Revitalize the battery with the provided USB link, and gear up for an unparalleled vaping session anytime.
Why opt for Roar Diamond THC-P + Delta 8 Vape Device?
Users of the Roar Diamond THC-P + Delta 8 Vape have consistently shared their overwhelming approval. Testimonials highlight its powerful, enduring impact and a seamless vaping session. With a palette of 10 diverse flavors from zesty fruits to cool mint and zingy spices, personalizing your vaping journey is effortless. Its potent blend, convenient recharging mechanism, and homegrown hemp origin make this vape device a trusted choice among enthusiasts.
Performance Insights of Roar Diamond THC-P + Delta 8 Vape Device:
With the Roar Diamond THC-P + Delta 8 Vape Device, elevate your vaping standards. Packed with a generous 3500mg of THC-P + Delta 8, this vape promises profound and lasting impressions. Its eco-friendly, rechargeable battery champions sustainability without compromising on user experience. A spectrum of flavors, from sweet to spicy, ensures that every user finds their perfect match, making each session memorable.
Roar Diamond 3.5g (THC-P + Delta 8) Disposable Vape Unit:
Presenting our pinnacle creation - The ROAR Diamond! This powerhouse unit, with its 3.5ML capacity, sets a gold standard in the industry. Unique to the Roar Diamond is its recharging capability, ensuring your vape sessions are never cut short. Modern, premium craftsmanship encapsulates this unit, signifying it as a benchmark in the vaping world.
Step into a world of unmatched vaping pleasure with the Roar Diamond Disposable Vape. Its sleek, modern design is a testament to elegance and convenience. Each draw offers a serene vapor, ideal for winding down or setting the mood for a relaxed evening.
Warning: THC is a psycho-active substance. Operating a motor vehicle or heavy machinery after using this product is not advised. This product may cause you to fail a THC drug test. You assume full responsibility for all parts related to your purchase and consumption. Use small doses when starting.
Suggested Use for the Roar Diamond THC-P + Delta 8 Portable Vape Device
Before Use:
Before using the Roar Diamond THC-P + Delta 8 Portable Vape Device, ensure the device is fully charged. Connect it to the provided USB cable and wait for the indicator light to signal a full charge.
Read all safety instructions and cautions provided with the product to ensure safe use.
Usage Instructions:
Hold the Roar Diamond Vape Device comfortably in your hand.
Inhale gently through the mouthpiece for 2-4 seconds. Do not take an overly aggressive or prolonged inhale as this may lead to discomfort.
Pause and hold the vapor in your lungs briefly before exhaling smoothly.
Wait at least 5-10 minutes between inhales to assess the effects. This allows you to gauge your reaction and avoid overconsumption.
Enjoy the rich flavors and sensations offered by the device. Remember to choose your desired flavor before use to customize your experience.
After Use:
If the device is reusable, ensure you switch it off (if it has a power button) and store it in a cool, dry place away from direct sunlight.
If the battery depletes, recharge using the provided USB cable.
Keep the device out of reach of children and pets.
Important Notes:
Beginners or those new to THC-P and Delta 8 products should start with a single inhalation and wait to see how they feel before continuing.
Always use the device responsibly and never operate heavy machinery or drive while under the influence.
The effects of THC-P and Delta 8 can vary by individual. Always use with caution and listen to your body.
If you feel unwell or experience any adverse effects, stop using the device immediately and consult a healthcare professional.
Enjoy your Roar Diamond THC-P + Delta 8 Portable Vape Device and vape responsibly!
View our other Disposable Vape Products?

View our collection of disposable vape bundles, or view our 3 Pack, 6 Pack and 10 Pack vape bundles to get huge savings on your next vape device.
Roar Diamond Disposable Vape Device Details:
Integrated 650 mAh Rechargeable Battery ( Requires USB Type-C cable not included)
3.5ml (3500mg) of THC-P & Delta-8 THC
100% US Grown Hemp

Live resin extracted

Mixed Blends; THC-P - Delta 8
Draw-Activated Firing Mechanism
Dual mesh coil
Contain Less Than 0.3%
NOT Refillable
Flavors: 9 Available Strain/Flavors
Roar Diamond Disposable Vape Device Strain/Flavors:
Acapulco Gold (Sativa): Originating from the Acapulco region of Mexico, Acapulco Gold is one of the most well-known sativa strains. It's celebrated for its uplifting effects and a citrusy, earthy aroma. The high typically offers a balance of relaxation with energizing and uplifting sensations.
Afgooey (Indica): Also known simply as Afgoo, this strain is a cross between an Afghani indica and Maui Haze. It's known for its relaxing effects, making it a good option for evening relaxation. The aroma combines earthy pine with sweet notes.
Apple Fritter (Hybrid): A delectable hybrid with a sweet and earthy aroma reminiscent of its namesake dessert. It's a cross between Sour Apple and Animal Cookies, offering a balance of uplifting and relaxing effects.
Banana Punch (Hybrid): This strain is a cross between Banana OG and Purple Punch. It offers a fruity aroma with hints of banana and provides both relaxation and euphoria, making it great for unwinding.
Blue Dream (Sativa): One of the most popular sativa-dominant hybrids, Blue Dream offers a sweet berry aroma. It's known for delivering a balanced high, providing both relaxation and a gentle energy, making it suitable for day use.
Gorilla Cookies (Hybrid): This potent hybrid is a cross between Gorilla Glue #4 and Thin Mint Girl Scout Cookies. It offers a mix of uplifting and relaxing effects with flavors that blend earthy and sweet notes.
Grape Ape (Sativa): Contrary to its name, Grape Ape is more commonly classified as an indica or indica-dominant strain. It has a distinct grape-like smell, and it's known for its calming and relaxing effects, making it more suited for evening use.
Ice Cream Cake (Indica): This indica-dominant strain is a cross between Wedding Cake and Gelato #33. It has a creamy, sweet aroma and is known for its relaxing and sedative effects.
Island Sweet Skunk (Sativa): Sometimes simply called Sweet Island Skunk, this sativa strain offers uplifting effects, making it suitable for day use. It has a sweet, skunky scent with hints of tropical fruit.
Maui Wowie (Sativa): Originating from the Hawaiian Islands, Maui Wowie boasts tropical flavors and aromas. As a sativa, it offers uplifting effects, giving users a sense of happiness and energy.
As with any strain, individual experiences may vary based on tolerance, consumption method, and the specific phenotype. It's always recommended to consume responsibly and in moderation.
Roar Diamond Disposable Vape Device Packaging Contents:
1 x Roar Diamond Disposable Vape Device

Select your preferred flavor with the Roar Diamond vape.
---
Shipping Restrictions:
Apologies for the inconvenience, but due to state-specific regulations, we're unable to ship Delta products to certain states. To continue with your order, please remove any Delta products from your cart if you're shipping to the following states:
Alaska, Arizona, Arkansas, California, Colorado, Connecticut, Delaware, Hawaii, Illinois, Idaho, Iowa, Kansas, Louisiana, Massachusetts, and Michigan.
Thank you for your understanding and cooperation.
DISCLAIMER: EveryThing Vapes is not responsible for any medical claims made within customer testimonials. The assertions regarding these products haven't been assessed by the Food and Drug Administration. Neither the effectiveness of these products nor the authenticity of customer testimonials has received FDA validation. These products are not designed to diagnose, cure, treat, or fend off any diseases. The content here should not replace professional health advice. Seek guidance from health professionals before using any product. Consult with them regarding potential risks or conflicts. The Federal Food, Drug, and Cosmetic Act mandates this acknowledgment.
SHIPPING:
You can choose from three Shipping options:
Standard

Shipping 

5 to 10 Business Days
Priority

Shipping 

3 to 7 Business Days
Express

Shipping 

2 to 3 Business Days
Shipping days are Mon to Fri, not including weekends and Holidays . 
Carriers used will vary dependent on the shipping location.
Shipping times above vary and only include the 48 contiguous USA States. Carriers don't guarantee shipping delivery times, this is just an estimate number of Business days your package might take to be deliver and doesn't included any inclement weather or disasters. Business Days only include Monday to Friday, and this doesn't include weekends and any Public Holiday.
Customers are responsibility to make sure the address information provided is accurate, including city, state and zip code to prevent any delays or errors in shipping.  Your shipping address cannot be changed once the order has been processed and shipped.  It is the customers responsibility to review their shipping information before order submission.  Failure to provide accurate shipping information may result in a delay and additional shipping charges.  Exceptions apply to Shipping to APO/FPO/DPO addresses which may take up to 45 business days for delivery via USPS policy.
Canadian customers' orders may take up to 30 business days.  Please note, you may be subject to taxes and import duties, namely GST (Goods and Services Tax) and HST (Harmonized Sales Tax). In addition, a fee may be levied upon your purchase by Canada Post. These costs are not included in your overall purchase price and EveryThing Vapes is NOT held liable for any custom issues.
ADULT SIGNAUTURE REQUIRED
All orders are shipped with Signature required as per the new Pact Act Vape Laws. Please make sure you are 21 Years and older and you have an adult of 21 yrs of age or older available to receive and sign for your package. No exceptions apply. If you will be available or you do not have somebody at home to sign for the package that is 21 years old, then you can contact the carrier and ask them to hold the package, and you can pick it up at your convenience within a few days. Check with the shipping carrier what the maximum number of days your package will be held otherwise the package will get returned back to us.
Shipping cost will NOT be refunded for any reason. You will receive an email with the tracking information once the order has been shipped.