Monster Bar Disposable Vape...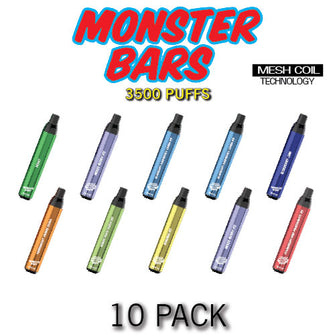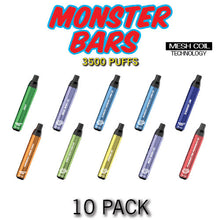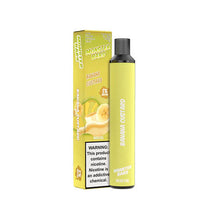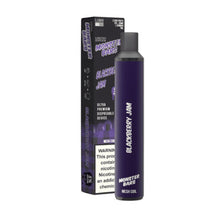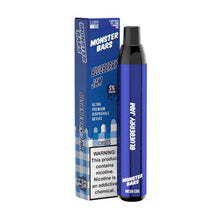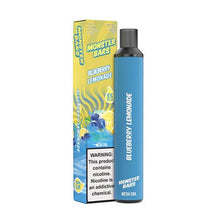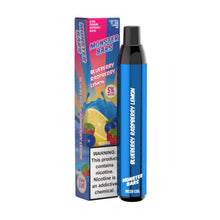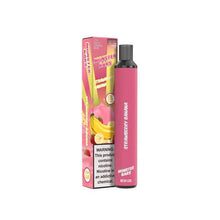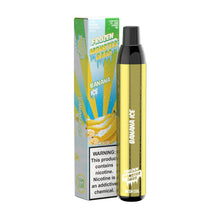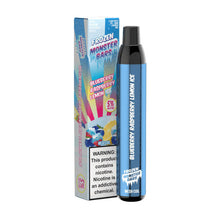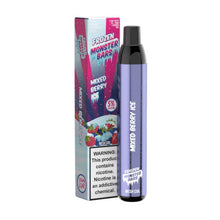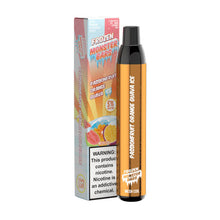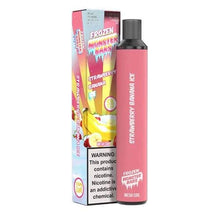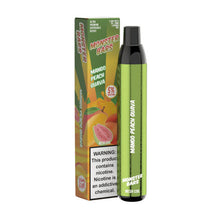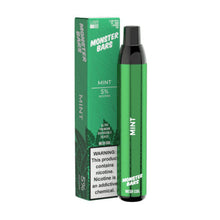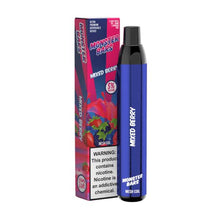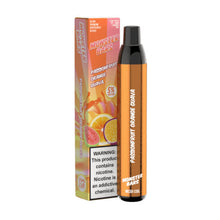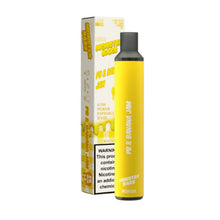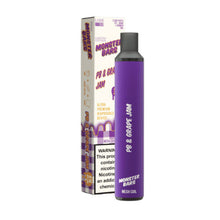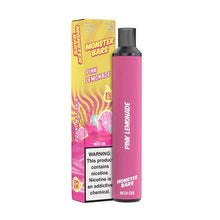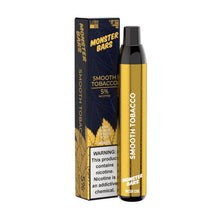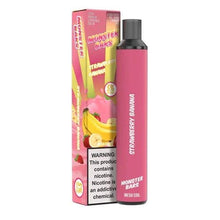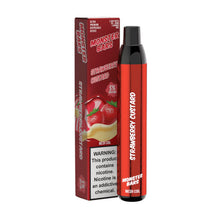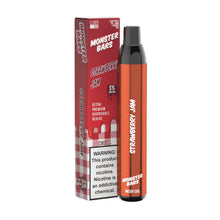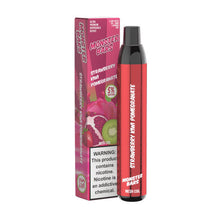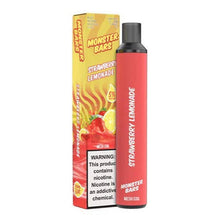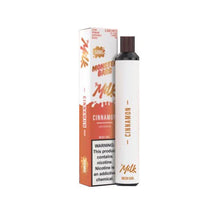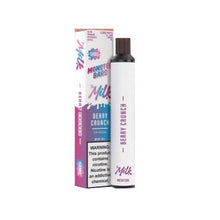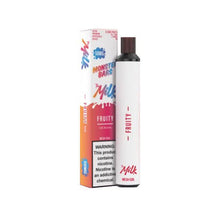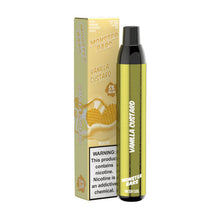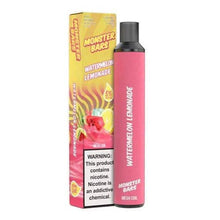 10PK - Monster Bar Disposable Vape Device by Jam Monster | 3500 Puffs
Introducing the Monster Bar Disposable vape Device by Jam Monster - the quintessential vaping experience you've been craving! With an unparalleled combination of power and flavor, this device is designed for the ultimate vaping pleasure.
Monster Bars feature a hassle-free, draw-activated firing mechanism that allows you to enjoy a smooth and satisfying vape with every pull. Pre-filled with 6ml of premium American-made e-liquid, it guarantees not just superior taste but also top-notch safety. Formulated in an FDA registered and ISO-7/GMP certified lab, this e-liquid upholds the highest standards of production and safety.
What sets the Monster Bar apart is its exceptional 50mg nicotine salt strength, designed to deliver a strong, intense vape that's perfect for those with advanced vaping preferences. Despite its compact size, this device houses a robust 1000mAh battery, which is capable of offering a whopping 3500 puffs - ensuring that it stays with you throughout the day.
But the vaping experience isn't complete without flavor. And that's where Monster Bar truly excels. With a remarkable array of 31 unique flavors, this device caters to every palate. From sweet and fruity to bold and robust, you're sure to find a flavor that'll delight your senses.
Every puff with the Monster Bar Disposable Vape Device releases a cloud of rich, aromatic vapor that will make you come back for more. Embrace the Monster Bar for an unforgettable vaping journey - where power, flavor, and durability come together in one exceptional device.
View our other Disposable Vape Products
View our collection of disposable vape bundles, or view our 3 Pack, 6 Pack and 10 Pack vape bundles to get huge savings on your next vape device.
Monster Bar Disposable Vape Details:
Size: 6ml
Nicotine Strength: Synthetic 5.0%
Salt Nicotine equivalent to about 1 pack of cigarettes
Battery Capacity: 1000mAh
Puff Count: 3500 + Puffs
Draw Activated Firing Mechanism
Mesh Coil Heating Element
Flavors: 31 Available Flavors
Monster Bar Disposable Vape Flavors:
Banana Custard:

 You'll go bananas over this flavor! The smooth, creamy taste of custard meets the sweet, tropical notes of ripe bananas for an unbeatable combination.

Blackberry Jam:

 Who needs toast when you have this vape flavor? Enjoy the sweet, tangy goodness of freshly made blackberry jam without any of the stickiness.

Blueberry Jam:

 It's a jam session in your vape! Tune into the sweet and tart notes of blueberries, perfectly captured in this fruity vape juice.

Blueberry Lemonade:

 Nothing says 'summer' like a glass of homemade lemonade...especially when it's loaded with juicy blueberries! Enjoy this refreshing flavor all year round.

Blueberry Raspberry Lemon:

 It's a berry bonanza with a zesty twist! Enjoy the sweet notes of blueberries and raspberries, cut through with the tang of fresh lemon.

Butterscotch Custard:

 Indulge your sweet tooth with this creamy, rich butterscotch custard vape flavor. It's like dessert in your vape!

Frozen Banana Ice:

 Enjoy the taste of ripe bananas with a frosty twist. It's like enjoying a banana popsicle, but without the brain freeze.

Frozen Blueberry Raspberry Lemon Ice:

 All your favorite fruity flavors with a cool icy blast! Enjoy the sweet notes of berries and tangy lemon with a refreshing menthol kick.

Frozen Mango Peach Guava Ice:

 Take a trip to the tropics with this frozen fruit concoction. Enjoy the exotic flavors of mango, peach, and guava with a frosty finish.

Frozen Mixed Berry Ice:

 Give your taste buds a chilly thrill with this icy blend of mixed berries. It's like a fruit smoothie with a menthol twist.

Frozen Passionfruit Orange Guava Ice:

 Experience a tropical explosion with a cool twist. The tart passionfruit, zesty orange, and sweet guava blend perfectly with an icy finish.

Frozen Strawberry Banana Ice:

 Your favorite fruit combo now comes with a chilly twist! Enjoy the taste of strawberries and bananas with a refreshing icy kick.

Frozen Strawberry Kiwi Pomegranate Ice:

 Fruit salad meets snow cone in this sweet and icy vape flavor. Strawberries, kiwis, and pomegranate make a delicious combo with a cool finish.

Mango Peach Guava:

 Get the tropical getaway you've been dreaming of in every puff of this sweet and exotic blend.

Mint:

 This refreshing and cool mint flavor is a breath of fresh air. Perfect for those who prefer a simple, yet invigorating vape experience.

Mixed Berry:

 It's a berry bash! Enjoy the sweet and tart blend of all your favorite berries in one delicious vape juice.

Passionfruit Orange Guava:

 Get the party started with this tropical punch of flavors. It's like a vacation in your vape!

PB & Banana Jam:

 Who knew sandwiches could be this fun? Enjoy the classic combo of peanut butter and banana in a whole new way.

PB & Grape Jam:

 Peanut butter jelly time has a new meaning with this vape flavor. Experience the perfect blend of salty and sweet in every puff.

Pink Lemonade:

 This ain't your grandma's lemonade stand! Get the perfect mix of sweet and sour with this refreshing vape flavor.

Smooth Tobacco:

 For those who enjoy the classic taste of tobacco without the harshness, this smooth tobacco vape flavor hits the spot.

Strawberry Banana:

 You can't go wrong with this classic fruit combo. Enjoy the sweet taste of strawberries perfectly blended with bananas.

Strawberry Custard:

 

This luscious blend of ripe strawberries and creamy custard creates a vape flavor that's delightfully sweet and velvety. It's like your favorite dessert, minus the calories!
Strawberry Jam:

 

Savor the sweetness of summer all year round with our Strawberry Jam vape juice. It's like spreading homemade jam onto a warm piece of toast, without the crumbs!
Strawberry Kiwi Pomegranate:

 

Take your taste buds on a fruity adventure with this irresistible combination. The sweetness of strawberries, tanginess of kiwi, and unique tartness of pomegranate make for a truly vibrant and exciting vape.
Strawberry Lemonade:

 

Nothing beats the heat like our Strawberry Lemonade vape juice. The zesty tang of lemonade perfectly complements the juicy sweetness of strawberries in this refreshing blend.
The Milk Cinnamon:

 

Experience the comforting taste of a cinnamon-infused milk with this vape juice. It's like sipping a warm, frothy glass of cinnamon milk, without the need for a mug!
The Milk Berry Crunch:

 

Savor the classic taste of your favorite berry crunch cereal soaked in silky milk. A nostalgic flavor that brings back memories of lazy Saturday mornings.
The Milk Fruity:

 

Indulge in the nostalgic taste of your favorite fruity cereal soaked in rich, creamy milk. It's breakfast in a vape!
Vanilla Custard:

 

Enjoy the classic, creamy flavor of vanilla custard anytime, anywhere. It's a smooth and creamy delight that's perfect for dessert lovers.
Watermelon Lemonade:

 

Dive into a refreshing, juicy vape experience with our Watermelon Lemonade vape juice. The light sweetness of watermelon is given an exciting twist with the tangy punch of lemonade.
Monster Bar Disposable Vape Packaging Includes:
10 x Monster Bar Disposable Vape Device
| | |
| --- | --- |
| Type: | |
| Vendor: | |
| Flavors: | Banana Custard, Blackberry Jam, Blueberry Jam, Blueberry Lemonade, Blueberry Raspberry Lemon, Butterscotch Custard, Frozen Banana Ice, Frozen Blueberry Raspberry Lemon Ice, Frozen Mango Peach Guava Ice, Frozen Mixed Berry Ice, Frozen Passionfruit Orange Guava Ice, Frozen Strawberry Banana Ice, Frozen Strawberry Kiwi Pomegranate Ice, Mango Peach Guava, Mint, Mixed Berry, Passionfruit Orange Guava, PB & Banana Jam, PB & Grape Jam, Pink Lemonade, Smooth Tobacco, Strawberry Banana, Strawberry Custard, Strawberry Jam, Strawberry Kiwi Pomegranate, Strawberry Lemonade, The Milk Cinnamon, The Milk Berry Crunch, The Milk Fruity, Vanilla Custard, Watermelon Lemonade |
| SKU: | Pink Lemonade – Monster Bars 10pk |
| Weight: | 20.0 oz |
SHIPPING:
You can choose from three Shipping options:
Standard

Shipping 

5 to 10 Business Days
Priority

Shipping 

3 to 7 Business Days
Express

Shipping 

2 to 3 Business Days
Shipping days are Mon to Fri, not including weekends and Holidays . 
Carriers used will vary dependent on the shipping location.
Shipping times above vary and only include the 48 contiguous USA States. Carriers don't guarantee shipping delivery times, this is just an estimate number of Business days your package might take to be deliver and doesn't included any inclement weather or disasters. Business Days only include Monday to Friday, and this doesn't include weekends and any Public Holiday.
Customers are responsibility to make sure the address information provided is accurate, including city, state and zip code to prevent any delays or errors in shipping.  Your shipping address cannot be changed once the order has been processed and shipped.  It is the customers responsibility to review their shipping information before order submission.  Failure to provide accurate shipping information may result in a delay and additional shipping charges.  Exceptions apply to Shipping to APO/FPO/DPO addresses which may take up to 45 business days for delivery via USPS policy.
Canadian customers' orders may take up to 30 business days.  Please note, you may be subject to taxes and import duties, namely GST (Goods and Services Tax) and HST (Harmonized Sales Tax). In addition, a fee may be levied upon your purchase by Canada Post. These costs are not included in your overall purchase price and EveryThing Vapes is NOT held liable for any custom issues.
ADULT SIGNAUTURE REQUIRED
All orders are shipped with Signature required as per the new Pact Act Vape Laws. Please make sure you are 21 Years and older and you have an adult of 21 yrs of age or older available to receive and sign for your package. No exceptions apply. If you will be available or you do not have somebody at home to sign for the package that is 21 years old, then you can contact the carrier and ask them to hold the package, and you can pick it up at your convenience within a few days. Check with the shipping carrier what the maximum number of days your package will be held otherwise the package will get returned back to us.
Shipping cost will NOT be refunded for any reason. You will receive an email with the tracking information once the order has been shipped. 
So happy
They come in sealed boxes and they are the best you can find... 100 jam monster. Haven't had a bad one yet. And I've ordered quite a few
So happy
They come in sealed boxes and they are the best you can find... 100 jam monster. Haven't had a bad one yet. And I've ordered quite a few