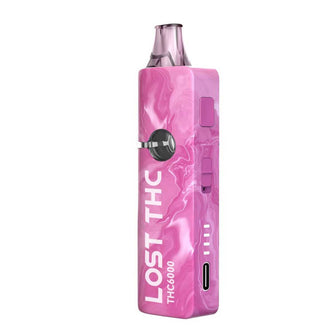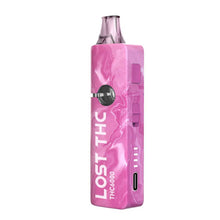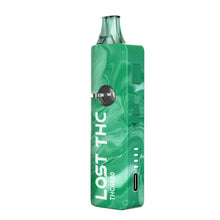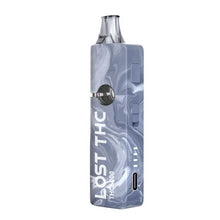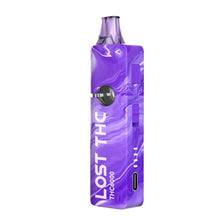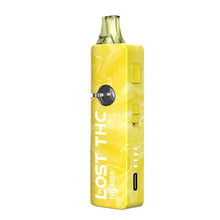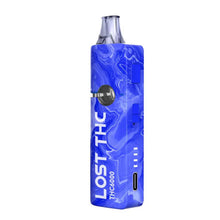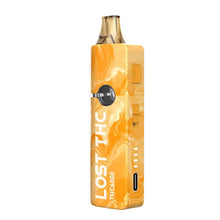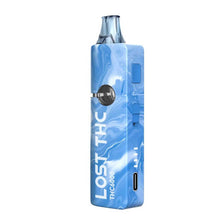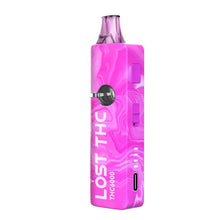 1PC - LOST THC THC6000 (6g Live Resin) Disposable Vape Device
Introducing the pinnacle of vaping—the LOST THC Disposable Vape. For the discerning vaper, this device blends cutting-edge technology with premium botanical extracts, promising an unrivaled vaping escapade.
At its core is a distinctive blend of live resin, meticulously curated for authenticity. This formula guarantees a deep dive into the true essence of the plant with every inhale. Packaged in a compact 6 grams, its design exudes convenience and portability.
But what truly sets the LOST THC Disposable Vape apart is its specialized cannabinoid mix: THCA diamonds bring crystalline potency; Delta 8 adds a touch of mellow euphoria; and the presence of THCP, HHC-R, HHC-P, and THC-B creates a balanced, enthralling, and holistic vaping journey.
Embark on a new era of vaping with LOST THC—where heritage intertwines with innovation.
Alien OG Hybrid
Step into a galactic escapade with Alien OG. This enchanting hybrid melds the finest indica and sativa genes, promising an experience that's stellar in every sense. Alien OG's buds are a visual symphony—deep greens intertwined with radiant orange pistils, shimmering with potency. Its aroma—a perfect blend of earth, pine, and a citrusy undertone—promises a transcendental cannabis voyage.
Dosi Punch Hybrid
Savor the equilibrium of Dosi Punch, an alluring hybrid that harmoniously binds indica and sativa attributes. With its rich flavor palette and balanced effects, Dosi Punch ensures a memorable cannabis interlude. Admire its bud's artistry—deep purples, verdant greens, and a splash of orange, signaling its genetic richness. The scent? A tantalizing dance of sweet, earthy, and piney whispers.
Gary Payton OG Sativa
Channel the dynamism of the courts with Gary Payton OG. Named after the legendary Gary Payton, this robust sativa strain exudes energy and verve. Its buds present a vibrant play of greens and oranges, glinting with promise. Inhale, and let its earthy and citrusy notes transport you to the heart of the game.
Grape Pie Hoe Indica
Indulge in Grape Pie Hoe—a sumptuous indica that entwines rich flavors with profound serenity. Revel in its buds—deep purples and lush greens crowned with tangerine highlights. Each puff delivers a serenade of grape and berry, culminating in a symphony of relaxation.
Pineapple Punch Sativa
Awaken with Pineapple Punch. This vivacious sativa encapsulates tropical exuberance, promising a rejuvenating journey with every inhale. Adorned with lush greens and radiant orange pistils, its buds radiate island allure. The fragrance? A tantalizing mix of ripe pineapple and exotic fruit notes.
Skywalker OG Indica
Drift into cosmic tranquility with Skywalker OG. Its buds paint a celestial picture—rich sage-greens highlighted by fiery oranges and a trichome sparkle. Surrender to its earthy and piney aroma, and let its powerful embrace transport you to interstellar serenity.
Sour Jack Sativa
Ignite creativity with Sour Jack. This vivacious sativa strain is a fusion of zest and invigoration, perfect for the imaginative soul. Upon inhaling, a euphoric clarity takes over, paving the way for unparalleled creativity and zest.
Wappa Hybrid
Delve into the balanced world of Wappa—a hybrid masterpiece that perfectly intertwines indica and sativa traits. Its buds are a rich tapestry of greens and oranges, exuding an aroma that's a delightful mix of earth and fruit, hinting at its diverse lineage.
Zkittlez Indica
Relish in the sensory delight of Zkittlez. This indulgent indica promises a burst of flavors, reminiscent of a colorful candy ensemble. Its buds are a visual treat, gleaming with purples, greens, and oranges. As you part the buds, a delightful aroma of sweet fruits envelops the senses, signaling the tranquility to come.
Warning: THC is a psycho-active substance. Operating a motor vehicle or heavy machinery after using this product is not advised. This product may cause you to fail a THC drug test. You assume full responsibility for all parts related to your purchase and consumption. Use small doses when starting.
SUGGESTED USE:

1 – 2 puffs, not exceeding 3 seconds, to establish individual tolerance.
Effect:

Dynamic combination of energizing and calming effects due to the blend of cannabinoids.

Taste and Smell:

Authentic representation of the cannabis plant, enhanced by the inclusion of live resin for a full and genuine flavor.
View our other Disposable Vape Products?

View our collection of disposable vape bundles, or view our 3 Pack, 6 Pack and 10 Pack vape bundles to get huge savings on your next vape device.
LOST THC THC6000 Disposable Vape Device Details:
Integrated 650 mAh Rechargeable Battery ( Requires USB Type-C cable not included)
6 Gram
Mixed Blends; Live Resin, THCA Diamonds, Delta 8 (D8), THCP, HHC-R, HHC-P, THC-B
Draw-Activated Firing Mechanism
Adjustable Dual AirFlow

Adjustable Power Level

Battery Staus Fuage

Clogging Resistance

Ergonomic Mouthpiece
Contain Less Than 0.3%

NOT Refillable
Flavors: 9 Available Flavors
LOST THC THC6000 Disposable Vape Device Strain/Flavors:
ALIEN OG (HYBRID): Originating from California, Alien OG is a cross between Tahoe OG and Alien Kush. As a balanced hybrid, users can expect a cerebral high that is coupled with a calming body buzz. It boasts of a spicy, lemon-pine aroma.
DOSI PUNCH (HYBRID): Dosi Punch, likely a cross between Do-Si-Dos and Purple Punch, combines the relaxing attributes of its indica lineage with the uplifting effects from its sativa genetics. The result is a balanced strain, perfect for those seeking relaxation without sedation.
GARY PAYTON OG (SATIVA): Named after the famous basketball player, Gary Payton OG leans towards sativa. The strain often offers an energetic and cerebral high. With a rich terpene profile, users can expect a complex aroma blending earthy, woody, and citrus notes.
GRAPE PIE HOE (INDICA): An indica dominant strain, Grape Pie Hoe is recognized for its sweet grape aroma, hence the name. Users can expect a deeply relaxing high that's perfect for unwinding after a long day.
PINEAPPLE PUNCH (SATIVA): A tropical treat, Pineapple Punch boasts a delicious fruity aroma reminiscent of its namesake. As a sativa-dominant strain, users will likely experience an uplifting and energetic high, making it suitable for daytime use.
SKYWALKER OG (INDICA): Skywalker OG, a potent cross between Skywalker and OG Kush, is known for its powerful relaxation properties. It carries a spicy herbal scent and often helps users with stress, pain, and insomnia.
SOUR JACK (SATIVA): Combining two classic strains, Sour Diesel and Jack Herer, Sour Jack is a sativa-dominant hybrid that provides users with an invigorating cerebral high. It's known for its uplifting effects and pungent aroma with hints of diesel and citrus.
WAPPA (HYBRID): Wappa is a balanced hybrid strain that's known for its fruity aroma and strong effects. Despite its balanced genetics, its high often leans towards the indica side, providing users with a relaxed and calming sensation.
ZKITTLES (INDICA): Zkittles is an award-winning indica-dominant strain known for its sweet and fruity aroma, reminiscent of a fruit candy. It provides a calming body buzz and is great for relaxation and stress relief.
Remember, the effects of cannabis strains can vary depending on various factors including the grow conditions, harvest time, and individual user tolerance. Always consume responsibly and in moderation, especially if trying a new strain.
LOST THC THC6000 Disposable Vape Device Packaging Contents:
1 x LOST THC THC6000 Disposable Vape Device

Select your preferred flavor with the LOST THC THC6000 vape.
---
Shipping Restrictions:
Apologies for the inconvenience, but due to state-specific regulations, we're unable to ship Delta products to certain states. To continue with your order, please remove any Delta products from your cart if you're shipping to the following states:
Alaska, Arizona, Arkansas, California, Colorado, Connecticut, Delaware, Hawaii, Illinois, Idaho, Iowa, Kansas, Louisiana, Massachusetts, and Michigan.
Thank you for your understanding and cooperation.
DISCLAIMER: EveryThing Vapes is not responsible for any medical claims made within customer testimonials. The assertions regarding these products haven't been assessed by the Food and Drug Administration. Neither the effectiveness of these products nor the authenticity of customer testimonials has received FDA validation. These products are not designed to diagnose, cure, treat, or fend off any diseases. The content here should not replace professional health advice. Seek guidance from health professionals before using any product. Consult with them regarding potential risks or conflicts. The Federal Food, Drug, and Cosmetic Act mandates this acknowledgment.
SHIPPING:
You can choose from three Shipping options:
Standard

Shipping 

5 to 10 Business Days
Priority

Shipping 

3 to 7 Business Days
Express

Shipping 

2 to 3 Business Days
Shipping days are Mon to Fri, not including weekends and Holidays . 
Carriers used will vary dependent on the shipping location.
Shipping times above vary and only include the 48 contiguous USA States. Carriers don't guarantee shipping delivery times, this is just an estimate number of Business days your package might take to be deliver and doesn't included any inclement weather or disasters. Business Days only include Monday to Friday, and this doesn't include weekends and any Public Holiday.
Customers are responsibility to make sure the address information provided is accurate, including city, state and zip code to prevent any delays or errors in shipping.  Your shipping address cannot be changed once the order has been processed and shipped.  It is the customers responsibility to review their shipping information before order submission.  Failure to provide accurate shipping information may result in a delay and additional shipping charges.  Exceptions apply to Shipping to APO/FPO/DPO addresses which may take up to 45 business days for delivery via USPS policy.
Canadian customers' orders may take up to 30 business days.  Please note, you may be subject to taxes and import duties, namely GST (Goods and Services Tax) and HST (Harmonized Sales Tax). In addition, a fee may be levied upon your purchase by Canada Post. These costs are not included in your overall purchase price and EveryThing Vapes is NOT held liable for any custom issues.
ADULT SIGNAUTURE REQUIRED
All orders are shipped with Signature required as per the new Pact Act Vape Laws. Please make sure you are 21 Years and older and you have an adult of 21 yrs of age or older available to receive and sign for your package. No exceptions apply. If you will be available or you do not have somebody at home to sign for the package that is 21 years old, then you can contact the carrier and ask them to hold the package, and you can pick it up at your convenience within a few days. Check with the shipping carrier what the maximum number of days your package will be held otherwise the package will get returned back to us.
Shipping cost will NOT be refunded for any reason. You will receive an email with the tracking information once the order has been shipped.