Leaf Bar Platinum Disposable...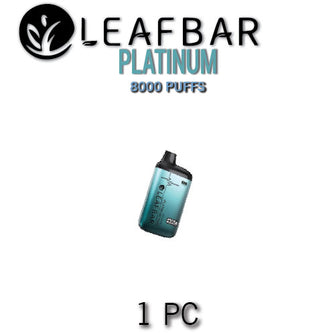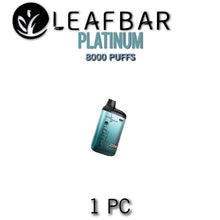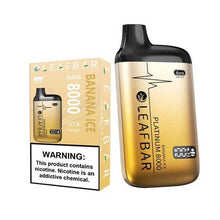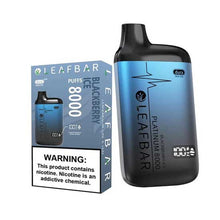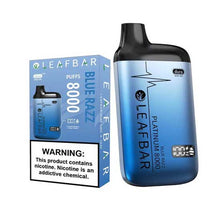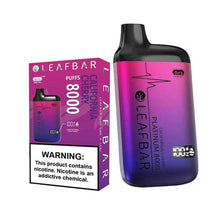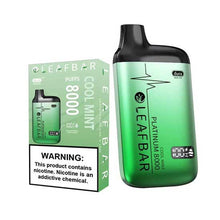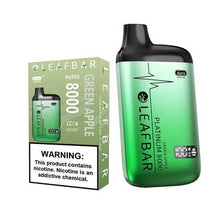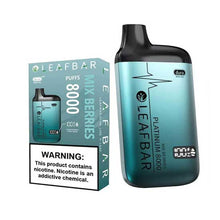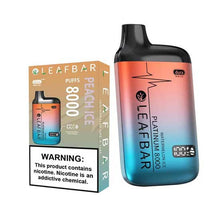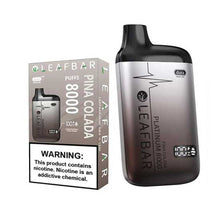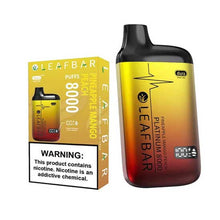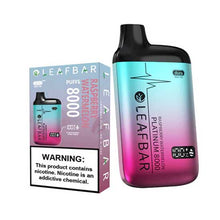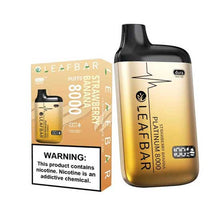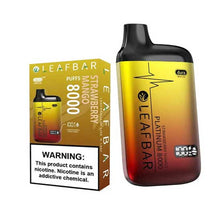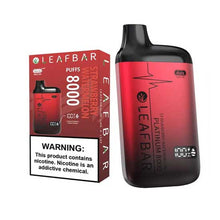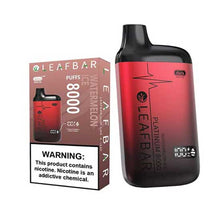 1PC - Leaf Bar Platinum Disposable Vape Device | 8000 Puffs
Welcome to the Leaf Bar Platinum disposable vape Device, where luxury meets longevity in the world of vaping. This state-of-the-art device is not just about aesthetics but functionality at its core. With a massive e-liquid e-juice capacity of 16ml, you can relish and explore up to 21 unique and mouthwatering flavors, showcasing Leaf Bar's unmatched commitment to quality and diversity.
The heart of the Leaf Bar Platinum is its powerful 650mAh USB-C rechargeable battery, ensuring consistent and enduring performance for over 8000 delightful puffs. No need for constant button pressing, as its draw-activation mechanism promises a hassle-free vaping experience from start to finish. Embedded with the Dura Mesh Coil, every puff ensures optimal flavor richness and smoothness, matching the vaping needs of both novices and aficionados. And for those conscious about nicotine strength, a solid 5% (50mg) nicotine concentration guarantees a satisfying hit each time.
View our other Disposable Vape Products?
View our collection of disposable vape bundles, or view our 3 Pack, 6 Pack and 10 Pack vape bundles to get huge savings on your next vape device.
Leaf Bar Platinum Disposable Vape Device Details:
E-Liquid Capacity: 16ml
Nicotine Strength: 5% (50mg Nicotine Concentration)
Battery Capacity:Rechargeable 650mAh, Type USB-C with charging cable (charger not included)
Operation: Draw-Activation
Coil: Dura Mesh Coil
Puff Count: + 8000
Flavors: 21 Available Flavors
Leaf Bar Platinum Disposable Vape Flavors:
Banana Ice: Slide into a chilly paradise with Banana Ice, where the creamy texture of bananas blends seamlessly with an icy touch, offering a cool tropical escape.
Blackberry Ice: Dive deep into a frosty forest of flavors with Blackberry Ice. The dark, rich taste of blackberries combined with a glacial chill ensures a bold vaping experience.
Blue Razz: Embark on a tangy journey with Blue Razz. Its electrifying blue raspberry flavor promises a zesty thrill with every puff.
Blueberry Ice: Traverse the frosty peaks of Blueberry Ice. The succulent taste of blueberries met with an icy embrace creates a flavor that's pure and invigorating.
Blueberry Lemonade: Sip on the delightful fusion of Blueberry Lemonade. The tangy zest of lemonade paired with the sweet undertones of blueberries offers a refreshing summertime feel.
California Cherry: Revel in the sunny vibes of California Cherry. Capturing the sweetness of ripe cherries, this flavor embodies the Golden State's fruit-filled essence.
Cool Mint: Elevate your senses with Cool Mint. This simple, clean flavor provides a refreshing blast that's crisp and invigorating.
Grape Ice: Glide through the vineyards with Grape Ice. Savor the sweet taste of grapes combined with a wintry chill, for a grape experience like no other.
Green Apple: Bite into the tart goodness of Green Apple. This flavor captures the crisp and tangy essence of a freshly picked apple, ensuring a sharp taste delight.
Lemon Mint: Whirl in a zesty storm with Lemon Mint. The vibrant tang of lemons paired with the soothing touch of mint promises a refreshing flavor burst.
Mixed Berries: Delight in a berry bonanza with Mixed Berries. A harmonious blend of nature's finest berries ensures a sweet and tart taste sensation.
Passion Fruit Mango: Get lost in a tropical trance with Passion Fruit Mango. The exotic flair of passion fruit combined with the juiciness of mango promises an islander's paradise.
Peach Ice: Wander through frosty orchards with Peach Ice. Relish the velvety taste of peaches met with a chilly touch, offering a cooling fruit-filled experience.
Pina Colada: Sail the tropical seas with Pina Colada. The creamy fusion of pineapple and coconut transports you straight to a beachside paradise.
Pineapple Mango Peach: Dive into a tropical treasure with Pineapple Mango Peach. This trio of fruits blends together for a juicy explosion, ensuring a sun-kissed delight.
Raspberry Watermelon: Revel in a juicy jamboree with Raspberry Watermelon. The tartness of raspberries paired with the sweetness of watermelon promises a balanced fruity adventure.
Strawberry Banana: Glide through a creamy dreamscape with Strawberry Banana. The sweet allure of strawberries combined with the rich texture of bananas ensures a classic taste harmony.
Strawberry Kiwi: Embark on a tangy twist with Strawberry Kiwi. The juicy strawberries merge perfectly with the tartness of kiwi, offering a balanced fruity dance.
Strawberry Mango: Drift in a tropical breeze with Strawberry Mango. The sweet touch of strawberries paired with the tropical taste of mango promises a sun-soaked flavor journey.
Strawberry Watermelon: Splash into a fruity fountain with Strawberry Watermelon. The sugary strawberries paired with juicy watermelon slices offer a refreshing duo of flavors.
Watermelon Ice: Plunge into a frosty fruit fest with Watermelon Ice. Savor the refreshing taste of watermelon blended with a chilly touch, ensuring a cool summer escape.
Leaf Bar Platinum Disposable Vape Packaging Contents:
1 x

Leaf Bar Platinum Vape Device, offering approximately 8000 puffs in your selected e-juice flavor.
| | |
| --- | --- |
| Type: | |
| Vendor: | |
| Flavors: | Banana Ice, Blackberry Ice, Blue Razz, Blueberry Ice, Blueberry Lemonade, California Cherry, Cool Mint, Grape Ice, Green Apple, Lemon Mint, Mixed Berries, Passion Fruit Mango, Peach Ice, Pina Colada, Pineapple Mango Peach, Raspberry Watermelon, Strawberry Banana, Strawberry Kiwi, Strawberry Mango, Strawberry Watermelon, Watermelon Ice |
| SKU: | Peach Ice – Leaf Bar Platinum Vape 1PC |
| Weight: | 3.0 oz |
SHIPPING:
You can choose from three Shipping options:
Standard

Shipping 

5 to 10 Business Days
Priority

Shipping 

3 to 7 Business Days
Express

Shipping 

2 to 3 Business Days
Shipping days are Mon to Fri, not including weekends and Holidays . 
Carriers used will vary dependent on the shipping location.
Shipping times above vary and only include the 48 contiguous USA States. Carriers don't guarantee shipping delivery times, this is just an estimate number of Business days your package might take to be deliver and doesn't included any inclement weather or disasters. Business Days only include Monday to Friday, and this doesn't include weekends and any Public Holiday.
Customers are responsibility to make sure the address information provided is accurate, including city, state and zip code to prevent any delays or errors in shipping.  Your shipping address cannot be changed once the order has been processed and shipped.  It is the customers responsibility to review their shipping information before order submission.  Failure to provide accurate shipping information may result in a delay and additional shipping charges.  Exceptions apply to Shipping to APO/FPO/DPO addresses which may take up to 45 business days for delivery via USPS policy.
Canadian customers' orders may take up to 30 business days.  Please note, you may be subject to taxes and import duties, namely GST (Goods and Services Tax) and HST (Harmonized Sales Tax). In addition, a fee may be levied upon your purchase by Canada Post. These costs are not included in your overall purchase price and EveryThing Vapes is NOT held liable for any custom issues.
ADULT SIGNAUTURE REQUIRED
All orders are shipped with Signature required as per the new Pact Act Vape Laws. Please make sure you are 21 Years and older and you have an adult of 21 yrs of age or older available to receive and sign for your package. No exceptions apply. If you will be available or you do not have somebody at home to sign for the package that is 21 years old, then you can contact the carrier and ask them to hold the package, and you can pick it up at your convenience within a few days. Check with the shipping carrier what the maximum number of days your package will be held otherwise the package will get returned back to us.
Shipping cost will NOT be refunded for any reason. You will receive an email with the tracking information once the order has been shipped. 
Leaf Bar Platinum Disposable Vape Device | 8000 Puffs - 1PC
Leaf Bar Platinum Disposable Vape Device | 8000 Puffs - 1PC