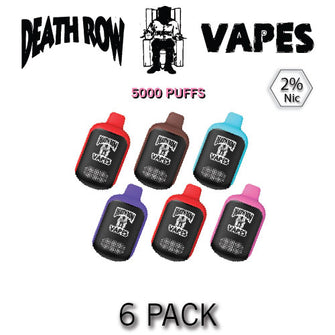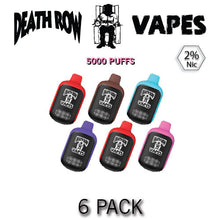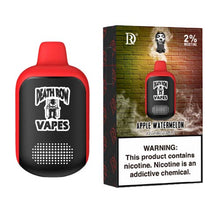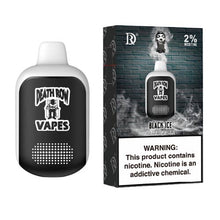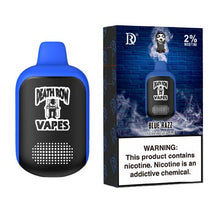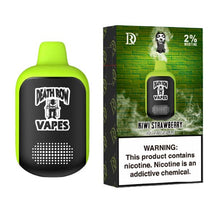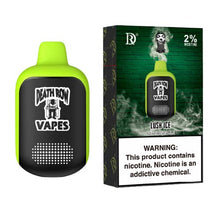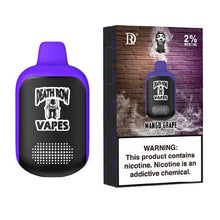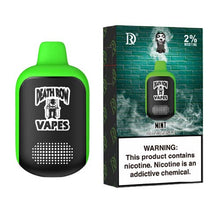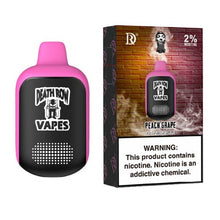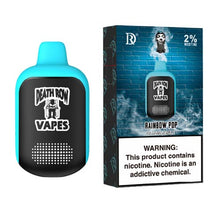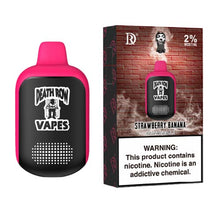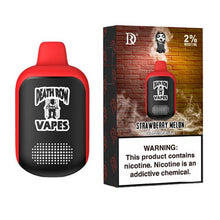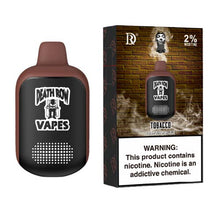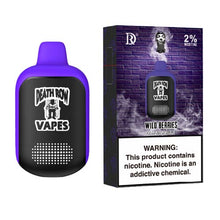 6PK - DEATH ROW Snoop Dogg 5000 2% Disposable Vape | Premium 5000+ Puffs by QRJOY
Introducing the Death Row 2% Nic. Disposable Vape – the embodiment of refined nicotine levels and supreme vaping pleasure, crafted in collaboration with the illustrious Snoop Dogg and the legendary Death Row Records. In a market saturated with overpowering nicotine levels, this vape takes a distinct path by emphasizing a balanced 2% nicotine concentration. This deliberate choice assures vapers a more controlled and subtle intake, perfect for those who prioritize moderation without compromising on the depth of experience.
But why 2%? It's all about striking the ideal balance. Too often, high nicotine levels can overshadow the genuine flavors and sensations of vaping. With the 2% Nic., vapers can fully appreciate the intricate nuances of the Mint Menthol flavor profile – a crisp, invigorating symphony of cool minty freshness melded with a gentle menthol undertone. Every puff delivers a consistent, smooth hit, devoid of the harshness often associated with higher nicotine concentrations.
The 5000 puffs are not just a testament to the device's longevity but also to the sustained quality of the vaping experience. With each draw, users are assured the same meticulous consistency in flavor and nicotine delivery. Designed for both novices and seasoned aficionados, the 2% nicotine level serves as a gentle entry point for newcomers and a refreshing change for veterans seeking a milder alternative.
Beyond its technical specifications, the Death Row 2% Nic. Vape is also a statement piece. The collaboration between Snoop Dogg and Death Row Records infuses this product with a rich heritage of music, rebellion, and cultural significance. Its sleek design, combined with its iconic branding, makes it not just a vaping device but also a symbol of a lifestyle that values both legacy and innovation.
To sum it up, the Death Row 2% Nic. Powerful 5000 Puffs Disposable Vape is more than just another device; it's a revolution in the vaping world. Prioritizing controlled nicotine levels and unmatched flavor depth, it invites users to a vaping experience where every element is crafted with precision and passion.
View our other Disposable Vape Products
View our collection of disposable vape bundles, or view our 3 Pack, 6 Pack and 10 Pack vape bundles to get huge savings on your next vape device.
DEATH ROW Snoop Dogg 5000 2% Disposable Vape Device Details:
E-Liquid Pod Size: 10.5ml
Nicotine Strength: 2% (20mg Nicotine)
B

attery Capacity: USB-C Rechargeable 650mAh with charging cable 

(charger not included)
Puff Count: 5000+ Puffs
Lightweight, Travel-friendly
Cool Ergonomic Design
Flavors: 14 Available Flavors
DEATH ROW Snoop Dogg 5000 2% Disposable Vape Flavors:
Apple Watermelon: Delve into a thirst-quenching blend where the crispness of apples dances with the juicy sweetness of watermelon for a refreshing burst.
Black Ice: Surrender to an enigmatic mix of dark fruits followed by a sharp icy menthol kick, perfect for those who seek a chilling thrill.
Blue Razz: Indulge in the tantalizing tang of blue raspberries, a flavor that tantalizes with a perfectly balanced sweet and tart profile.
Kiwi Strawberry: Savor the harmonious fusion of zesty kiwis and sun-ripened strawberries, encapsulating the spirit of a tropical paradise.
Lush Ice: Experience a cool rush of invigorating icy menthol paired with a medley of ripe and luscious fruits.
Mango Grape: Revel in the exotic concoction where the tropical richness of mangoes seamlessly intertwines with the sweet undertones of grapes.
Mint: Refresh yourself with a pure and invigorating blast of mint, bringing clarity and coolness with every puff.
Peach Grape: Immerse yourself in a delightful duo where the sweetness of peaches is elevated by the mellow tones of grapes.
Rainbow Pop: Embark on a colorful journey of diverse fruit flavors, painting a vibrant spectrum of taste on your palate.
Strawberry Banana: Relish the classic allure of strawberries and bananas, a combination that evokes memories of sunny picnics.
Strawberry Melon: Dive into a pool of refreshing strawberries and juicy melons, capturing the essence of a tropical breeze.
Strawberry Slush: Cool off with a frozen delight where strawberries meet ice, delivering a slushy sensation to your senses.
Tobacco: For the traditionalist, enjoy the robust and earthy tones of classic tobacco, reminiscent of a finely aged cigar.
Wild Berries: Venture into the woods with a basket of mixed berries, offering a burst of wild, untamed flavors with every inhale.
Each flavor is crafted to give vapers a distinct and memorable experience. Enjoy!
DEATH ROW Snoop Dogg 5000 2% Disposable Vape Packaging Contents:
6 x DEATH ROW Snoop Dogg 5000 2% Disposable Vape Device giving around 5000 Puffs with your choice e-liquid flavor.
| | |
| --- | --- |
| Type: | |
| Vendor: | |
| Flavors: | Apple Watermelon, Black Ice, Blue Razz, Kiwi Strawberry, Lush Ice, Mango Grape, Mint, Peach Grape, Rainbow Pop, Strawberry Banana, Strawberry Melon, Strawberry Slush, Tobacco, Wild Berries |
| SKU: | DEATH ROW Snoop Dogg 5000 2% Vape 6PK |
| Weight: | 15.6 oz |
SHIPPING:
You can choose from three Shipping options:
Standard

Shipping 

5 to 10 Business Days
Priority

Shipping 

3 to 7 Business Days
Express

Shipping 

2 to 3 Business Days
Shipping days are Mon to Fri, not including weekends and Holidays . 
Carriers used will vary dependent on the shipping location.
Shipping times above vary and only include the 48 contiguous USA States. Carriers don't guarantee shipping delivery times, this is just an estimate number of Business days your package might take to be deliver and doesn't included any inclement weather or disasters. Business Days only include Monday to Friday, and this doesn't include weekends and any Public Holiday.
Customers are responsibility to make sure the address information provided is accurate, including city, state and zip code to prevent any delays or errors in shipping.  Your shipping address cannot be changed once the order has been processed and shipped.  It is the customers responsibility to review their shipping information before order submission.  Failure to provide accurate shipping information may result in a delay and additional shipping charges.  Exceptions apply to Shipping to APO/FPO/DPO addresses which may take up to 45 business days for delivery via USPS policy.
Canadian customers' orders may take up to 30 business days.  Please note, you may be subject to taxes and import duties, namely GST (Goods and Services Tax) and HST (Harmonized Sales Tax). In addition, a fee may be levied upon your purchase by Canada Post. These costs are not included in your overall purchase price and EveryThing Vapes is NOT held liable for any custom issues.
ADULT SIGNAUTURE REQUIRED
All orders are shipped with Signature required as per the new Pact Act Vape Laws. Please make sure you are 21 Years and older and you have an adult of 21 yrs of age or older available to receive and sign for your package. No exceptions apply. If you will be available or you do not have somebody at home to sign for the package that is 21 years old, then you can contact the carrier and ask them to hold the package, and you can pick it up at your convenience within a few days. Check with the shipping carrier what the maximum number of days your package will be held otherwise the package will get returned back to us.
Shipping cost will NOT be refunded for any reason. You will receive an email with the tracking information once the order has been shipped.