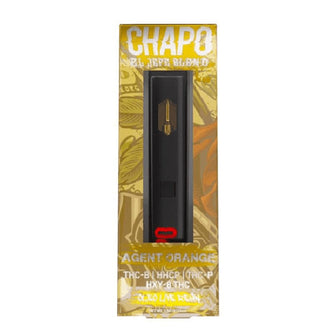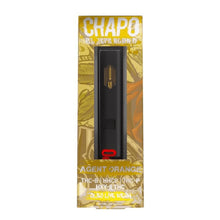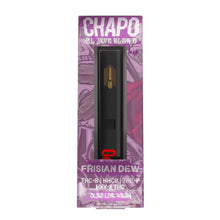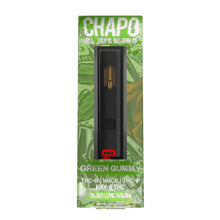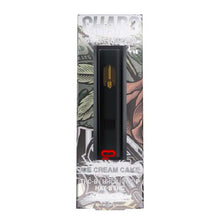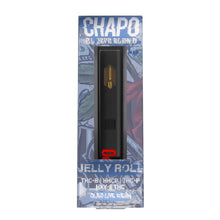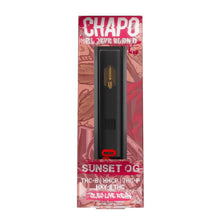 1PC - Chapo Extrax El Jefe Blend THCB + HHCP + THCP + HXY-8 THC Disposable Vape Device
Unveiling the next frontier in cannabis technology, Chapo Extrax presents the El Jefe Blend Disposable. Expertly crafted with 3.5 grams of a premium blend of oleo live resin encompassing THCB, HHCP, THCP, and HYX-8THC, this state-of-the-art disposable guarantees an unrivaled potency and aromatic experience.
Why Choose the El Jefe Blend Disposable?
Superior Formulation: Using live resin extracts that preserve an extensive array of terpenes and cannabinoids compared to dried flower, each puff delivers a symphony of rich flavors and potent effects.
Natural Terpene Fusion: Further heightening the sensory journey, natural terpenes are infused for a sublime taste and aroma.
Diverse Strain Profiles: Find your perfect match from 5 unique strain profiles. Whether you're an indica, sativa, or hybrid aficionado, we have you covered with choices like Agent Orange, Green Gummy, and Sunset OG.
Sustained Usage: Designed for longevity, this disposable not only comes pre-charged but also features a rechargeable battery. Say goodbye to power woes!
Compliance & Quality: Made in the USA using industrial hemp, it strictly adheres to the 2018 Farm Bill's guidelines. Our commitment to quality is reinforced with third-party lab testing.
Intuitive Features: Equipped with a ceramic coil for optimal heating, the device ensures consistent delivery. The draw-activated firing mechanism and LED battery life indicator heighten its user-friendly attributes.
Safety & Purity: With no fillers and less than 0.3% Delta-9 THC, your well-being remains our paramount concern.
Available Strains: Indulge in our variety, including Acapulco Gold, Agent Orange, Frisian Dew, Green Gummy, Jelly Roll, Pink Kush, White Berry, and Sunset OG.
Don't compromise on your cannabis journey. Choose Chapo Extrax El Jefe Blend Disposable and embrace excellence.
Warning: THC is a psycho-active substance. Operating a motor vehicle or heavy machinery after using this product is not advised. This product may cause you to fail a THC drug test. You assume full responsibility for all parts related to your purchase and consumption. Use small doses when starting.
Suggested Use for Chapo Extrax El Jefe Blend Disposable 3.5G
To ensure a smooth and enjoyable experience with the Chapo Extrax El Jefe Blend Disposable, follow our suggested usage guidelines:
Getting Started:

Remove the disposable from its packaging.
If it has a protective mouthpiece cover, remove it.

Activation:

The device is draw-activated, so simply inhale gently through the mouthpiece to use.
An LED indicator at the base will illuminate while in use.

Inhalation:

Start with a small puff and wait a few minutes to gauge its potency and effect.
Depending on your tolerance and desired intensity, you can take longer or more frequent puffs.

Duration:

The effects of the Chapo Extrax El Jefe Blend Disposable vary depending on the individual, strain, and consumption method.
It's recommended to wait at least 5-10 minutes between each puff to let the effects settle in, especially if you're unfamiliar with the strains or concentrations used.

Recharging (if necessary):

Should the battery deplete, use the provided Type-C port for charging.
While charging, the LED indicator will show the battery status. Once fully charged, the light will turn off or change color, depending on the device's design.

Storage:

Store your Chapo Extrax El Jefe Blend Disposable in a cool, dry place away from direct sunlight.
Keep the device upright to prevent potential leaks.

Safety Precautions:

Avoid using the product while operating heavy machinery or driving.
Keep out of reach of children and pets.
If you experience any adverse reactions, discontinue use immediately and consult a healthcare professional.
Remember, everyone's tolerance to cannabis varies. Always start slow, especially if you're new to the product or strain, and adjust your usage based on your personal preferences and comfort level. Enjoy responsibly!
View our other Disposable Vape Products?

View our collection of disposable vape bundles, or view our 3 Pack, 6 Pack and 10 Pack vape bundles to get huge savings on your next vape device.
Chapo Extrax El Jefe Blend Disposable Vape Device Details:
Capacity: 3.5G (3500mg)
Integrated Rechargeable Battery ( Requires USB Type-C cable not included)
Main Compounds: Delta 8, THC-P, THC-B, HHC-P, HXY8
Main Ingredients: Live Resin, Terpenes
Heating Mechanism: Ceramic Coil
Activation: Draw-Activated
LED Indicator: Battery Life
Material: Durable Polycarbonate
Charging: Via Type-C Port
NOT Refillable
100% US Grown Hemp
Flavors: 7 Available Strain/Flavors
Chapo Extrax El Jefe Blend Disposable Vape Device Strain/Flavors:
1. Agent Orange (Sativa): A sativa-dominant hybrid that's a cross between Jack the Ripper and Orange Velvet. It's best known for its uplifting and mood-enhancing effects and its sweet, citrusy aroma reminiscent of oranges. Great for those looking to alleviate stress and depression.
2. Frisian Dew (Hybrid): A balanced hybrid developed by Dutch Passion, known for its vibrant purple and green buds. It offers a combination of uplifting sativa effects and relaxing indica traits. Its flavor profile contains sweet and earthy notes, making it quite pleasant for most users.
3. Green Gummy (Sativa): Though specifics might vary depending on cultivation practices, Green Gummy tends to exhibit energizing and uplifting effects typical of sativa strains. The name suggests a sweet and possibly tangy flavor profile.
4. Ice Cream Cake (Indica): An indica-dominant hybrid resulting from a cross between Wedding Cake and Gelato #33. This strain is popular for its calming and sedative effects. It features a sweet, creamy aroma, akin to a dessert, making it a favorite among those who prefer sweeter strains.
5. Jelly Roll (Indica): While specific information might be a bit sparse depending on the region, Jelly Roll, as an indica, likely offers calming and body-relaxing effects. The name suggests a sweet flavor profile, possibly with hints of berry or fruit.
6. Sunset OG (Hybrid): A hybrid strain that might be a member of the OG family, given its name. It's known for its relaxing effects, which are balanced by uplifting and euphoric sensations. The flavor profile typically includes earthy tones combined with sweet and citrusy notes.
7. Venom OG (Hybrid): A hybrid strain that's a cross between Poison OG and Rare Dankness #1. Venom OG is recognized for its quick onset of effects, offering a blend of cerebral euphoria followed by deep body relaxation. Its aroma combines pine, skunk, and citrus notes.
Always remember that effects can vary based on individual factors such as tolerance, body chemistry, and the specific phenotype of the strain. As with any cannabis product, it's recommended to start with a small amount and increase gradually until you find your preferred dosage.
Chapo Extrax El Jefe Blend Disposable Vape Device Packaging Contents:
1 x Chapo Extrax El Jefe Blend Disposable Vape Device

Select your preferred flavor with the Chapo Extrax El Jefe Blend vape.
---
Shipping Restrictions:
Apologies for the inconvenience, but due to state-specific regulations, we're unable to ship Delta products to certain states. To continue with your order, please remove any Delta products from your cart if you're shipping to the following states:
Alaska, Arizona, Arkansas, California, Colorado, Connecticut, Delaware, Hawaii, Illinois, Idaho, Iowa, Kansas, Louisiana, Massachusetts, and Michigan.
Thank you for your understanding and cooperation.
DISCLAIMER: EveryThing Vapes is not responsible for any medical claims made within customer testimonials. The assertions regarding these products haven't been assessed by the Food and Drug Administration. Neither the effectiveness of these products nor the authenticity of customer testimonials has received FDA validation. These products are not designed to diagnose, cure, treat, or fend off any diseases. The content here should not replace professional health advice. Seek guidance from health professionals before using any product. Consult with them regarding potential risks or conflicts. The Federal Food, Drug, and Cosmetic Act mandates this acknowledgment.
SHIPPING:
You can choose from three Shipping options:
Standard

Shipping 

5 to 10 Business Days
Priority

Shipping 

3 to 7 Business Days
Express

Shipping 

2 to 3 Business Days
Shipping days are Mon to Fri, not including weekends and Holidays . 
Carriers used will vary dependent on the shipping location.
Shipping times above vary and only include the 48 contiguous USA States. Carriers don't guarantee shipping delivery times, this is just an estimate number of Business days your package might take to be deliver and doesn't included any inclement weather or disasters. Business Days only include Monday to Friday, and this doesn't include weekends and any Public Holiday.
Customers are responsibility to make sure the address information provided is accurate, including city, state and zip code to prevent any delays or errors in shipping.  Your shipping address cannot be changed once the order has been processed and shipped.  It is the customers responsibility to review their shipping information before order submission.  Failure to provide accurate shipping information may result in a delay and additional shipping charges.  Exceptions apply to Shipping to APO/FPO/DPO addresses which may take up to 45 business days for delivery via USPS policy.
Canadian customers' orders may take up to 30 business days.  Please note, you may be subject to taxes and import duties, namely GST (Goods and Services Tax) and HST (Harmonized Sales Tax). In addition, a fee may be levied upon your purchase by Canada Post. These costs are not included in your overall purchase price and EveryThing Vapes is NOT held liable for any custom issues.
ADULT SIGNAUTURE REQUIRED
All orders are shipped with Signature required as per the new Pact Act Vape Laws. Please make sure you are 21 Years and older and you have an adult of 21 yrs of age or older available to receive and sign for your package. No exceptions apply. If you will be available or you do not have somebody at home to sign for the package that is 21 years old, then you can contact the carrier and ask them to hold the package, and you can pick it up at your convenience within a few days. Check with the shipping carrier what the maximum number of days your package will be held otherwise the package will get returned back to us.
Shipping cost will NOT be refunded for any reason. You will receive an email with the tracking information once the order has been shipped.